Who Starts for the Mississippi State Bulldogs Against UMass?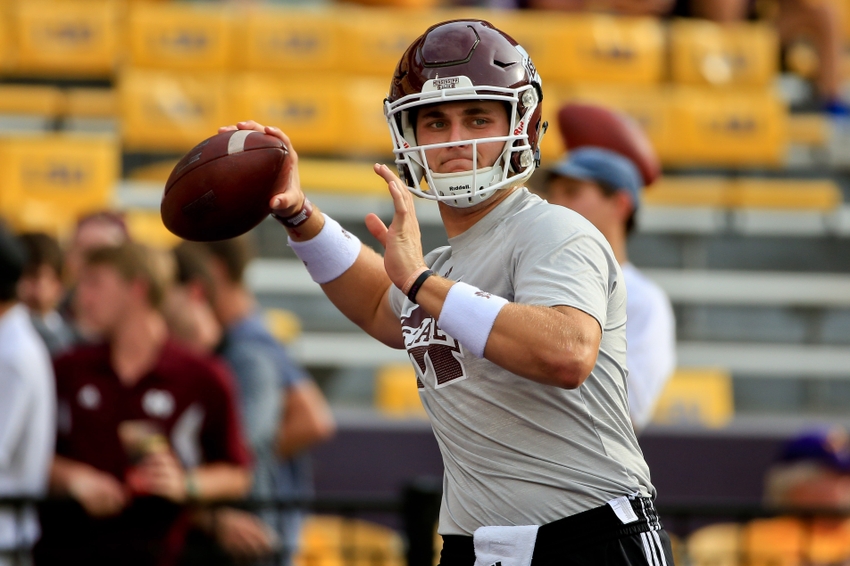 After a heartbreaking end to the 23-20 loss at the hands of the Tigers, the Mississippi State coaching staff has a question to answer. Who will start at Quarterback against UMass in Gillette Stadium?
Now for some Mississippi State Bulldog fans, this may be an easy answer to say. But after a performance that resulted in 14 points for the Bulldogs, can you really deny the fact that Damian Williams may be the answer? The players certainly responded in kind to Damian Williams leading the offense. Receivers made the necessary catches, and marched down the field effectively.
The Case for Nick Fitzgerald
But Nick Fitzgerald may have something to say in this Quarterback controversy that is brewing. He was, in fact, the one who exploded this offense into relevancy last week against South Carolina. He put the receivers in positions to make plays against this staunch LSU defense. Nick Fitzgerald made the plays necessary to keep the momentum going.
Damian Williams Puts in His Two Cents
For Damian William's argument, he can show the game film of him leading the team back from the brink against Arkansas. He can also point to the 2013 Egg Bowl where he basically kept the game alive long enough for the Dak Miracle. All in all, though, Williams is able to provide the leadership and vision that only someone who has played multiple games as a starting Quarterback in the SEC can bring. This is definitely going to be a factor that plays into Dan Mullen and Brian Johnson's decision.
So who should start against UMass in Gillette Stadium?
Damian Williams did end up finishing out the game against the Tigers, and led two successful drives with Touchdowns. However, that third drive was not what you wanted to see from a leader on the field. You CANNOT take that sack on fourth down and get zoned in on one receiver. Also, Nick Fitzgerald was named the starting quarterback by Dan for a reason against South Carolina. For that reason, Nick Fitzgerald should be the indisputable starting quarterback when the Bulldogs take the field next weekend against UMass. It's that simple for Dan Mullen, well, at least it should be.
More from Maroon and White Nation
This article originally appeared on