Who is Penn State's Special Teams MVP Through Six Games?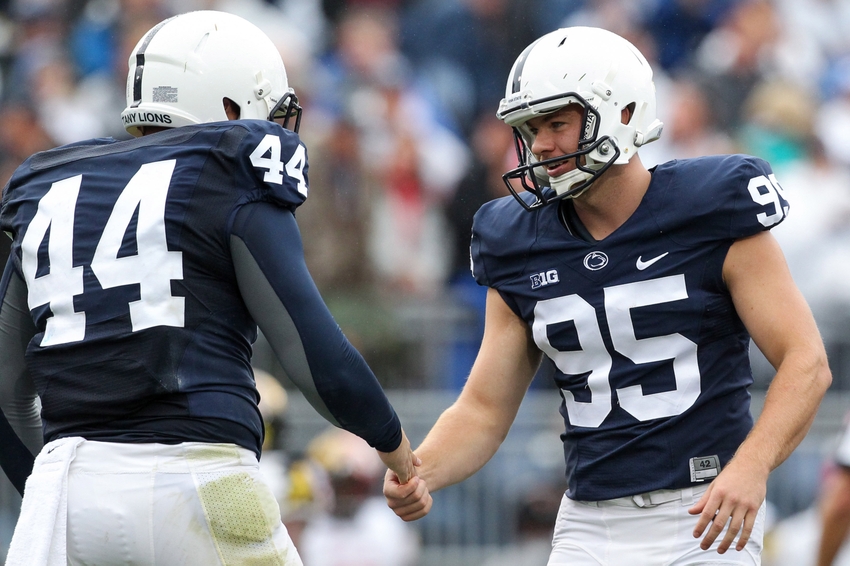 Through six games so far we look at who has been the Penn State football MVP on special teams. 
After looking at the offensive and defensive sides of the ball, it's time to take a look at who has been the Penn State football MVP on special teams.
Often overlooked, special teams is a very important part to winning football games. A good punt that pins the opponent deep, or a long field goal under pressure could spell the difference between a win or a loss.
It's no secret that Penn State has absolutely struggled on special teams over the last few years.
More from Victory Bell Rings
However, the Nittany Lions have turned a corner this season. For the first time in recent memory, Penn State appears to be solid in all aspects of special teams. An argument could be made that kickoff returns need to be better, but all-in-all it's been very solid.
Read below to see who VBR has picked for the MVP of special teams.
Site Expert Barry Leonard Jr. 
There are a few guys who could take this title, but I'm going with place kicker Tyler Davis. He's settled nicely into his role with the Nittany Lions and can focus solely on putting the ball through the uprights.
Davis has given fans renewed confidence in a kicking game that's been inconsistent recently. Davis  is perfect on field goals in his Penn State career, hitting all 18 of his attempts. He's also connected on all 30 of his extra point attempts.
Having a near-automatic kicker is a big plus when it comes to winning close games. That's why Davis gets the nod as Penn State's MVP on special teams so far.
Contributor Shane Lunnen
From the emotional standpoint and everybody being behind him, I could see picking Joey Julius here.  We love the guy.  However, strictly on how he has turned around the Nittany Lion special teams in only six games, I'm going with punter Blake Gillikin.
For the last two seasons the Penn State special teams were really bad, and the Nittany Lions lost the field position battle in several games.  That could be pointed to as a difference in one or two losses being wins instead on each season.  This year, however, Gillikin has flipped the field in many games.  His 42.3 yards per punt average is fourth in the Big Ten and he has the longest punt in the conference thus far with his 69 yard bomb against Pitt.   Gillikin has a booming leg but he can also place his punts with accuracy to pin teams deep in their own territory, taking some of the pressure off the Penn State defense.
Along with the improved punting and an improved punt coverage team, the Penn State special teams unit is now seen as a team strength this year instead of a liability.  Gillikin was nursing an injury against Maryland, but hopefully during the bye week he can rest up and prepare for the second half of the season.
Contributor Marty Leap 
This is a tough call for me. Tyler Davis, Blake Gillikin, and Joey Julius are all worthy of the nod. However, I am going with Davis.
Having a place kicker as reliable as Tyler Davis is a great thing for any team to have. But especially a team that plays as many closer games as Penn State does. So far this season Davis has not missed an extra point or a field goal. In fact, he has never missed any kick in his career.
Through six games Tyler Davis is my special teams MVP.
Contributor Corey Hunter
All three specialists (punter – Blake Gillikin, place kicker – Tyler Davis and kickoff specialist – Joey Julius) deserve to be mentioned here. They have really taken a soft spot from the 2015 Nittany Lions squad and made it one their strengths.
If I am forced to pick only one player, I will give the nod to Kicker Tyler Davis.
He has made a school-record 18-consecutive attempts dating back to last season. He has stayed cool under pressure. Nothing shows that more than his last second 40-yd game-tying FG two weekends ago against Minnesota.
Davis has really become a potent offensive weapon for Penn State once they cross the opponents 50-yd line.
This article originally appeared on