Who is Penn State's Offensive MVP Through Six Games?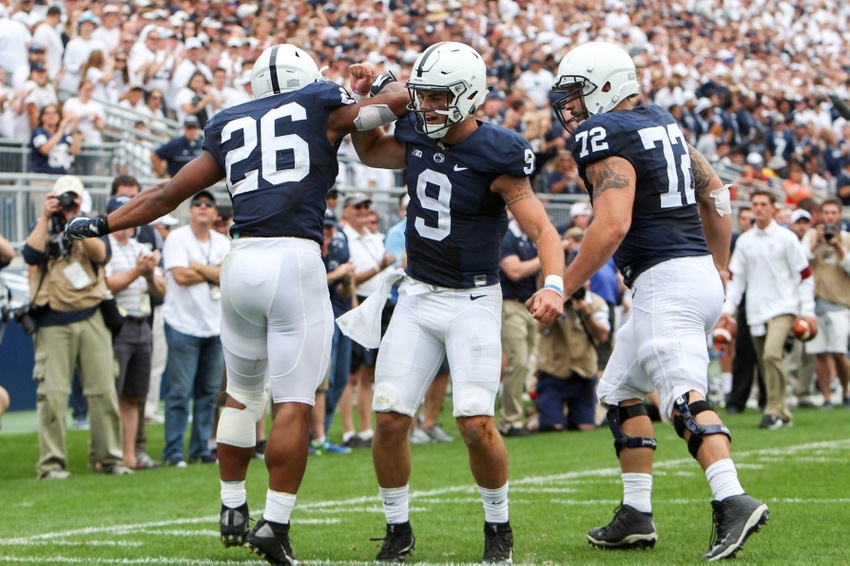 Through six games so far, it's time to look at who has been Penn State's offensive MVP.
Penn State enters this week's bye with a record of 4-2 and riding a two-game win streak. There have been a lot of ups and downs so far, but the Nittany Lions are currently trending in the right direction.
With no game to speak of, it's time for the VBR staff designate the Penn State offensive MVP through the first six games of the season.
Site Expert Barry Leonard Jr. 
This one was a bit of a toss-up, but ultimately I have to go with quarterback Trace McSorley. There's no question that Saquon Barkley is one of the best running backs in the country. However, without the play of McSorley, the Nittany Lions may not have the record they do. The new quarterback has shown great poise and played a key role in big wins over Minnesota and Maryland.
More from Victory Bell Rings
McSorley has racked up 154 rushing yards in the last two games and has added a new dimension to the Penn State offense. He's thrown for 1,436 yards and has a total of 11 touchdowns in six games.
The Penn State offense now has a chance to continue to grow and be very dangerous behind the dual-threat ability of McSorley.
Contributor Corey Hunter
Through six games, the PSU offensive MVP has to be Saquon Barkley. His numbers do not jump off the page, but his 582 rushing yards and eight rushing TDs have been impressive.
Because of Barkley's ability to make plays, defense's have had to load the box to try and shut him down. That has resulted in Trace McSorley's ability to throw the ball down the field. No question that Saquon is the heart and soul of the PSU offense through six games.
Contributor Marty Leap
My offensive MVP through six games is quarterback Trace McSorley. In his first season as Penn State's starting quarterback, McSorley has been excellent. And he is a big reason why the Nittany Lions' offense is averaging 30.5 points per game.
Through six games McSorley is second in the Big Ten with1,436 yards passing. He has also thrown for eight touchdowns while completing 58.2 percent of his passes. Trace has also been a huge threat with his legs having rushed for 186 yards and 3 touchdowns thus far this season. He has also been the catalyst in Penn State's successful run/pass option attack this season.
So far in 2016 Penn State's offense has done a complete 180 from the previous two seasons. In my opinion Trace McSorley is the biggest reason why. Therefore, he is my Penn State offensive MVP through six games.
Contributor Shane Lunnen
One could certainly make the case for Saquon Barkley as the midseason MVP.  However I think Trace McSorley gets the nod.  His stats through 6 games are pretty good, despite a poor showing against Michigan.  He's second in the Big Ten for passing yards with 1436 yards and has thrown eight touchdowns to three interceptions.  McSorley is also starting to make plays with his legs the last couple games and he has three rushing touchdowns on the year and they are not of the quarterback sneak variety either.
It's not just McSorley's stats that make him the offensive MVP, it's also his leadership.
He's becoming a great asset to the offense and the team believes in him.  He's just a winner and he has been doing that since his high school playing days.  He doesn't have the strongest of arms, but he makes plays and has learned from his mistakes over the course of the season thus far.  He's a big reason why Penn State is 4-2 right now instead of 2-4.
With half a season to go, I expect McSorley to get even better.  He's definitely not just a game manager.
This article originally appeared on