Where Are They Now, 2016: Updates on Recent USC Transfers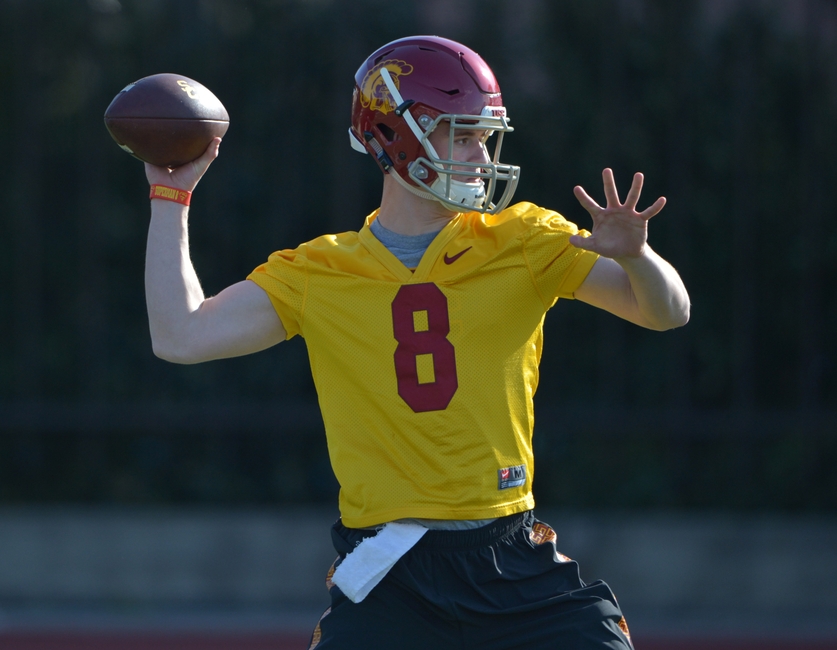 The 2016 college football season has been a wild ride for current and former Trojans. What are former USC football players like Ricky Town up to?
The 2015 season was a year for graduate transfers competing at lower levels, with Charles Burks and D.J. Morgan playing at Azusa Pacific, and Chris Willson being the University of San Diego's backup quarterback.
This year, some Steve Sarkisian-era transfers have started to get their feet wet at the FBS level, after sitting out last year due to NCAA rules.
Here's a rundown of what the former Trojans were up to in 2016…
Ricky Town
Town got to USC with much fanfare in January 2015, but was quickly overshadowed by fellow freshman quarterback Sam Darnold, leading him to transfer to Arkansas midway through his first fall camp.
After spending this fall as the Razorbacks' third-stringer without attempting a pass, head coach Bret Bielema told reporters he'll be transferring yet again, following their Belk Bowl matchup with Virginia Tech. Town is expected to go the junior college route this time, making him a candidate to join his third FBS school in 2018 as a redshirt junior.
Ty Isaac
Highly touted running back Ty Isaac struggled to get going at USC in 2013, despite a slew of injuries ahead of him on the depth chart.
He transferred to Michigan following the hiring of Steve Sarkisian while attempting to get a hardship waiver, but never got it and sat out the 2014 season.
As one of four running backs in Michigan's rotation this fall, Isaac amassed a career-high 417 yards as a redshirt junior, a positive turnaround after a 2015 suspension. His highlight came against lowly Rutgers, when he ran for 99 yards on 12 carries, with a couple touchdowns in the Wolverines' obscene 78-0 win.
Rahshead Johnson
When Rahshead Johnson signed at USC in 2014, he was a two-way athlete much in the same vain as Adoree' Jackson and Ajene Harris. But he fell behind both of them at corner and receiver respectively, and ultimately redshirted as a true freshman before transferring to San Jose State after the season.
Johnson saw his first action as a redshirt sophomore in 2016, ranking second on the team in all-purpose yards with 790. The bulk of those came via kick returns, where he ranked third in the Mountain West. He added 16 catches for 202 yards as a receiver.
Lamont Simmons
A Signing Day addition out of Jacksonville in 2014, Lamont Simmons looked to have a bright future with the Trojans, following an optimistic spring camp as a sophomore. But he'd transfer soon after, heading back to the South and enrolling at Georgia Tech.
Simmons appeared in all 12 games as a redshirt sophomore this season, serving as a second-team cornerback. He made 19 tackles, recorded three pass breakups and forced a fumble in the Yellow Jackets' loss to Clemson.
Caleb Wilson
After his father was not retained as USC's defensive line coach by Clay Helton, walk-on tight end Caleb Wilson started to look elsewhere. He wound up at UCLA, as the Bruins needed more bodies at tight end and had a scholarship to give him.
In 12 games as a redshirt freshman, Wilson was a reliable tight end in the rotation, catching 16 passes for 220 yards. He particularly came on strong in November, including a career-high four receptions against USC.
This article originally appeared on