What We Learned From Ohio State Win vs Michigan State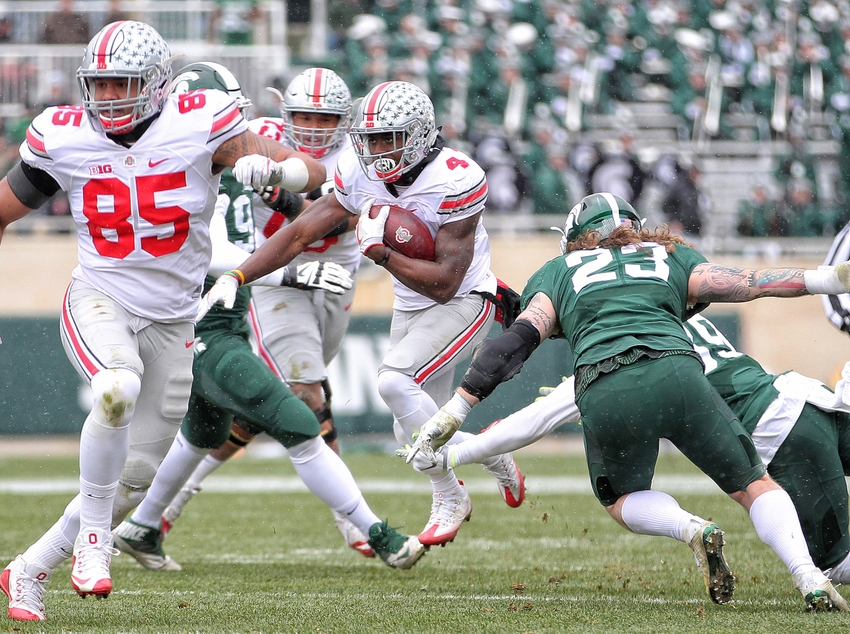 Things to take away from the Ohio State win over Michigan State.
A sigh of relief swept across Buckeye Nation Saturday afternoon, as Ohio State intercepted a pass on a two-point conversion attempt that would have given the Michigan State Spartan's an 18-to-17 lead with just under five minutes left in the fourth quarter. Although the Buckeyes held on to win in a not so pretty fashion, they got revenge on Sparty, avenging their only loss from last year.
It was a sloppy, rainy afternoon in East Lansing, MI, and it proved to be a nagging conundrum on both sidelines, as the performance of each team was affected by it. The quarterbacks in the game threw for a combined total of just 213 yards on 18 of 43 (41.8%) pass attempts, and the game was just sloppy on all facets.
Coming into the game with a 3-7 record, not many expected the Spartans to keep the game close versus the No. 2 ranked Buckeyes. Especially after Ohio State posted back-to-back 62-to-3 victories to its resume coming into the game. Yet the Spartans kept it too close for comfort.
After Michigan State scored a touchdown to bring the score to 16 to 17 with just 4:41 left in the fourth quarter, Mark Dantonio sent out his offense to try to take the lead with a two-point conversion. The Spartans would fail to convert, as MSU QB Tyler O'Conner's pass was intercepted in the endzone.
The game gave me deja vu from the 2013 Ohio State-Michigan game. The Bucks went into Ann Arbor ranked No. 2 in the country in that game and were very heavily favored versus an unranked Wolverines team that came into the game with a 7-4 record. Michigan scored a touchdown with just 32 seconds on the clock, making the score 41-to-42. An extra point would have tied the game. However, then-Michigan head coach Brady Hoke had other plans.
He sent out starting quarterback Devin Gardner and the Michigan offense for a two point conversion attempt. If converted successfully it would have given them a 43-to-42 advantage over Ohio State. Michigan stadium roared in excitement… until Gardner's pass was intercepted by Ohio State safety Tyvis Powell.
That was then and this was now. But, as with every game, we learned a lot from the match-up between Sparty and the Bucks. In fact, here are five things we learned from the contest.
5.) Michigan State Is Better Than Their Record Indicates
That wasn't a 3-7 team that I saw Saturday. Granted, both offenses struggled to move the ball effectively due to the crummy weather, but the Spartans defense played arguably its best game of the season. Mark Dantonio should be proud of his team for holding a Buckeyes team that had put up back to back 62-point performances to just 17 points.
I know that the game between these two programs has been quite a rivalry over the last few years and that anything aside from setting water on fire is possible in such games, so it's no surprise that the team that resides in East Lansing kept things close. At least in my opinion.
But, regardless of all of that, Michigan State is a better team than their record indicates.
4.) This Team Handle Adversity
Forget the loss versus Penn State that came thanks to a fluke blocked field goal that was returned for a touchdown. This team continues to show that it has what it takes to make it through strenuous situations and come out on top in hostile environments.
It did this in a primetime game at Oklahoma, at Wisconsin, and now at Michigan State. Although at times it was ugly, the Buckeyes continue to prove that they are one of the better teams in college football.
Because, despite playing one of its worst games of the season, they found a way to prevail over a Big Ten rival away from home in the midst of awful weather.
3.) Mike Weber Needs the Ball More
Similar to last season when Ohio State gave Ezekiel Elliott a season-low 15 carries versus the Spartans, red-shirt freshman running back Mike Weber got his number called just 14 times Saturday. Here's the thing; Weber averaged 7.9 yards per carry versus the Spartans' defense, eclipsing 100 yards for the fourth time this season.
Why not continue to feed the rock to a guy that's averaging nearly eight yards a pop? Weber's on pace to set a freshman rushing record at Ohio State and he's getting better as the season progresses.
Hey Urban Meyer, FEED WEBER THE FOOTBALL!
2.) Curtis Samuel Also Needs the Ball More 
There's absolutely no reason why Ohio State should give its most versatile play maker, Curtis Samuel, just eight touches in a game. Especially when its offense is struggling to move the ball down field efficiently.
It seems as if whenever the Buckeyes have needed a spark on offensive this year, they have turned to Samuel for it. And why not? The guy has even been in the Heisman discussion, and he's averaging nearly ten yards per touch from scrimmage.
So, why didn't the Brooklyn, NY native get his number called more in Ohio State's worst offensive performance of the year?
It's unacceptable, and the Buckeyes can't afford to do the same versus Michigan this coming week.
1.) Ohio State Has a Long Way To Go In Order To Compete for a National Title 
As hard as it is for me to admit, that was not the second-best team in the country that we saw suit up in scarlet and gray uniforms in Spartan Stadium Saturday.
The Buckeye football team has a lot to improve on if it wants to have any chance to make the playoff and compete for a national title. There's no reason why the Ohio State offense should generate just 310 total offensive yards and just 86 passing yards versus a 3-7 team, despite the rivalry and despite the weather conditions.
More from Scarlet and Game
Look at all of the weapons the Bucks have on offense: veteran QB J.T. Barrett, fabulous freshman running back Mike Weber, athletic and talented tight end Marcus Baugh, and one of the most dangerous all around weapons in all of college football in Curtis Samuel.
There's no reason why Ohio State shouldn't target 6'5″ 258 lbs. Marcus Baugh five to ten times per game. Curtis Samuel should touch the ball fifteen times per game at the very least. Weber's the type of running back that should get around twenty carries per game. Noah Brown should be targeted around ten times per game through the air as well.
Also, where's the uptempo hurry-up offense at that we saw so much when Tom Herman was the offensive coordinator? Because offensive coordinator Ed Wariner isn't allowing the offense to perform at its optimal level, and that has been evident over the course of these last two seasons.
The defense has been solid for the most part and the team as a whole has shown that it has what it takes to handle adversity, but as of this moment, the Ohio State football team isn't playing like a viable national title contender.
This article originally appeared on