What We Learned From LSU's Win Over Missouri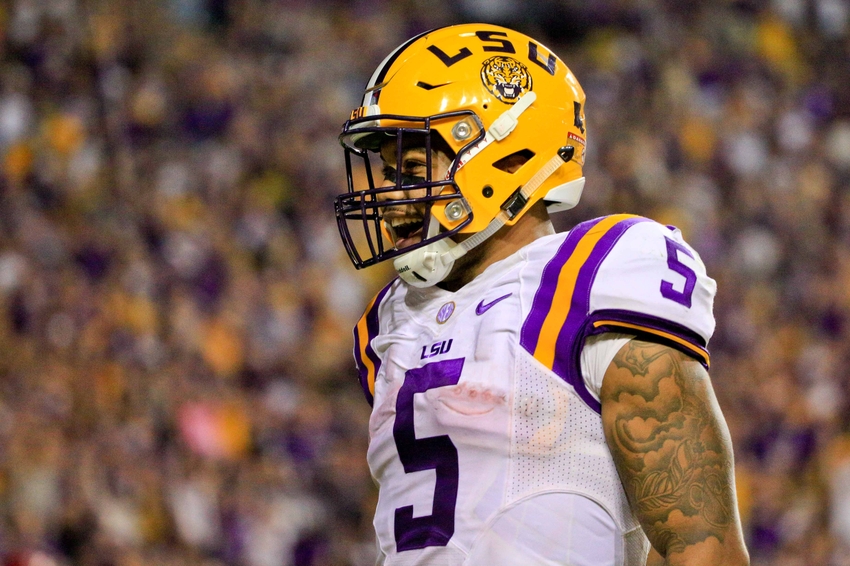 In the first game of the post-Les Miles era, the LSU Tigers beat Missouri by a final score of 42-7. The Team picked up a much-needed win, and displayed a revamped intensity and style of play in the process.
With a new coach, change in philosophy, and more shake ups in the LSU program, we have plenty to take away from Saturday's win.
Derrius Guice Is Really, Really Good
With Leonard Fournette missing Saturday's game against Missouri, LSU was without their best offensive player in the first game of a new era. Many questioned whether the Tigers could reach the level of run/pass balance they are trying to establish without Fournette.
Well, that did not prove to be a problem whatsoever for Ed Orgeron's team, who got a fantastic outing from sophomore running back Derrius Guice. On the night, Guice rushed for 163 yards and 3 touchdowns, and was a major catalyst for the LSU offense from the opening kickoff.
In the first quarter the Tigers relied heavily on him, and he delivered with 82 yards and a long touchdown run to put LSU ahead. His combination of strength, speed, and determination created a lot of problems for a Missouri defense who was loading the box in a last-ditch effort to slow him down. He continued his dominance through the rest of the half and into the second.
Guice has been producing fairly well all season in limited time on the field, but this was his first chance to really show what he's got. He put on a great display, and made us feel a lot better about any potential Fournette injury and next season when number seven is no longer in Baton Rouge. 
The Orgeron-Led Tigers Are Not Backing Down
It will take a few games for us to really get a good read on what the LSU Tigers will be under Ed Orgeron for the rest of the season, but one thing is for sure: this team is never going to back down.
We knew going into this that Coach O is an extremely intense guy, and that we would likely see some of that instilled in his team. They confirmed that thought on Saturday, with the team playing with determination and the coaching staff making quite a few aggresive decisions.
On their third drive of the night, the LSU offense was faced with a fourth down in Missouri territory. Orgeron never even considered taking his offense off the field, and they went for it. They didn't get it, but it showed that this team is going to be aggressive and take risks under their new head coach.
On the players' side of things, we saw an all-around intense effort from the Tigers. The defense hit hard, the running backs and receivers ran through hits, and Danny Etling let the ball fly deep down the field on multiple occassions.
We can't be sure just yet how good this team will be the rest of the way, but tonight told us that this squad will certainly never back down.
It's Going To Take Time, But The Groundwork Is Layed For A Productive Passing Game
We knew that under the new regime, the Tigers were going to put a heavy emphasis on becoming a much more balanced offensive team. To do that, LSU needed to move the ball through the air, and many questioned whether or not the team could actually get it done.
Orgeron's squad isn't an elite passing team, but after Saturday's game, I think it's fair to say the LSU Tigers have layed the foundation for a passing attack that is something to be afraid of. Danny Etling threw for 216 yards on 19 of 30 passing, and the coaching staff did a great job of setting him up with easy throws.
Like I said, they are not where they need to be yet, but the team is on the right track. If they can continue progressing towards a consistently productive passing game, this will be a scary team down the stretch. 
Don't Mess With The LSU Defense
Coming into this matchup, we heard how explosive the Missouri offense was and how much trouble LSU would have trying to slow them down. Mizzou quarterback Drew Lock was supposed to come to Tiger Stadium and throw it all over the field, and the visitors were going to, for the most part, match LSU on the scoreboard.
Against the Tigers, Lock threw for just 167 yards and as a whole, the Missouri offense put up 265 yards on the night. LSU shut them down all night long in what was truly a dominating defensive performance.
Orgeron's team will need the defense to remain stout if they are to make a run at the conference title, and if tonight was any indication, they're very capable of doing just that.
More from Death Valley Voice
This article originally appeared on