What the Houston loss could mean for Louisville Football's playoff hopes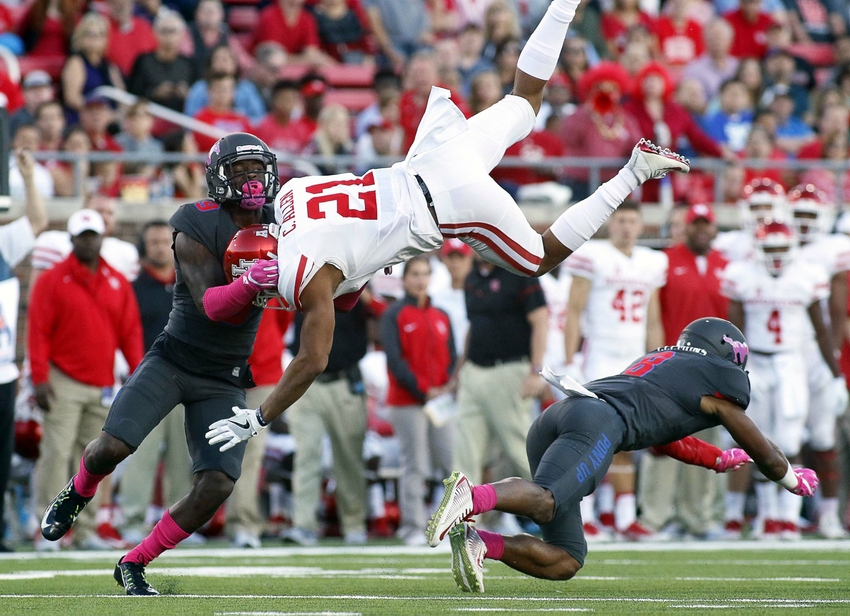 We discuss what Houston's loss to SMU could mean for Louisville football's playoff hopes in 2016.
The Houston Cougars let down the Louisville football team in a big way on Saturday when they got beat by the SMU Mustangs 38-16. The Cardinals already were going to be climbing an uphill battle to the college football playoff after a loss to Clemson, but now the mountain might just be a little bit bigger.
SEE ALSO: 5 Cardinals to watch in the NFL on Sunday
Houston already dropped one game this season, on the road, to Navy. However, Navy has been ranked in the top 25 since that game, which has made that loss a non-killer for the Cougars' standing in the rankings. I wish the same could be said about their loss to SMU this weekend.
After the win against Houston, SMU is now 3-4 with wins over Houston, Liberty, and North Texas. This was the worst case scenario for the Houston and Louisville game to be a top ten match-up by the end of November.
Get the FanSided App
Therefore, what does this mean in terms of Louisville's playoff hopes in 2016?
To be completely honest, there is not much good that can come out of this loss from Houston. Don't be fooled, this was a very, very bad loss for a Houston team who has been lucky to still be ranked 11th in the country. This will hurt Louisville's strength of schedule big-time and the match-up between the Cards and the Cougars may not even be a match-up of top 20 teams.
The Cardinals needed the Cougars to be ranked in the top ten very badly and it looks as though that option is now gone.
Louisville's playoff hopes will continue to be held in the hands of other teams in the top six, but things look more bleak as Washington continues to dominate every opponent. Not saying it can't happen, but there needs to be a huge upset for the Cards to sneak into the playoff this season.
This article originally appeared on