What the 2016 Iron Bowl Means for Auburn Football Fans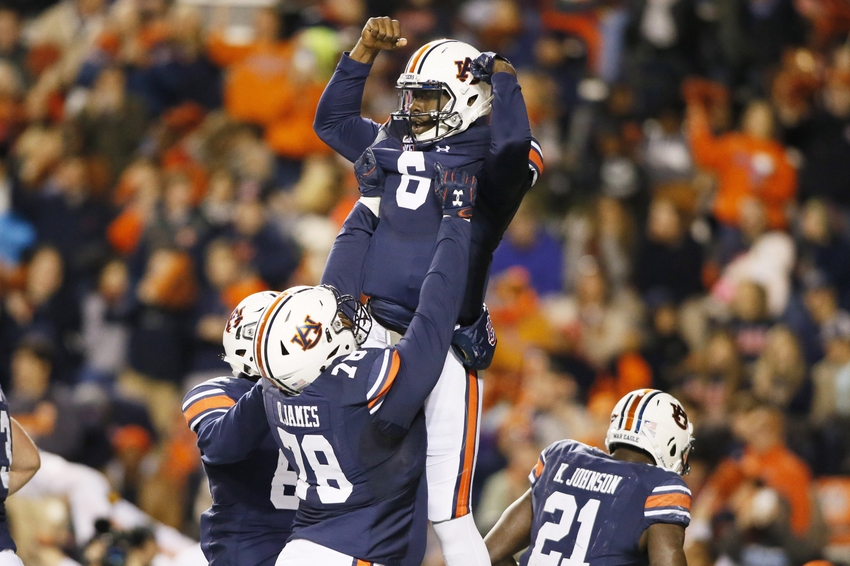 Here we take a look at the significance of the 2016 Iron Bowl and what it means for Auburn fans. No matter what people say, this game means something.
The loss to Georgia certainly took a lot of luster away from the 2016 Iron Bowl, but there is plenty to play for on Saturday when Alabama and Auburn meet in Tuscaloosa.
Yes, if Auburn beats Alabama this weekend the Crimson Tide will still go on to play in the SEC Championship, and a win there would still put them in the College Football Playoff.
However, there are three very big reasons why Auburn fans should still care about this game.
First of all, it's the Iron Bowl. Either team can be having a bad season, but if you win the Iron Bowl that's all that matters in the state of Alabama for the next 365 days.
This point won't make much sense outside of the state, but anyone who is a fan of either team knows how big bragging rights are in this state. Even if Alabama went on to win the National Championship, they'd have to hear it from Auburn fans all year.
That brings me to point number two: it could ruin Alabama's perfect season. The Crimson Tide have won some national championships lately, but they've all had one blemish along the way.
You know Nick Saban is seeking to be the first one to go 15-0, so how sweet it would be for Auburn to be the one who prevented that from happening?
Again, Alabama could go on to be 14-1 and win the SEC and National Championship, but it won't feel quite as sweet knowing that one loss came at the hands of the Tigers.
You know how much that will irritate Alabama fans for the next 365 days and cause all kinds of redneck arguments on the Paul Finebaum show.
Finally, this game is big for Auburn fans because it could determine whether or not Auburn gets into the Sugar Bowl.
Right now Auburn football is the third highest ranked SEC team behind Alabama and Florida. If Auburn beats Alabama, and then Florida loses Alabama in the SEC Championship game, then Auburn will be the second highest ranked SEC team.
One would think that would catapult them into the SEC bid in the Sugar Bowl, which would be a huge accomplishment for this team.
I don't think Auburn and Alabama fans need a reminder for how big the Iron Bowl is, but just in case you were thinking this game doesn't have any meaning, rest assured that it most certainly does.
This article originally appeared on