What kind of team will Georgia football have next season?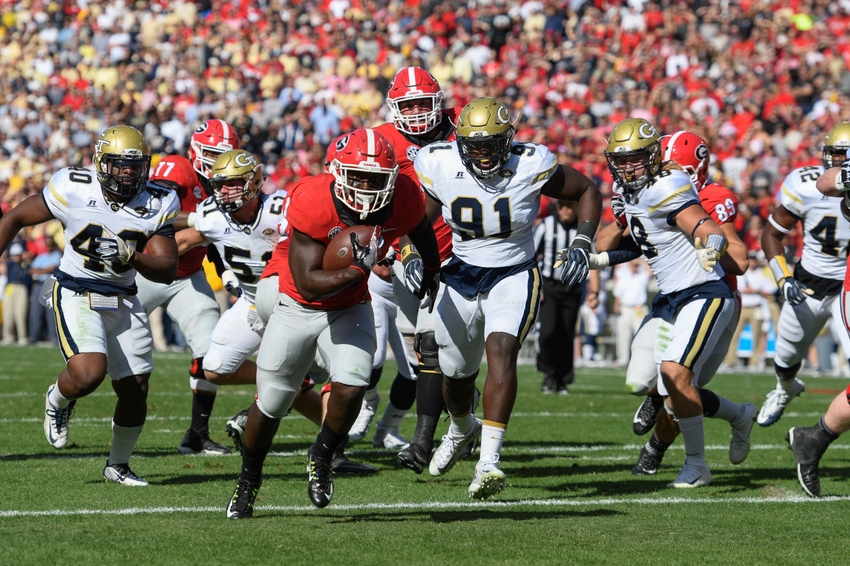 Georgia football has made it through the first year if the Kirby Smart era. The Bulldogs are 7-5, but what kind of team can Georgia expect in 2017?
2016 was a disappointing season for Georgia football. Georgia finished the regular season Saturday with a 7-5 record. Georgia could just as easily be 10-2 or 11-1 as optimists point out. But the Bulldogs could also just as easily be 3-8 if we're being pessimistic.
At times Georgia looked like a well oiled machine. There were games where the offense performed wonderfully, there were others where they struggled to just get first downs. Defensively the Bulldogs were solid all season, but they rarely made the huge plays and in a few games had lapses that led to easy touchdowns.
Now that the 2016 regular season has concluded, what can fans expect out of Georgia football in 2017? Can Georgia return to their normal 10-win selves, or will the Kirby Smart era feature a slower start than what fans desire?
Departing Players
Fortunately for Georgia football, they aren't loosing many players. But this is definitely an area where quality outweighs quantity.
Offensive players leaving include backup quarterback Grayson Lambert, wide receiver Reggie Davis who has been passed by freshman Riley Ridley and junior transfer Javon Wims in the last month, and offensive linemen Tyler Catalina, Brandon Kublanow, and Greg Pyke. Running backs Nick Chubb and Sony Michel might also leave early for the NFL Draft.
Defensively the Bulldogs lose backup linebacker Chucks Amaechi, and defensive backs Maurice Smith and Quincy Mauger. Dominick Sanders may leave for the NFL Draft as well.
So at the worst, Georgia is looking at 11 players from Georgia's two-deep depth chart. But that number may be as low as eight if Chubb, Michel and Sanders decide to stay for their senior years.
Offense
Georgia can't get much worse on offense. In 2016 the offensive line was one of Georgia's worst in recent memory. Plus the wide receiver corps was young and lacked any standout receiver which is something the Bulldogs offense had been known for since the early 1990's.
Quarterback
No issues here. Georgia will even have the ideal problem at quarterback for 2017. Jacob Eason seems like a lock and he's been praised as the future of the quarterback position in the SEC. But Jake Fromm isn't coming to Athens to hold a clip board and wear a headset. He will look to take that spot.
Eason passed for 2,266 yards as a freshman with 14 touchdowns and eight interceptions. Those are very solid numbers for a freshman, especially one with a young receiving corps and a struggling offensive line.
Expect Fromm to take a redshirt so he can become the starter as a sophomore if Eason leaves after his junior year. But also expect the two to push each other so they both become better quarterbacks. If Eason gets injured, Georgia should be in good hands with Fromm.
Running Back
This ones tough to judge because neither Chubb or Michel have announced if they are returning or not. If one or both return then there won't be much mystery around the position. Chubb and Michel will lead the rushing attack. Both have 1,000 yards seasons under their belts. Chubb can pass 1,000 in the bowl game, Michel can reach 800 after missing the first few games of 2016 with an injury.
Beyond them is Brian Herrien who has played very well this season when he's on the field. He has 362 yards and nearly reached 100 at South Carolina. But his play time has diminished as Chubb and Michel returned to form.
Past Herrien is freshman Elijah Holyfield and commits D'Andre Swift and Toneil Clark who are both top 10 running backs in the nation according to 247 Sports. Running Back U will endure through another recruiting class.
Offense (cont.)
Receivers and Tight End
Georgia should feel comfortable with their top four receivers next year. Seniors Isaiah McKenzie and Javon Wims are vastly different and that's a good thing. McKenzie is the over-the-middle speedster who will also run end-arounds. Wims is the tall deep threat who can also catch the jump balls.
Then there's Terry Godwin and Riley Ridley who are good all around receivers. They can go over the middle like McKenzie, deep like Wims, and they also can run the screens and hitch routes.
All that they lacked in 2016 was experience, but as the season has gone on, the four of them have begun taking over those roles. In 2017 they will thrive in them.
As far as tight ends go, Georgia might also be a Tight End U. Freshman Isaac Nauta is an absolute monster. He is much more fast and agile than he looks, he is one of the most powerful athletes you'll see. He just needs to not drop as many passes.
Georgia also has senior Jeb Blazevich, junior Jackson Harris, and freshman Charlie Woerner. All of them are talented but under utilized. With those eight receivers and tight ends, Eason (or Fromm) should be given amble opportunity to spread the ball around.
Offensive Line
This is the position to worry about the most. In Jim Chaney's system, a dominant offensive line is a must. Three players depart, Isaiah Wynn, Lamont Gaillard and Dyshon Sims are the only returning linemen in Georgia's two-deep depth chart.
Then there is the curious case of Ben Cleveland, one of the best linemen recruits of 2016. Many thought with Georgia's line struggling that Cleveland will get to play, but it never happened. Some speculated that he wasn't living up to his hype. But I have a different theory.
Cleveland wasn't the only lineman Georgia got last year, they also signed Chris Barnes, one of the Top 50 offensive tackles according to 247 Sports. For the class of 2017, Georgia has four of the best offensive linemen committed: No. 11 and no. 17 tackles Andrew Thomas and D'Antne Demery, and no. 5 and no. 20 guards Netori Johnson and Justin Shaffer.
Georgia football could be looking to start with a near clean slate on the offensive line in 2017. That means a lot of freshmen will play up front, but they should be an upgrade from the patch-work offensive line of 2016.
Defense
Georgia's 2016 defense wasn't great, but they were good enough. They kept the offense in position to win games, forced turnovers and adjusted well after bad drives. The defense only loses three, maybe four contributors, but I expect Dominick Sanders to return.
Defensive Line and Linebackers
Seven players saw action on the defensive line for Georgia in 2016. None of them looked bad and all of them return next season. Only one of the seven contributors at linebacker graduates. Meaning Georgia will return its entire starting front seven and all but one second stringer. Clearly the front seven should not be a major concern for fans.
The only question is who will start and who will come off the bench. On the defensive line players switch out so often that the depth chart doesn't matter so much. Expect Julian Rochester, John Atkins and Jonathan Ledbetter to get most of the starts. But Trenton Thompson, Daquan Hawkins-Muckle, Tyler Clark and David Marshall will all get their fair share of playing time.
At linebacker, Lorenzo Carter, Davin Bellamy, Roquan Smith and Reggie carter will be the expected starters. Natrez Patrick will get plenty of playing time as well. The only concern is who else will step up off the bench when the starters need a rest.
Defensive Backs
This is the position that Georgia might lose the most at. Maurice Smith and four-year starter Quincy Mauger are already graduating, and Dominick Sanders may enter the NFL Draft early. But if he stays, Georgia will continue to have one of the best safety units in college football.
Georgia returns both starters at corner; Junior Malcolm Parrish and sophomore Deandre Baker. Parrish has been a consistent starter for to years and posing quarterbacks rarely throw his way. baker took over the starting role in October after Juwaun Briscoe couldn't keep receivers from getting passed him.
Baker will be a lot better after starting for two-thirds of a season and Briscoe should also be much improved. Smith will relinquish his star/nickel position, most likely to Rico McGraw. McGraw played a lot in 2015 under Jeremy Pruitt but he's been riding the bench in 2016 behind Smith who transferred from Alabama where he was expected to start at the star position.
That leaves Sanders, junior walk-on Aron Davis and junior Reggie Wilkerson at safety. Sanders has shut down deep passes for most of his two years as a starter. Sanders name does not get brought up much, but since he plays safety that's probably because quarterbacks very seldom throw in his direction.
If you hadn't followed Georgia since 2014, you would have no idea that Davis was a walk-on. He has been one of the best players in Georgia's secondary.
Wilkerson has not gotten much playing time in his three years, but Georgia's secondary has been deep that entire time.Now with the departure of Mauger and Smith, the third safety spot and maybe time at star is Wilkerson's if he takes control.
Conclusion
Georgia football should be a lot better next year. They will be a very mature team and if the players committed to the Bulldogs stay committed through signing day, they will have even more talent to work with.
More from Dawn of the Dawg
They might not be able to compete with Alabama for the SEC Championship next year, but they definetely have the potential to win 10 games, play in the SEC Championship game or at least finish as runner-ups in the SEC East.
Georgia football should not go 7-5 or 8-4 in 2017, if they do then that will be cause for alarm in the Bulldog Nation. But if they live up to their potential in 2017, Georgia football fans will have plenty of reasons to be optimistic for the future under Kirby Smart.
This article originally appeared on