What if Adoree' Jackson and JuJu Smith-Schuster Returned to USC in 2017?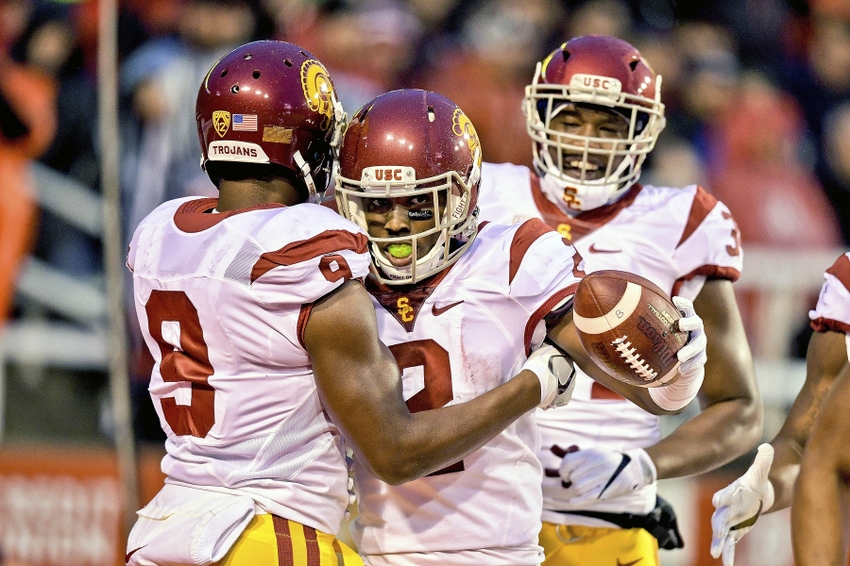 You've seen the tweets. You've watched the snaps. Adoree' Jackson and JuJu Smith-Schuster are teasing a return to USC for their senior seasons. What if they actually come back?
Red-hot USC is preparing for their first Rose Bowl appearance in eight years. But if you only browsed the social media accounts of star Trojans and draft-eligible juniors Adoree' Jackson and JuJu Smith-Schuster, you'd be more saturated with hints of their potential returns in 2017.
After beating Notre Dame in November, Smith-Schuster said he'd return if Jackson did. He teased his comeback on Snapchat a week later. Wednesday, Jackson said his is "really on the table." Since, they've both tweeted about next season.
Each mention sends USC fans into an emotional tizzy, with dreams of the future running rampant.
Aside from the Utopian ideals of winning the Pac-12 and a national championship, Adoree' Jackson and JuJu Smith-Schuster have ballooned legacies to chase if they return for their senior seasons. Legacies which sit in polite protest against the stakes of their NFL futures.
READ MORE: Adoree' Jackson Talks About Chances of Returning in 2017
For Jackson, a return would make him a serious Heisman Trophy candidate, with the opportunity to become the first two-time winner of the Thorpe Award, all while keeping alive his moonlighting as a long jumper.
Adoree' Jackson and JuJu Smith-Schuster have ballooned legacies to chase if they return for their senior seasons.
For Smith-Schuster, a healthy return would put him on track to become the most prolific wide receiver in the history of USC football. He sits just 46 catches and 696 yards shy of Robert Woods and Marqise Lee's school records.
Both have been pegged as high as Top 10 picks in next year's NFL Draft, while both could also fall into the second or third rounds, depending on which talent-evaluating media you prefer.
One is more NFL-ready yet considered injury prone, while the other has an untapped ceiling, despite questions over size and technique transferring to the next level.
None of those things stopped the likes of Woods, Lee, Nelson Agholor or Nickell Robey from going pro early.
MORE NFL: The 25 Biggest Trojan Draft Busts
But what if this crop of elite juniors actually put their professional careers on hold to take a stab at winning it all with the Trojans in 2017?
For starters, take the ferocity of the always-eager USC Hype Train™ and ramp it up a few gears. What appears to be a Top 10 preseason ranking without Jackson and Smith-Schuster, would probably be Top 2 with several first-place votes with them.
Prepare for an offseason of comparisons to the 2012 season, and expectations that might never be higher. In a climate of absurd demand in college football, anything but a national championship would be considered a failure.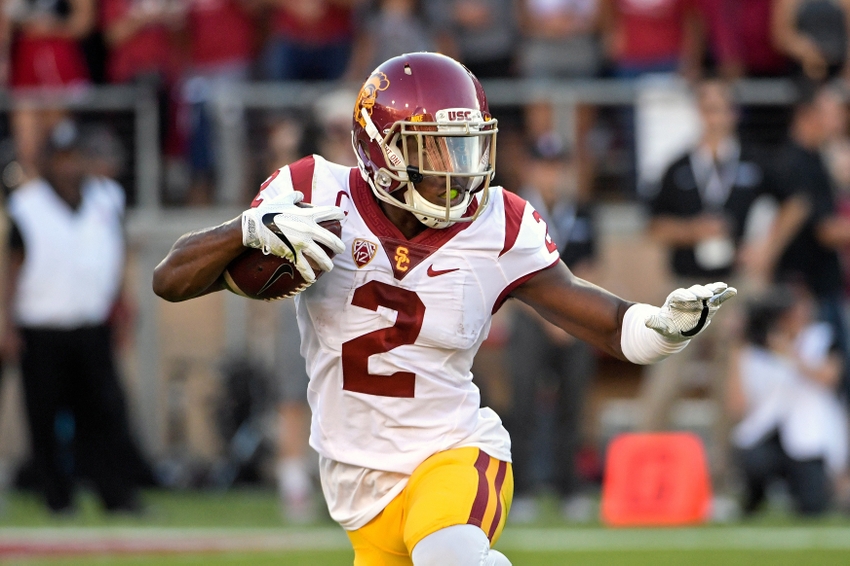 Aside from losing All-Pac-12 offensive tackles Chad Wheeler and Zach Banner, the Trojans would return almost everyone from a passing offense that ranked 6th in S&P+, despite a horrific opening quarter of the season.
Sam Darnold will be a redshirt sophomore. Ronald Jones will be a junior. Smith-Schuster and Jackson would be seniors.
It would be USC's greatest assemblage of talent on offense since 2005. Especially when you consider a more-active Jackson.
Given the progression of cornerbacks Ajene Harris and Jack Jones –both of whom saw an increase in reps in November– the need for Jackson to be a full-time cornerback wouldn't be as strong as it was in 2016, following the departure of Kevon Seymour.
TRENDING: USC's 10 Best Plays of the 2016 Season
After being the focus of 35 offensive plays in 2015 –28 receiving targets and seven rushes– he totaled just eight in 2016. His only reception came against Notre Dame, a 52-yard touchdown on a swing pass from Sam Darnold.
Unless Jackson's return is loaded with a next-level ultimatum for even more tape at cornerback, he would undoubtedly see more touches as a senior.
How many more would be dependent on the potential return of Smith-Schuster alongside him.
As it stands, the Trojans must replace senior receivers Darreus Rogers, De'Quan Hampton and Isaac Whitney, who together accounted for 21.7 percent of all passing targets in 2016.
Sophomore Deontay Burnett –14.6 percent of targets– is expected to be a featured component of the 2017 passing game, along with a slew of newly arrived receivers like Michael Pittman, Josh Imatorbhebhe and Tyler Vaughns.
An early departure of Smith-Schuster makes it easy to divide an overall 45.7 percent of missing targets between an increased role of Burnett, the freshmen, the tight ends, a healthy Steven Mitchell, and Adoree' Jackson.
RELATED: Ranking the 10 Best USC Receivers of All-Time
A return re-muddies the field at receiver. But that's a wonderful problem to have for a team that finished the regular season with eight-straight wins, including a dominant toppling of previously unbeaten No. 4 Washington.
Clay Helton's high-octane offense would focus solely on rebuilding the offensive line, and Clancy Pendergast would have a fully stocked secondary inundated with five-star talent.
The ideal situation.
All told, a senior season would be a chance for Smith-Schuster to stay healthy and live up to the Biletnikoff Award expectations he had as a junior.
And for Jackson, a chance to expand his role, making him more attractive for awards like the Paul Hornung and potentially the Heisman.
ROSE BOWL: Early Preview of USC vs. Penn State
But more importantly, they would jointly put USC –a team many would expected to win the Pac-12 without them– seemingly over the top and a serious national title contender.
That's why they came to USC in the first place. To win.
Is it enough to entice the two freak athletes to forgo their ability to cash in for another year?
We'll have to wait and see.
And of course, deal with many more tweets, all dripping with championship dreams as bait.
This article originally appeared on