What I Learned Watching Alabama Play Mississippi State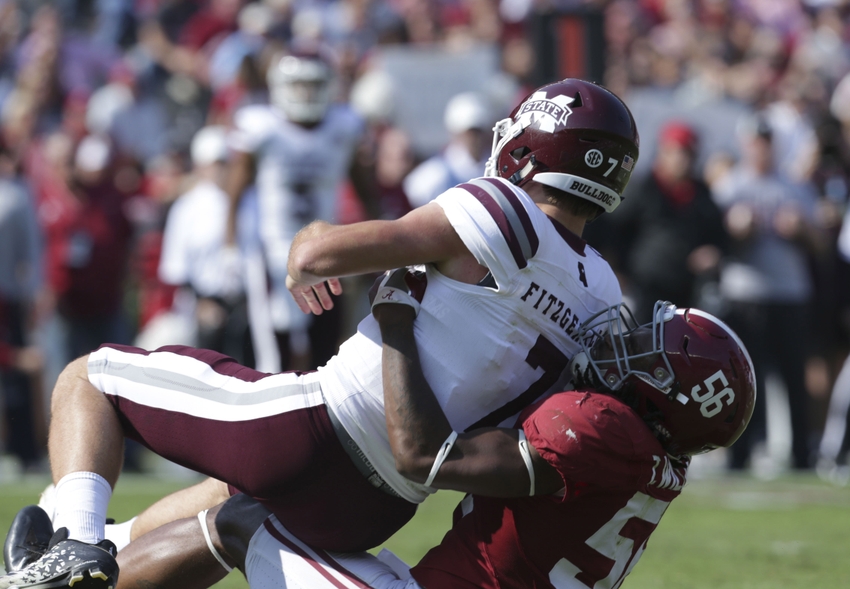 The 2016 Alabama football team advanced to 10-0 after dismantling the #Bulldogs of Mississippi State, but what did we learn watching the play unfold on Saturday?
With each passing week we'll learn more about the 2016 Crimson Tide squad.  We'll spot trends as they emerge and puzzle at both the positive and negative outliers throughout the Alabama football season.
In this weekly feature I'll highlight a handful of the lessons this team is teaching me.
Lapped Field
As college football unveiled, some may say unraveled, it's version of chaos theory one thing remained constant, some may say better than constant. The Alabama football team proved immune to letdown, and not just immune but practically empowered by its mere potential.
Depending upon whose stats you trust, Alabama has not scored a touchdown in the first quarter of the post-LSU game in over 15 years.  A measure of letdown and complacency as much as that week's given opponent. However, on Saturday Alabama posted 10 first-quarter points in route to a 30-point first half.
And depending upon whose suspect and occasionally influenced memories you trust, Alabama has historically struggled with 11 a.m. kicks. Yet Saturday, Alabama managed to dispatch the historically tough Bulldogs in vigorous fashion, so much so that I half expected the teams to agree to 12-minute quarters in the second half.
This Tide squad is not just peaking, it is scaling new heights. It's only Tuesday and it's already tried to suggest that Alabama could drop a game and still make the playoff.
At this stage, the competition is not even for second place, it's a fated race for 'next'.
Kiffin's World
Is there a resume builder in the college football coaching ranks better than Lane Kiffin?  Give him a sullied reputation and he'll return a storyline of how he remade Saban's offensive philosophy. Give him Blake Sims and he'll return a historically prolific offense. Give him a freshman quarterback with top-shelf legs and a sometimes scattershot arm and he'll return Alabama's first ever 300/100 yard performance.
Lane's skills as a defiant point-maker are off the charts.
One week after upending the selection committee's surprise team in the four hole, Mississippi State is relegated to scripted scrimmage fodder for Kiffin's offense.
This is likely Lane's last ride in Tuscaloosa, and a large group of Tide faithful will be pleased to see him go. That's a clumsy position I can't talk you out of, but at least take these last few games and set aside your distaste long enough to enjoy the show.
Next Men Up
When was the last time Alabama football went four deep at a position and no one noticed? Seriously, I've seen games lost or nearly so when a top reserve was called into action and rarely has such a deep dive into the depth chart been undertaken without at least some level of implication.
Yet so it was on Saturday when at left guard Josh Casher rotated with Korren Kirven, who was subbing for Lester Cotton who stepped in for 15 game starter Alphonse Taylor.
Next man up is a mantra but it's more so an attitude. It's also a tactic with limited bounds, unless you relentlessly recruit at the level of Nick Saban, then it's just plain amazing.
Check back as I continue to track these and new items as they emerge from the field.  Also be sure to check out our podcasts as I explore and debate these topics and many more in a more animated format.
This article originally appeared on