What I Learned Watching Alabama Football Defeat Auburn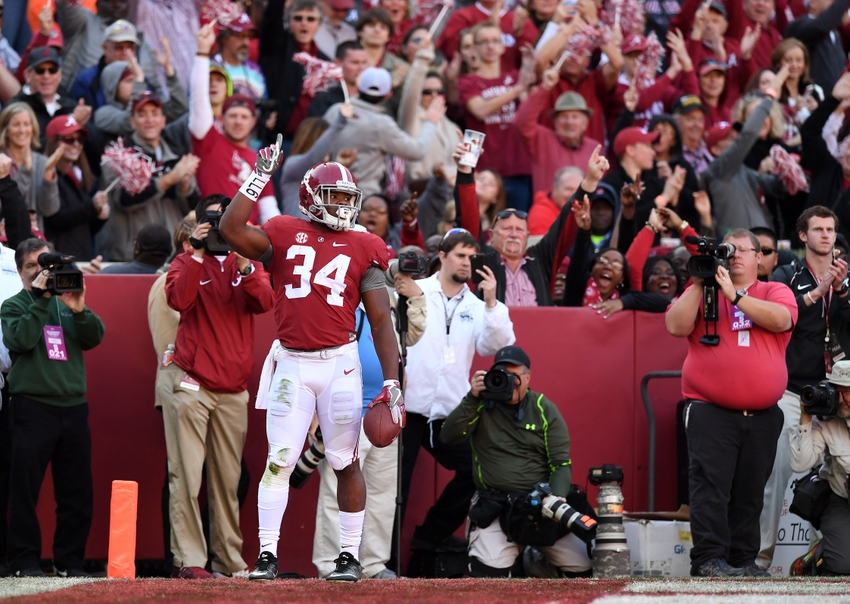 The 2016 Alabama football team submitted and undefeated 12-0 regular season after a surprisingly quiet 500-yard performance against the Plainsmen of West Georgia. But what did we learn watching the play unfold on Saturday?
With each passing week we'll learn more about the 2016 Crimson Tide squad.  We'll spot trends as they emerge and puzzle at both the positive and negative outliers throughout the Alabama football season.
In this weekly feature I'll highlight a handful of the lessons this team is teaching me.
Play Calling
Alabama fans can sometimes be a curious lot. Defensive of their super freshman quarterback but resentful of the offensive game plan and play-calling.
The reality is that there's a lot more going on than is being acknowledged.
"Run the ball, Lane!" is a common refrain, at least where I'm sitting on game day, and in knee-jerk fashion the Tide's success on the ground in the second half will be called upon as sufficient evidence that every play should have been on the ground. But it's not the full story.
Where's Paul Harvey when you need him?
SEC Football: Week 13 Power Rankings
Listen to Nick Saban and his team in countless interviews.  Alabama wants to stop the opponent's running game. Once accomplished, it's easier to take away the opponent's passing. It's a formula that has worked to perfection for several seasons and is one that can inform how we might perceive the Tide's own offense.
On Saturday, Alabama lined up against a team that had not allowed a running touchdown in roughly eight games. Think they know a little something about the importance of stopping the run?
In response the Tide deployed an attack geared at frustrating the opposing defense. Said the Tide, if they want to stop our run, we'll just pass the ball.  Though Jalen Hurts didn't submit his best passing performance, with two interceptions, he did complete 75 percent of his attempts for nearly 300 yards.
Only with frustration and fatigue mounting, did Alabama unleashed a potent ground attack which allowed it to dominate time of possession and salt the game away in the second half. An approach that wouldn't have worked in reverse.
A well-conceived game plan is like a recipe. It's about the sequence and process as much as it is about the ingredients.
Sure, on Saturday there were some broken eggs but the finished product was more perfect than most will appreciate.
Defensive Pride
The Alabama defensive unit has been called a lot of things this season. Hateful, Dogs, Dominant, and Potentially the Best Ever are not least amongst the tags. But for my money, this stop squad is Prideful.
Several times this season, misfortune has struck and an Alabama opponent has been gifted a short field. This can be demoralizing for a defense and in extreme cases it can contribute to divisiveness in a locker room.
For the 2016 Alabama defense, an opponent starting with a short field is viewed as a challenge. Increased stakes to amplify the drama. Basically an adrenaline rush.
This occurred multiple times on Saturday and the defense stood strong against the challenge. At one point the Tigers had 9 points but only a single first down. A double-take inducing stat but one reflective of the Tide's defensive prowess and pride.
Depth Watch
As much hallmark as harbinger, the depth watch has been a staple in this space – and Saturday was no exception.
Relatively early in the first half star nickel-back Tony Brown was ejected for targeting on what looked like a legal, albeit lethal, crack-back block. This lead to an unplanned personnel shift and an increased role for safety Hootie Jones.
In the third quarter, All-America caliber corner Marlon Humphrey exited the game with a leg injury and was replaced with former walk on Levi Wallace.
Those injuries coupled with the earlier loss of Eddie Jackson put the Tide 7 or 8, or even 9 DBs deep depending upon the given defensive alignment. That should present a target-rich environment for the right passing offense but fortunately none was to be found on the opponent sideline.
Equally as fortunate are the planned and expected returns of Brown and Humphrey respectively.
Enjoy This Moment
Perhaps the only thing harder to do than scoring a touchdown on Alabama this November is convincing a Tide fan to slow down and enjoy the moment in time.
Alabama football is making its third consecutive trip to the SEC Championship game and is on the cusp of gaining an unprecedented third consecutive entry into the College Football Playoff. That's a record that, unless beaten by Alabama next season, could stand for 20 years.
Horde these good feelings like a squirrel gathering nuts. While I'm not in a rush for it, I understand that this time will eventually pass.
Check back as I continue to track these and new items as they emerge from the field.  Also be sure to check out our podcasts as I explore and debate these topics and many more in a more animated format.
This article originally appeared on