What Brian VanGorder brings in his return to Georgia football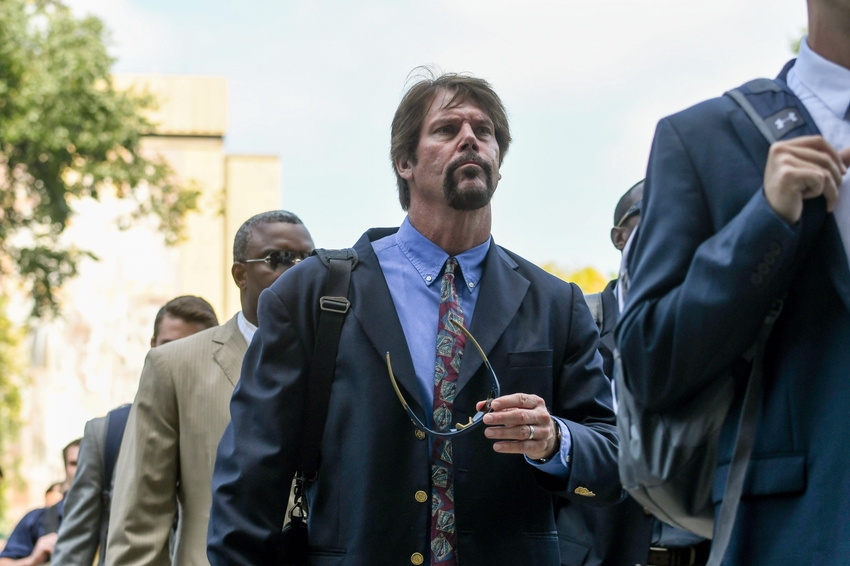 Brian VanGorder joined the Georgia football coaching staff as a defensive analyst before the Auburn game earlier this month.
Most recently fans of college football know Brian VanGorder as the former Notre Dame defensive coordinator who was fired in September. But Georgia football fans know VanGorder as the coach of their defense from 2001-2004. He returned to Athens before the Auburn game to join Kirby Smart's coaching staff.
The school has not made an official announcement of his hiring, but he hasn't made any attempts to not be seen. He has been spotted wearing coaching gear around the practice facility and attended the Georgia basketball game versus Furman.
His return gives Georgia three defensive coordinators essentially; Mel Tucker the actual coordinator, VanGorder the analyst and Kirby Smart the head coach and former coordinator.
While Tucker's role is more hands on and his authority on the defense shouldn't be compromised, the second opinion of VanGorder will not hurt.
Smart bringing in VanGorder is another in what may become a trend in college football. Earlier this season, Nick Saban hired former USC head coach Steve Sarkisian to be an analyst on the offense.
VanGorder's Resume
VanGorder has held six different coaching jobs since leaving Georgia in 2004. He became linebackers coach of the Jacksonville Jaguars in 2005 then head coach of Georgia Southern in 2006. He returned to the NFL in 2007 as linebackers coach of the Atlanta Falcons, and he became defensive coordinator in 2008.
VanGorder rejoined the college ranks in 2012 as Auburn's defensive coordinator but he left when Gene Chizik was fired. he made one more stop in the NFL in 2013 to be the linebackers coach of the New York Jets.
Finally he returned to college once again to be Notre Dame's defensive coordinator in 2014.
He's had what can be described as a journeyman career. In the 1980's he coaches at four different high schools, mostly in south Florida. He worked his way up the college levels in the 1990's starting with Grand Valley State.
He became head coach of his Alma Mater in 1992. After leaving their 1994 he spent time at Central Florida, Central Michigan and Western Illinois.
Mark Richt took a shot on VanGorder in 2001 when he was putting together his first staff when he was hired and it paid off with championships.
Why Georgia fans should be excited
During his four seasons in Athens, Georgia allowed 16.2 points per game. Georgia was 42-10 with Brian VanGorder and they won two SEC East titles and the SEC Championship in 2002.
During his time at Georgia, he produced the likes of David Pollack, Thomas Davis, Sean Jones and Tim Jennings. And many more players like Will Thompson, Tony Taylor, Boss Bailey, Greg Blue and Odell Thurman were stars at the college level.
Georgia's defense was dominant under VanGorder but they never played with a great offense. Georgia gave up less than 20 points in four of the 10 losses from 2001-2004. The 20-13 loss to Florida in 2002 featured a defensive touchdown by Florida so Georgia defense held opponents to less than 20 points in half of their losses. In only one loss did Georgia give up over 30 points (2003, SEC Championship vs. LSU, 34-13).
After he left Georgia, the defense went on a decline while the offense improved. Soon the script was flipped and Georgia went from a team with a great defense and bad offense, to a team with a bad defense and a great offense.
There's no telling how many championships the Bulldogs could have won had VanGorder remained at Georgia. 2007, 2008, 2011, 2012, 2013 and 2014 come to mind though.
VanGorder has almost four decades of coaching experience. He is a former Georgia coach so he knows the environment. He has proven himself to be a good defensive mind and a successful coach and mostly everywhere he has been.
As an analyst he will be giving his opinion to Smart and Tucker on what Georgia's game-plan should be on defense. With his resume, his opinions should be well respected.
More from Dawn of the Dawg
This article originally appeared on