Week 13 All for Tennessee Official SEC & Top 25 College Football Predictions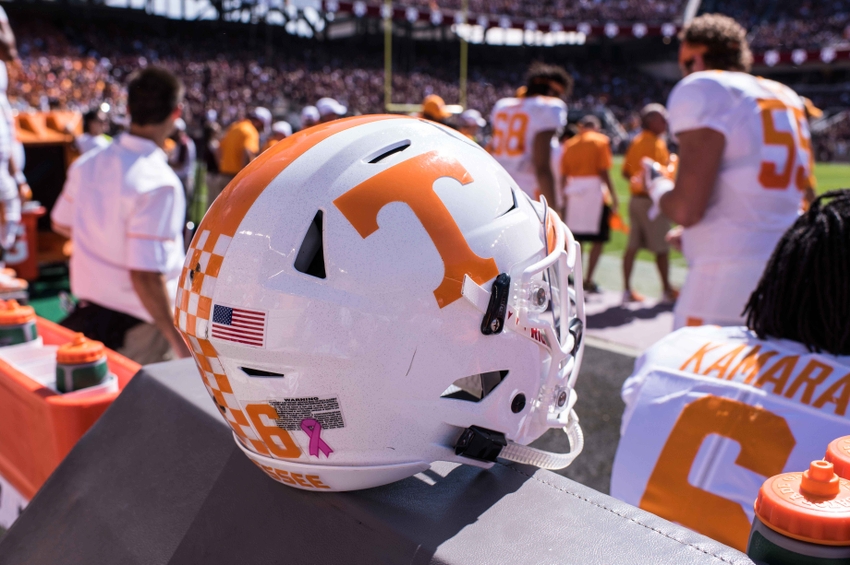 Here are the official college football predictions for Southeastern Conference and Top 25 games during week 13 of the 2016 season.
We've reached the final week of our regular season college football predictions. And this weekend could not be more exciting.
It's rivalry week!
That means there are plenty of great games to cover, and at the same time, there are plenty of teams with lots to play for.
As we get set to bring you our college football predictions for this week, we have nine games involving SEC teams to cover and three other games that feature two Top 25 teams going against each other.
There's also one game that will decide the entire landscape of the College Football Playoff among those three.
And within the SEC, there are two more games featuring Top 25 schools.
Simply put, Rivalry Week can't be any bigger than it is this year. From the college football playoff to major conference championships to bowl appearances, lots of things are at stake here.
Forget NFL on Thanksgiving! College football is the story this week.
As for the Vols, where they go bowling depends on lots of the games that are being played this weekend in the SEC. And they don't have an easy game to get past anyway.
So beyond the college football playoff, fans of teams like Tennessee have lots of reasons to pay attention to other games this weekend.
And it lasts from Thanksgiving through Saturday. So let's get started with our final week of college football predictions, beginning with the night of Thanksgiving.
LSU Tigers at Texas A&M Aggies
Thursday at 7:30 p.m.; Kyle Field; College Station, Texas
Line: LSU -6.5; Over/Under: 47
What could have been a huge game two weeks ago with major bowl implications has now just turned into a game between two teams trying to avoid finishing in the bottom half of the SEC West.
To be fair, the Texas A&M Aggies still have a bit to play for. If they win, they finish second in the Big 12 at 9-3, and if they do it in impressive fashion, Kevin Sumlin's team may be able to squeak its way into that Sugar Bowl slot.
However, the LSU Tigers blew their Sugar Bowl chance after choking against the Florida Gators at home last week. As a result, Ed Orgeron's team is playing for pride. However, they do have a great running game and amazing defense.
Meanwhile, Texas A&M is trying to figure out what to do without Trevor Knight. It's struggled the past few weeks without him.
What Will Happen?
This might be the most difficult game for our college football predictions. Prepare for another low-scoring game. John Chavis's defense at Texas A&M is going to have no trouble shutting down the LSU Tigers offense.
Meanwhile, LSU's defense will feel like its playing air with no Trevor Knight to run Texas A&M's offense.
So this game will come down to coaching wits.
With Texas A&M playing this game at home, Sumlin will own Orgeron down the stretch. And that will be the difference in this game.
Texas A&M: 17 LSU: 13
Arkansas Razorbacks at Missouri Tigers
Friday at 2:30 p.m.; Faurot Field; Columbia, Mo.
Line: Arkansas -8; Over/Under: 74
Bret Bielema's Arkansas Razorbacks have lots to play for in this game. With a 7-4 record, they are close to having the best season they've had since Bobby Petrino left, which would be a huge step in the right direction for the program.
They are going up against their border rival in the Missouri Tigers. A team with absolutely nothing to play for in Barry Odom's first year and now a team rocked by scandal with the rumor that athletes weren't taking tests.
Meanwhile, Missouri's defense has fallen off a cliff, which unfortunately came at the time that their offense finally began to find its groove.
This doesn't help with them going up against a balanced Arkansas Razorbacks offense with a dominant rushing attack and a very physical defense.
Simply put, Missouri's only advantage is playing the game at home.
What Will Happen?
Take the Razorbacks to cover the spread, and go with the over. Using a dominant ground game and balanced passing, Arkansas will torch Missouri's defense.
Because of Arkansas's issues in stopping the run, the Tigers will remain in it for a half. This will be a very similar game to what they had last week against the Tennessee Vols.
But this is an easy one for us to call in our college football predictions.
Austin Allen will get three touchdowns, and Raleigh Williams III and Devwah Whaley will combine for nearly 300 yards.
The Hogs dominate in the process.
Arkansas: 55 Missouri: 27
No. 5 Washington Huskies at No. 23 Washington State Cougars
Friday at 3:30 p.m.; Martin Stadium; Pullman, Wash. 
Line: Washington -6; Over/Under: 64
This is one that the College Football Playoff committee desperately hopes goes to the underdog. That way, they won't have to deal with a potential Big Ten mess that could come, which we'll get to later.
They could just put two Big Ten teams in the playoff.
Anyway, as for this game, Mike Leach has certainly revitalized the Cougars, and despite an embarrassing FCS loss earlier in the year, he has them in prime position to win the Pac-12 North with his air raid offense.
But if this rivalry couldn't get any better, it doesn't just involve two in-state teams trying to win their division and play for the Pac-12 Championship this year. It involves two teams with completely different styles.
That makes it tricky for us in our college football predictions.
While Washington State wants to air it out and score quickly, the Huskies under Chris Petersen want to grind it out and use balance to win the game, as they've done all year. If they win, they'll be right in the thick of the College Football Playoff race.
If they lose, they're out of it and the Pac-12 race.
What Will Happen?
Ground and pound and tough defense tops air raid offenses every time, especially when you rival the coaching wits of the air raid coach and have the personnel to do it.
Chris Petersen has both with his team.
The Washington Huskies will force Luke Falk to commit at least four turnovers in the game, and Jake Browning will move the ball just enough, while Myles Gaskin helps them completely control the game.
Washington wins and make things very difficult on the playoff committee.
Washington: 31 Washington State: 21
Georgia Tech Yellow Jackets at Georgia Bulldogs
Saturday at Noon; Sanford Stadium; Athens, Ga.
Line: Georgia -4; Over/Under: 48.5
Now this is a real difficult one for us to call in our college football predictions. For starters, it's a rivalry game between two teams with the same record where anything could happen.
At the same time, while the Georgia Bulldogs have more talent, we don't know which Georgia team will show up. And the Georgia Tech Yellow Jackets have the schematic advantages with Paul Johnson at coach.
The hype behind Jacob Eason at quarterback has subsided significantly in recent weeks for Bulldogs fans, as the Georgia offense has consistently struggled. Meanwhile, the Georgia defense is week to week.
It looked like their defense had taken a step in Kirby Smart's new system after shutting down the Auburn Tigers. But then they struggled against Louisiana Lafayette.
So what happens this week when they face the Georgia Tech Yellow Jackets and that triple option? And will the offense be able to move the ball at all behind Eason and Nick Chubb in what is likely his final home game?
What Will Happen?
Georgia's been completely stagnant on offense over the past few weeks with the exception of Chubb's hard running. They will rely on the same thing this time.
Jacob Eason will struggle, but it won't matter.
Riding a wave of momentum and hoping for a big send-off, Kirby Smart's team will make sure they take care of business at home against an inferior Georgia Tech team.
The Dawgs move to 8-4 for a strong finish to the regular season with a chance for an even greater finish when they go bowling.
Georgia: 27 Georgia Tech: 14
Kentucky Wildcats at No. 11 Louisville Cardinals
Saturday at Noon; Papa John's Cardinal Stadium; Louisville, Ky.
Line: Louisville -26.5; Over/Under: 74
Hey, the Kentucky Wildcats shocked the world by making it to a bowl game under Mark Stoops this year, and the Louisville Cardinals are reeling after a bad loss to the Houston Cougars last week.
So the Wildcats may be more excited to play this game, and that could give them a chance to pull off an upset, right?
After all, they clearly have revitalized themselves under Stephen Johnson at quarterback, and the Cardinals were exposed as a team that makes a lot of mistakes.
Will Lamar Jackson quit on Bobby Petrino with no Heisman or championship in play now?
All of these things have to be taken into account as we do this game for our college football predictions.
What Will Happen?
Okay, nothing I just wrote was written with a straight face. I almost died laughing out loud writing it.
Louisville could give its entire starting unit the flu, and they'd still walk into this game and dominate. Petrino's offense at full strength against a useless Kentucky defense? Is there any chance for the Wildcats?
No.
Without even trying, Lamar Jackson will have five touchdowns, and Louisville won't even punt in this game. Kentucky should just go home and save itself the embarrassment.
Louisville will not only win. They'll also cover the 26.5-point spread. And they'll surpass what they did against Florida State.
Louisville: 70 Kentucky: 24
No. 3 Michigan Wolverines at No. 2 Ohio State Buckeyes
Saturday at Noon; Ohio Stadium; Columbus, Ohio
Line: Ohio State -6.5; Over/Under: 45.5
Now this is the game everybody is wanting to watch. It has college football playoff implications in more ways than one.
The playoff committee, the Big Ten, and the other conference champions all have rooting interests in this game because of how things could play out. If Ohio State wins and Penn State wins, which is very possible, then the Nittany Lions will play for the Big Ten title against a likely two-loss Big Ten West team. Meanwhile, one-loss Ohio State will be out.
So to get them to the playoff, the two-loss Big Ten champ likely also would have to go. But for that to happen, you can't have the SEC, ACC, and Pac-12 champ all with one loss going as well.
Worst-case scenario for the playoff is that Washington, Ohio State, and Penn State all win while Clemson and Alabama win out. If Washington loses, the Big Ten wants Ohio State to win since that gets them two teams in the playoff.
But amidst all of this, Jim Harbaugh's Michigan Wolverines have something to say about this. If they win, there's no controversy. That'll be hard with a backup quarterback in John O'Korn, but he's got a great defense.
It'll be a game of tough defense and a smart, pro-style offense against the pioneer of the spread offense and a numbers-based team in Ohio State.
And this call in our college football predictions is also a prediction in the landscape of the playoff.
What Will Happen?
Nick Saban has proven that the spread offense is usually rendered useless once it runs into a defense with the right personnel along with an offense that can move the ball. Jim Harbaugh runs that Saban style too with better offensive coaching.
However, Urban Meyer has always been the exception to that rule. And he's in Columbus. And Michigan has a backup quarterback.
Throw it all out the window.
This is Harbaugh's year at Michigan, and he's about to prove it with his most signature win yet. The Wolverines turn this into a hard-fought match-up, and John O'Korn has a magical but memorable performance.
Remember Cardale Jones two years ago? It's O'Korn's turn. He leads the Wolverines to the upset, saving the College Football Playoff committee a huge nightmare.
Michigan: 27 Ohio State: 24
Mississippi State Bulldogs at Ole Miss Rebels
Saturday at 3:30 p.m.; Vaught-Hemingway Stadium; Oxford, Miss.
Line: Ole Miss -7.5; Over/Under: 47
Talk about a very interesting game among our college football predictions! Thanks to major upset losses that both teams have suffered this year, the Mississippi State Bulldogs now have no bowl game to play for, and the Ole Miss Rebels are still not a lock for a bowl that they should be.
Now, Mississippi State is eliminated, and with no pressure, Dan Mullen's team wants to play spoiler against its most hated rival.
Hugh Freeze's Rebels are 5-6 and just choked last week against a terrible Vanderbilt Commodores team.
Ole Miss showed that it has a very questionable defense. It's also running a freshman quarterback in Shea Patterson.
Meanwhile, Mississippi State is rebuilding under Mullen, but they have a great quarterback in Nick Fitzgerald who could become the next Dak Prescott. And against Ole Miss, they'll give it all they have.
But their defense on the road becomes the major question.
What Will Happen?
Mississippi State has everything going for it to play spoiler in this game. They have match-up advantages, they have no pressure, and they certainly have the talent.
But the Ole Miss Rebels do have a ton of talent on offense that is simply unproven. And Mississippi State's defense is extremely questionable.
Finally, the Rebels are playing at home with a bowl berth on the line. They'll give it everything they have in this final game to make sure they pull out a hard-fought victory.
It'll be tough for a while, but Ole Miss pulls away in a shootout in the fourth quarter.
Ole Miss: 45 Mississippi State: 35
No. 13 Auburn Tigers at No. 1 Alabama Crimson Tide
Saturday at 3:30 p.m.; Bryant-Denny Stadium; Tuscaloosa, Ala.
Line: Alabama -17.5; Over/Under: 47
Two weeks ago, this was looking like a game that would determine the College Football Playoff in the SEC. Then the Auburn Tigers lost to the Georgia Bulldogs in an embarrassing way.
Meanwhile, the Alabama Crimson Tide have continued their stretch of just blowing teams out of the water in the SEC.
So of course, this would be an easy game for us to call in our college football predictions, right? Not so fast.
The everybody says syndrome kicks in. Gus Malzahn's Tigers have a complex offense that always gives Nick Saban's defenses hell, and if Sean White can remain efficient while the rushing attack takes over, this game could get interesting. Add in Auburn's defense against Jalen Hurts, and nothing here is a given.
This Iron Bowl could turn into an instant classic with the Tigers catching the Tide massively off-guard.
Although that 17.5 line makes sense, anything can happen in this rivalry game. So Alabama is far more talented, but you never know. They may not be up for this game, they may be looking ahead to the SEC Championship game, and they may not have the right match-ups.
So don't count this one out.
What Will Happen?
Auburn will jump out early and catch the Tide completely off-guard. They will gain a two-score lead, and Alabama will face its first real test since the Ole Miss Rebels.
Unlike the Rebels, though, Auburn has the depth to go all four quarters. So Alabama is really going to have to remain focused.
But they will regroup at halftime, and the defense will make enough plays while Lane Kiffin sticks to his offense.
In the process, the Tide will pull ahead in the fourth quarter and never look back. This game will be very similar to 2014. Alabama wins in solid fashion, but they don't cover the spread.
Alabama: 38 Auburn: 27
South Carolina Gamecocks at No. 4 Clemson Tigers
Saturday at 7:30 p.m.; Memorial Stadium; Clemson, S.C.
Line: Clemson -24; Over/Under: 50.5
There's no way around this. The Clemson Tigers are way more talented than the South Carolina Gamecocks right now.
On top of that, they have a major advantage with a superstar at quarterback, and they have a way better coach. Oh, and they're playing at home with a lot more to play for.
All of this means they should win in a blowout, right? Maybe not. And we're not going there in our college football predictions.
South Carolina has the defense and a defensive coach in Will Muschamp to turn this into an ugly game, and they have a quarterback in Jake Bentley who's just good enough to make things interesting.
And in this rivalry game, anything can happen. So don't write this off as an immediate blowout loss. If a few fluke things break a certain way, South Carolina could all of a sudden make this game very interesting.
What Will Happen?
South Carolina's defense will keep this game ugly and low-scoring for a half. In the second half, they'll force turnovers to stay in this game.
And they'll move the ball on Clemson's weak defense.
In the process, Dabo Swinney's team will panic and give the Gamecocks a very real shot to win the game.
But with his winner's mentality, Deshaun Watson will rally the group in the fourth quarter and carry them to a victory. Clemson won't cover, it will be ugly, but they'll get the win.
Clemson: 28 South Carolina: 17
No. 22 Utah Utes at No. 9 Colorado Buffaloes
Saturday at 7:30 p.m.; Folsom Field; Boulder, Colo.
Line: Colorado -10; Over/Under: 53.5
This wasn't supposed to happen. Last week, the Colorado Buffaloes were supposed to lose to the Washington State Cougars,  and the Utah Utes were supposed to beat the Oregon Ducks, making this game a showdown to see who would win the Pac-12 South.
The two mountain teams in the conference playing to win their division would be epic.
Instead, the Utes were knocked out of the race by losing, and the Buffaloes now have to win to avoid seeing the USC Trojans go to the title game.
However, Colorado has more to play for than a Pac-12 title at this point. With a 9-2 record and Top 10 ranking, their resume gives them a great chance to reach the College Football Playoff.
And yes, we are factoring that into our college football predictions with Mike MacIntyre's team. Their offense is dominant with Sefo Liufau running and throwing and Phillip Lindsay running.
They also have the ability to play physical, which is what will be the key in this game against Utah.
What Will Happen?
Kyle Whittingham's Utah Utes are more than talented enough to give the Colorado Buffaloes a fight in this game. In fact, they may have even more talent.
But it won't matter.
The Utes have nothing to play for after losing to the Oregon Ducks last week, and the Buffaloes are serious with their playoff aspirations.
As a result, Colorado will take control of this game and make sure they don't let this chance go to waste in their final game of the year in front of their home audience.
No way Colorado takes Utah lightly, and in the process, they pull out a huge victory.
Colorado: 34 Utah: 20
No. 15 Florida Gators at No. 14 Florida State Seminoles
Saturday at 8 p.m.; Doak Campbell Stadium; Tallahassee, Fla. 
Line: Florida State -7.5; Over/Under: 45.5
All of a sudden, the other team from Florida is thinking about the College Football Playoff in this game. Who thought the Gators would be that team at the beginning of the year?
Well, Jim McElwain's team has defied everybody, and that leaves us questioning what to do in our college football predictions.
With a backup quarterback, his team won a hard-fought game on the road against the LSU Tigers last week. This week, they play a team with a worse defense that has even less to play for.
And at the same time, they have a heck of a lot more to play for. And as we've seen, you can't count the Gators out on the road anymore.
Florida has a dominant secondary and a tough defense all the way around while their offense can do just enough.
Florida State, meanwhile, is dealing with some potential coaching turmoil, but they have seen lots of improvement the past few weeks with Deondre Francois developing at quarterback and Dalvin Cook at running back.
What Will Happen?
Florida State sold out to stop LSU's rushing attack last week, and it worked. They'll do the same to Dalvin Cook this week.
But Francois has developed into a better quarterback than Danny Etling, and the Seminoles have much better offensive coaching under Jimbo Fisher than the Tigers had under Ed Orgeron.
So even if the Fisher to LSU rumors, which is ironic here, are a distraction, it won't be enough.
Florida's defense has yet to look good against a talented and balanced offense this year. It won't happen on Saturday either.
The Seminoles pull out a solid home victory, bringing the Gators back to reality in terms of their College Football Playoff hopes.
They'll also humble the Gators by taking advantage of the fact that Florida is back to talking a ton of trash after beating LSU, including McElwain himself, while not being focused enough on their next opponent.
We're betting against the Gators once again in our college football predictions.
Florida State: 35 Florida: 17
No. 17 Tennessee Volunteers at Vanderbilt Commodores
Saturday at 7:30 p.m.; Vanderbilt Stadium; Nashville, Tenn.
Line: Tennessee -7.5; Over/Under: 45.5
This game is truly a toss-up. For a Tennessee football site, that's little comfort to our readers in our college football predictions.
The Vols should destroy Vanderbilt right?
Well, Tennessee's offense has already shown that it struggles against elite defenses that base things on turnovers. That's exactly what Vanderbilt is under Derek Mason.
It's defense, due to injuries, has struggled in stopping the run. Vanderbilt runs it well with Ralph Webb.
And the Vols have only a potential Sugar Bowl berth to play for. But they're still upset about missing out on the SEC East championship. Meanwhile, Vanderbilt is revitalized after beating the Ole Miss Rebels last week, and they have a chance to reach a bowl game by winning on Saturday.
Oh, and Vanderbilt is playing at home, even if that doesn't count since it's always more Vols fans at this game.
Still, anything could happen here, and the Vols often inexplicably struggle with the Commodores anyway.
What Will Happen?
This is Joshua Dobbs's final regular season game, and with Jalen Hurd out of the offense and no longer a distraction, this unit won't make the same mistakes it made against the South Carolina Gamecocks.
Meanwhile, Bob Shoop will scheme just enough to shut down Vanderbilt's offense.
And in the process, Tennessee will use its ground game to control this match-up against the Commodores.
It won't be pretty, but the Vols will finish 9-3 with a rush-oriented offense and an opportunistic defense to win.
Tennessee: 21 Vanderbilt: 10
This article originally appeared on