Watch Tennessee Vols Coach Butch Jones Celebrate, then Dance, After Vols 34-31 Hail Mary Win Over Georgia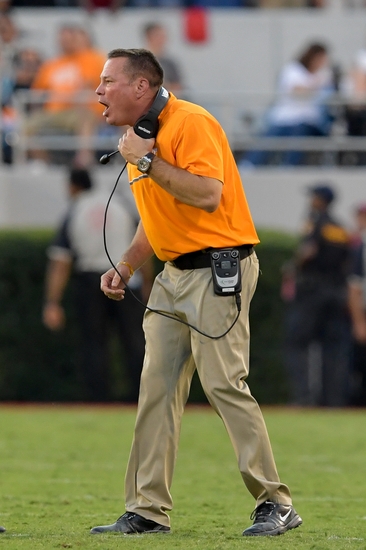 Tennessee's Hail Mary in its 34-31 win over the Georgia Bulldogs sparked a notable celebration from Volunteers head coach Butch Jones…and a notable dance.
Joshua Dobbs's 43-yard touchdown pass to Jauan Jennings wasn't the only made-for-TV highlight at the end of the Tennessee-Georgia game Saturday. Butch Jones provided his own highlights in the Vols' 34-31 victory.
The first highlight that he provided came right after the Vols won the game. Jones jumped up right after the Hail Mary and appeared to hurt himself coming down.
Unreal pic.twitter.com/zEGpf6Z4B4

— Rocky Top Insider (@rockytopinsider) October 1, 2016
It was hard to see whether or not he hurt himself or if he was crying out of joy.
But Butch Jones managed to outdo himself, just like Dobbs managed to outdo Jacob Eason. That came with his locker room dance.
And now we celebrate! #VolsOnTop #TENNvsUGA #VFL pic.twitter.com/tBo8ErWqlM

— Chuck Smith (@chucksmithnfl) October 2, 2016
Jones showed more personality in this game than he has in years past. Usually, he has been calm in wins. But ever since this winning streak began, he has been much more animated.
Ironically, the coach Dave Hart almost hired instead of Jones was Mike Gundy. And he gained a reputation himself for dancing, which he's done twice.
But Tennessee fans might be happy with Butch Jones right now.
Of course, he nearly cost the Vols the game by playing things far too safe and refusing to go for the win when his team had the ball and the lead.
But Dobbs and Jennings bailed him out.
More from All for Tennessee
This article originally appeared on