Washington Huskies Run Past Oregon As Injuries Mount For The Ducks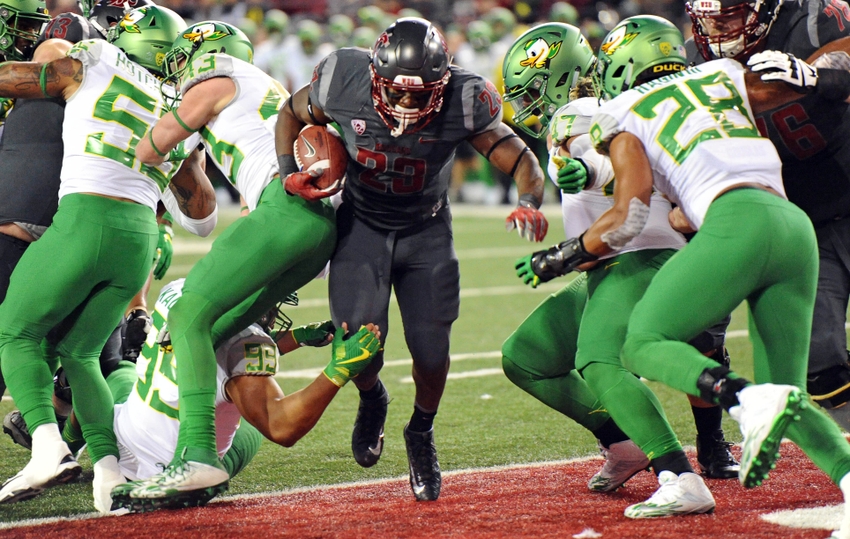 The Oregon Ducks gave up six touchdowns on the ground and injuries continue to mount this season.
The last time the Oregon Ducks lost three straight games was 2007. It was time for a weeks worth of preparation to translate onto the football field, this week in Pullman against Washington State and Mike Leach. Leach is a legend with the Air Raid Style of Offense. He set the standard for running it and as simple as it is, the wrinkles can wreak havoc on Defenses. Would Oregon be up to the Defensive Challenge on Saturday night?
Oregon saw Royce Freeman and Pharoah Brown return, but Troy Dye did not travel for the game on Defense. Freeman and the Ducks would start with the ball after winning the coin toss.
The Ducks drive started with promise with Royce Freeman and Tony Brooks-James, but ended on 4th and 5 when Dakota Prukop missed Charles Nelson in the end zone. Washington sliced through the Oregon Defense on the ground like a hot knife through butter to start their first drive that ended in a touchdown from Luke Falk to Gabe Marks and the 7-0 lead.
Charles Nelson moved the ball past mid field and Prukop would respond with the Oregon Offense on the Ducks second drive. They would get to the Washington State 14 yard line and find a 4th and 1. The ball went to Royce Freeman who ran 11 yards for the Ducks Touchdown to tie the game at 7.
Washington State moved down the field again and on a critical 4th and 3 the Oregon Defense broke giving up a first down inside the 5 yard line as the first quarter came to an end. The Cougars would score to start the second quarter.
The Oregon Ducks Offense would wake up. Running Back Royce Freeman took the ball 75 yards for a score to pull Oregon within 10 at 30-20, the two point conversion failed. Washington State and Jamal Morrow would quickly get Washington State back up by 17 with four scores on the ground on the night. The Air Raid Offense added another dimension against the Oregon Ducks Defense on Saturday night.
The next Offensive possession resulted in a swarming Washington State Defense and an Ian Wheeler punt as the clock ticked toward 10 minutes left in the game. It was not a good night for the Oregon Defense. When the opposition is known as the 'Air Raid' and they scored six touchdowns on the ground.
Injuries are mounting just a month into the season with Johnny Ragin and Dwayne Stanford going down against Washington State. Next week Oregon hosts the Washington Huskies, who sacked Stanford nine times on Friday night.
The Ducks and Huskies will flip the page to Hate Week. Kickoff between Washington and Oregon is set for 4:30pm Pacific Time next Saturday on FOX.
This article originally appeared on