Was FSU's Win over USF Their Best Quality Victory So Far in 2016?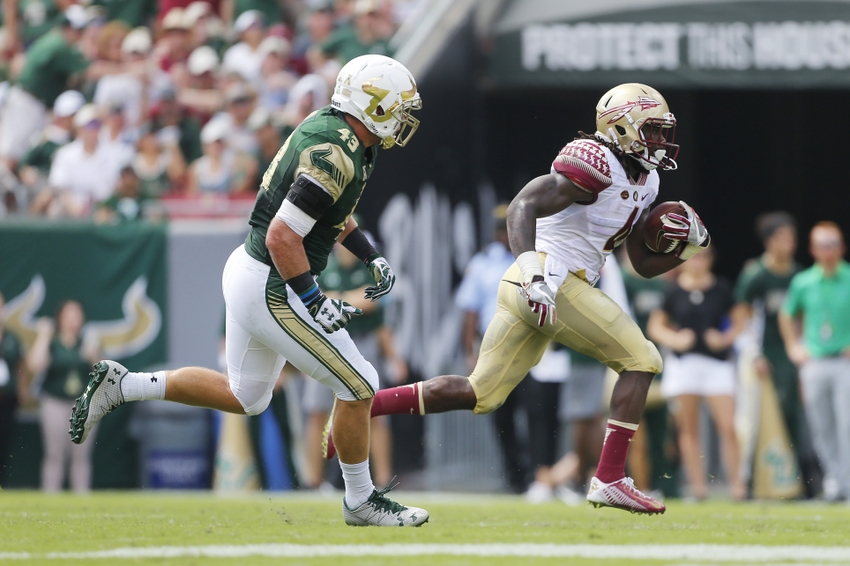 With FSU's wins over Ole Miss and Miami meaning less with their records totaling nine losses, was the win over South Florida the best for the 'Noles?
Through the first nine games of the season, the Seminoles of Florida State have been able to put together six wins at this point. There was a huge road victory over rival Miami, a memorable comeback win in the opener against Ole Miss and ACC victories over Wake Forest and N.C. State thrown in there as well.
Of all the victories so far, the most valuable one to the 'Noles (and the one helping to keep them in the playoff rankings) might have been when FSU football traveled to Tampa and defeated the South Florida Bulls 55-35 back in September.
Yes, I can hear the sound of fans in garnet and gold screaming about the rivalry win over the 'Canes – for the seventh straight time – or the win over a tradition rich program like the Rebels. When you look at the numbers, though, it just might be a win over the Bulls that matters the most.
The combined record of FSU football's four other FBS wins this season now stands at 19-17 – with the Rebels and Hurricanes combining for a record of 9-9. USF, meanwhile, sits at 7-2 on the season and has the best chance of making their conference title game of any team the 'Noles have beaten so far.
FSU Football: Will 'Noles Cover Spread Against Boston College?
It was a game where the defense again folded in the second half and helped the score look a lot closer than it actually was – but it was also the breakout game this season for running back Dalvin Cook, who went for 267 yards on the day to eclipse his total for the previous three games of the season combined.
It currently ranks as the biggest win (score wise) of the season for the Seminoles, with the other four by a combined 27 points. The more the Bulls keep winning (and if they can make it to the American Athletic Conference title game), the more this win keeps looking better for the 'Noles.
Of the remaining three games on the regular season schedule (Boston College, Syracuse and Florida), only a win over the Gators would be able to displace FSU football's win earlier this season over the Bulls – and even then, if the Gators come in with three losses, it still might not reach that level.
This article originally appeared on