Wake Forest using bruising ground game and defense to reach 5-1 start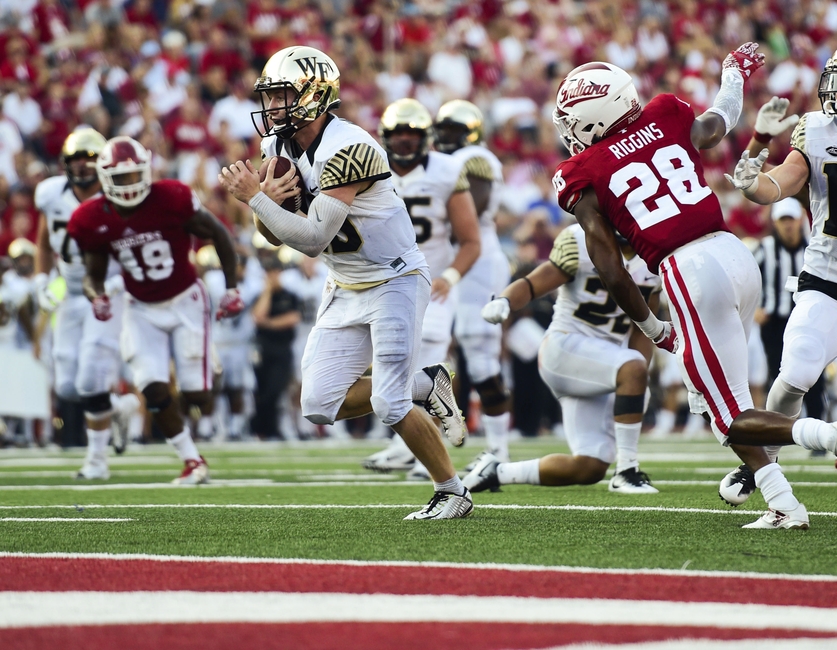 Wake Forest surprised many with a 5-1 start to the season, but looking at the Demon Deacons' suffocating defense this should come as no surprise.
It's been a long time since the Wake Forest Demon Deacons were in the national college football spotlight. In fact, the Deacons haven't truly been relevant in a decade.
In 2006, they went 11-3 and earned an Orange Bowl bid under head coach Jim Grobe. He built the program on a stout defense, gritty rushing attack and efficient quarterback play. The team would never make it back to that 2006 level, but they still managed to appear in three consecutive bowls.
However, those were the early days of the spread attack takeover. A lot of teams can't run conservative offenses and expect to keep up with today's high-flying units. Nonetheless, Wake Forest is making it work midway through the 2016 season.
The Deacons built a bend-but-don't-break defense that allows 368 yards per game, but they only give up 18 points per contest. The turnover margin is brilliant for the Deacons. They've forced 11 turnovers and only turned it over six times all year equaling a plus-five margin. Offensively, head coach Dave Clawson is keeping it simple by keeping the ball on the ground. Right now, Wake Forest has four different players with at least 125-plus rushing yards and three runners with 230-plus.
In total, the Deacons have rushed 264 times to just 162 throws. However, the catalyst behind the offense lies at the quarterback position. John Wolford and (when healthy) Kendall Hinton are quite the tandem in the backfield. They may not be much of polished passers, but they've combined for seven of the team's 11 rushing touchdowns.
Keeping it clean
Wolford is the only real option in terms of the passing game. His numbers are by far some of the lowest in the country. He's thrown for just 826 yards and three touchdowns. However, this also includes the interception category where he's kept it down to just two. It's an impressive stat considering he's thrown 138 passes which comes out to a 1.4 interception percentage.
No, they are not a sexy option on the ACC, but they have all the makings of an efficient bowl bound squad. This weekend, people will see how good they could be. On Saturday, Wake Forest will get to put the legitimacy of their 5-1 record to the test. They head down to Tallahassee to face a top-25 Florida State squad.
This article originally appeared on