Wait, DeShone Kizer is a 2017 Captain?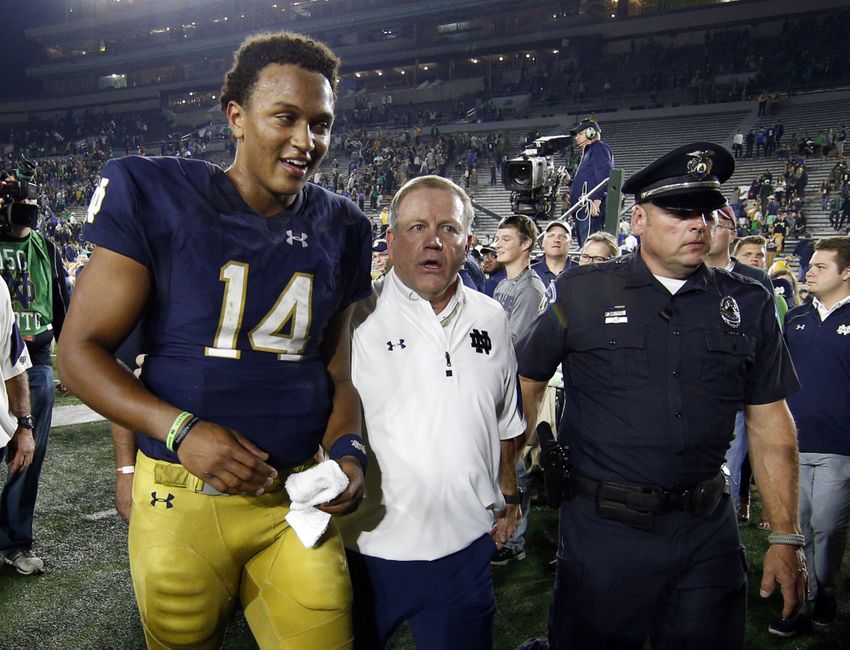 Notre Dame head coach Brian Kelly named seven players, including DeShone Kizer, as the 2017 captains.
It looks like Kelly is as eager as the rest of us to put the 2016 season behind and move on to 2017. Before anyone has played a 2016 bowl game, Kelly has named his captains for next season.
These six captains include two players who may head to the NFL draft a year early, and the first ever walk-on captain for Notre Dame, Austin Webster.
Notre Dame's 2017 captains:
DeShone Kizer
Mike McGlinchey
DeShone Kizer
Greer Martini
Drue Tranquill
Nyles Morgan
Quenton Nelson
Austin Webster
What this means about Kizer's future is, nothing. Just because he was named a captain for next season, doesn't mean he's going to return for his senior campaign.
Kizer has shown no sign that's he moved any closer towards his decision. He's given no indication on whether or not he's going to return, so don't take Brian Kelly as an indicator.
Look at Kelly naming Kizer as nothing more than hope for the coach. During his time at Notre Dame, Kelly has never named a quarterback captain. But he's never been on the hot seat before, either.
The Fighting Irish are stuck with Kelly for at least another season. Notre Dame athletic director, Jack Swarbrick, made it clear that the university was backing the head coach. Kelly is well aware that fans don't want him around any longer than he needs to be. If he's able to get Kizer back for another season, maybe they'll ease up on him.
Kizer's draft grade should be released in the upcoming days. Kelly could be looking at this early captain nomination as a hope that Kizer's grade is low enough to return to Notre Dame. He's a projected first-round draft pick, which is ideal for Kizer. For Kelly, it's a sign that his 2017 season is in jeopardy.
Notre Dame and it's fans still have no idea who will be behind center in 2017. If Kizer decides to leave, the Irish will have to pick between a group inexperienced quarterbacks. It isn't that the Irish will have as disappointing of a season as they did in 2016. It's that Kelly knows his best chance to win is with Kizer, and he cannot afford another losing season.
It comes down to this – Brian Kelly is scared. He knows this season should have been his last. No one names captains two weeks after the season ends unless they're nervous.
He's praying that Kizer decides to return. His only shot to reclaim the fans is to have the junior back for one last run at a National Championship. Without him, the Irish go from two starting quarterbacks to searching for a new, inexperienced play caller.
Kizer being named a captain means nothing. All it is is a last desperation attempt to get the quarterback to return. Everyone including Kelly knows his best chance at keeping his job after the 2017 season is to get Kizer back.
This isn't a meaningful nomination. All it means is Kelly knows it's his last chance in South Bend.
This article originally appeared on