Vols Fall Out of Top 10 in Both Top 25 Rankings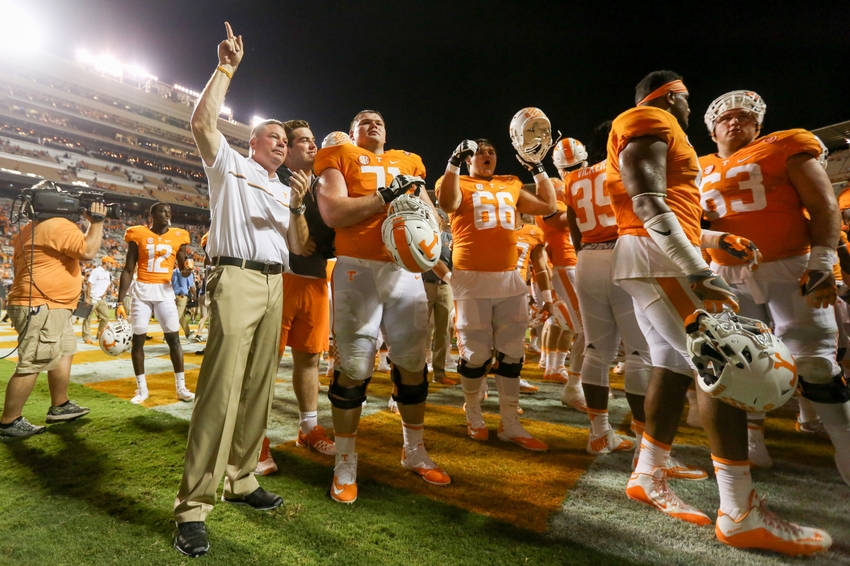 Tennessee football fell out of the Top 10 of both the AP and Coaches' Polls after Week 1. See where the Volunteers arrived in the Top 25 rankings.
---
Well that was fun while it lasted. The Tennessee Vols fell out of the Top 10 in both Top 25 rankings after needing overtime to defeat the Appalachian State Mountaineers.
Actually, they needed overtime and a heck of a lot of luck.
The Vols fell to No. 14 in the Amway Coaches Poll Top 25 with the Houston Cougars, Georgia Bulldogs, Iowa Hawkeyes, Washington Huskies, Michigan State Spartans, and TCU Horned Frogs jumping ahead of them. This happened despite the LSU Tigers and Notre Dame Fighting Irish falling behind them after losses to unranked teams.
The Oklahoma Sooners remained ahead of them despite losing to the Houston Cougars.
In the AP Poll's Top 25 rankings, Tennessee fell all the way to No. 17. The same teams jumped ahead of them plus the Wisconsin Badgers, Texas Longhorns, and Louisville Cardinals.
Of course, the rankings do not mean much after the first week, and the Vols will have plenty of chances to get the respect back that they lost this past week.
But it certainly wasn't a good start to a 2016 season filled with expectations.
They'll have to make an impression at the Battle at Bristol to make up for that if they don't want to fall even further in the Top 25.
Of course, the Alabama Crimson Tide were the clear-cut No. 1 ranked team in both polls. And the Clemson Tigers were No. 2.
Tennessee now has a fourth opponent on the 2016 schedule in the Top 25 with the Texas A&M Aggies' arrival in the rankings. The Florida Gators along with Georgia are their other two opponents who made appearances.
On top of that, Appalachian State, Virginia Tech, and South Carolina all won. Ohio, Kentucky, Missouri, and Vanderbilt all lost.
More from All for Tennessee
This article originally appeared on