Virginia Tech Football: Zero-turnover game a welcome sight for Hokies vs ECU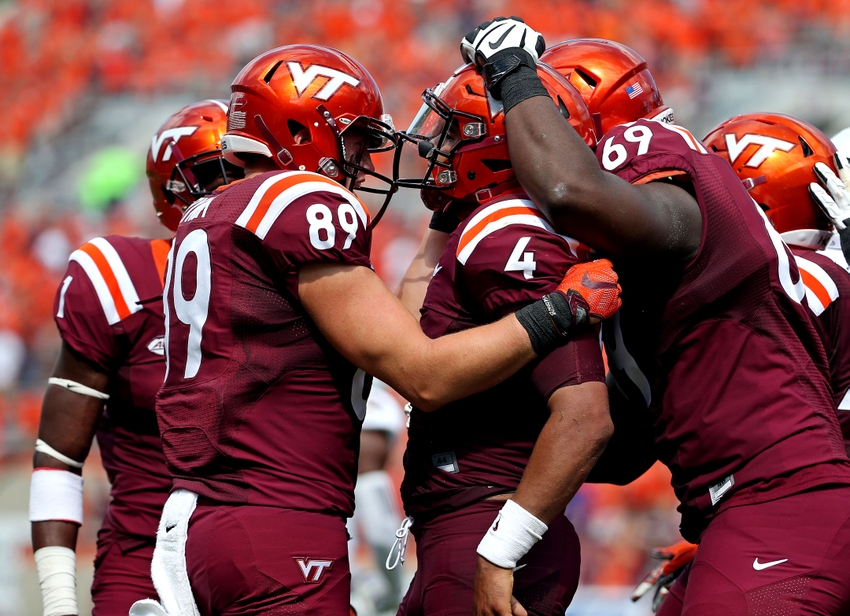 Virginia Tech football fans have been hoping to see the offense find a groove and hold on to the ball, and the game against East Carolina was just the ticket to make it happen.

54

17
The Virginia Tech offense has been good in 2016…when they hold on to the ball. But turnovers have plagued the Hokies this season, even in wins. Coming into the game against East Carolina, the goal was not only to continue scoring a lot, but to limit turnovers.
Goal, accomplished in a 54-17 rout of the East Carolina Pirates, who were kept out of the end zone until well into the 3rd quarter.
Virginia Tech came into this game with a minus-3 turnover margin, having lost 9 fumbles and one interception on the season. Those turnovers were, as much as anything, the reason the Hokies were unable to beat Tennessee two weeks ago.
For the first time this season, the Hokies were turnover free and quarterback Jerod Evans looked comfortable both running and throwing the ball.
Evans went 13 of 20 for 282 yards and three passing touchdowns, adding 97 rushing yards and another TD, with both yardage totals being career-bests for the Hokie quarterback.
Beamer-ball also made an appearance at Lane Stadium with the Hokies special teams scoring on a 87 yard punt return by Greg Stroman, and then blocking a field goal attempt by Pirate kicker Davis Plowman.
The Hokies proved they can score, and they've certainly proved the defense can play with anyone. If the turnover situation has been addressed, there's lot of wins in the future for this team, who now find themselves sitting at 3-1 with meat of the conference schedule about to begin.
Want your voice heard? Join the Fighting Gobbler team!
First year head coach Justin Fuente seemed pleased with the effort by his team, who will now move on to play the North Carolina Tar Heels on the road in two weeks after an open date next Saturday.
More from Fighting Gobbler
This article originally appeared on