VIDEO: Former Crimson Tide RB Derrick Henry in Heisman House Ads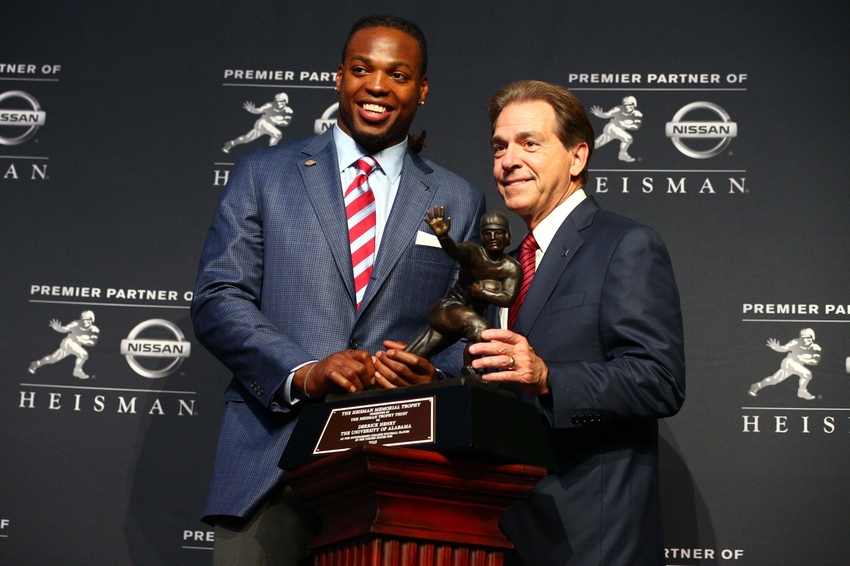 Nissan released a few new videos featuring former Crimson Tide running back Derrick Henry in the Heisman House commercials.
Former Alabama Crimson Tide running back Derrick Henry set many records during his time in Tuscaloosa and shared a big load of the Tide's run to the national championship.
Near the end of his journey at The Capstone, Henry was also named as the Heisman Trophy winner for last season, joining 2009 winner Mark Ingram as the school's only Heisman recipients.
Not only does your name start being included with college football's top individual award, you also get to participate in Nissan's Heisman House commercials. On Tuesday, Nissan released a few of those onto their Youtube channel.
One features Ingram along with Doug Flutie and Marcus Mariota discussing the unforgettable photo of Henry towering over Ingram at his side. Flutie and Mariota are ribbing Ingram about the photo until he informs them of the "Derrick Henry Effect".
Another video gives some details about the Heisman House garage and what the newcomers can expect as a rookie coming in. Charlie Ward and Henry catches up with Mariota just before Mariota gets Henry started on his new duties.
You can see the two videos here below.
All in all, Nissan released five new commercials. You can catch those all of those by going to their Youtube page.
This article originally appeared on