Vad Lee making strides in recovery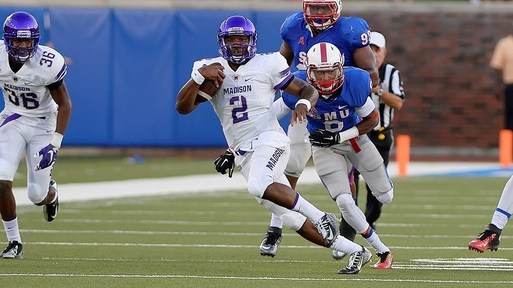 (STATS) – It was instinctive, then a little painful.
It was 5 a.m. on a dark, cold Tuesday morning in February outside James Madison's football facility, and up pulls quarterback Vad Lee.
He didn't have an access card to the facility, but he saw somebody else headed toward an entry. So Lee quickly parked his car and hopped out of it, then started running to try to catch up with the other person.
He didn't make it in time.
Then oops, he caught himself thinking: Was I just running?
Lavaedeay "Vad" Lee had forgotten there are plates inserted in the left foot that he broke during a game last Oct. 24.
"First of all, I didn't catch the door. I was too late," Lee said. "So that just tells you how slow I am right now."
After missing his opportunity, Lee went back to walking with a limp.
He is not supposed to be running on the foot yet. The plates are due to be taken out Feb. 24, although Lee already senses improvement.
As a senior, he was one of the top candidates for FCS offensive player of the year when his James Madison career abruptly ended in the fourth quarter of the Richmond game.
The Dukes' standout campaign was never the same after the injury. In some ways, though, Lee feels he isn't any different. He says he hasn't dwelled on the injury because he felt he had given everything he had to JMU in his two seasons after transferring from Georgia Tech.
His chance to be drafted by an NFL team in late April might be shot because of the injury. But he will be back on the field by then and ready to pursue his dream. He could be a coveted undrafted free agent if he isn't selected in a later round.
"First you're going to get a proven winner," Lee says about why he thinks he's draftable. "I've been fortunate to win on every level, from way down in Pop Warner – winning a Pop Warner Super Bowl in Florida – to all the way to high school – winning a state championship, going undefeated – and winning at Georgia Tech and also having a great career at JMU.
"I'm very diverse. I was able to get out of my comfort zone a little bit at Georgia Tech, where I adapted to their (option) system and their schemes. But then as you can see, I was more interested in getting better in the pocket, getting better at throwing the ball and becoming a more-efficient passer. And I was able to accomplish all those things at JMU.
"You're gonna get a leader, somebody who won't carry the emotions on my sleeve, but somebody before every game, I want to be that Ray Lewis-type of guy, I want to be that Russell Wilson, I want to be that motivator that motivates my teammates. I'm all in with whatever team chooses me, I'm all in with trying to make everybody better."
Before his injury, Lee helped make James Madison one of the top-ranked teams in the FCS – highlighted by a win over SMU in which he became the first quarterback in Division I history to both pass and rush for more than 275 yards in a game.
He was named the CAA Football Offensive Player of the Year despite not playing after getting injured (three regular-season games and an FCS playoff loss), and he made the STATS FCS All-America third team.
Lee, who is 6-foot-1, 225 pounds, has remained on campus to receive treatment on his injured foot and train for the next level. "Me and Harrisonburg are in love. I really don't want to leave this place," said Lee, who is doing everything to get better while not running on his left foot – at least when he remembers not to.
"My arm is getting a lot stronger. My arm is getting a lot faster," he said. "I can still drop back, so I'm not being injured as far as being a quarterback. The only thing is I can't run right now."
James Madison didn't have a senior wide receiver last season, so Lee might skip the Dukes' pro day to throw to NFL hopefuls at a pro day of another Virginia school in April. His foot may prevent him from doing some of the drills, but he will spotlight his arm.
"He is a dual threat who has a good arm and can be accurate. He is a developmental-type guy who has the upside to be a very good backup and play a while in the NFL," said NFLPA Collegiate Bowl scout Josh Buchanan, a leading evaluator of small school prospects. "His feet and arm along with the fact he doesn't make many bad decisions is something that could still get him drafted late if he shows he could be 100 percent by minicamp."
If not for the injury, Lee would be an unquestioned No. 2 quarterback prospect coming from the FCS level – behind North Dakota State's Carson Wentz. He would have played in a key postseason all-star game last month and would be participating at the NFL Scouting Combine later this month. Ironically, the plates are set to come out of his foot on the day quarterbacks report to the Combine.
Lee is still moving forward, though – making the most of his situation, thinking like a quarterback.
In fact, the injury didn't prevent him from "participating" in some of the all-star games.
"I followed those games and I write down notes of every play that I see," he said.
"I was able to watch the all-star game practices throughout the week and sometimes the camera guy's in the huddle where I was able to get some of the information that those guys were getting, which is really helpful. And I was able to be critical with what the NFL is looking for.
"Being able to go through reads, being very accurate … just learning some of the plays was big, just getting inside the huddle, speaking the terminology. The terminology is the most important thing because we all have talent, we all can throw the ball. So it's about the guys that pick it up the fastest that I see getting the opportunity. So I'm just trying to follow my steps mentally. And that's what this injury has allowed me to do."