USC vs Washington Score: Trojans Topple the No. 4 Huskies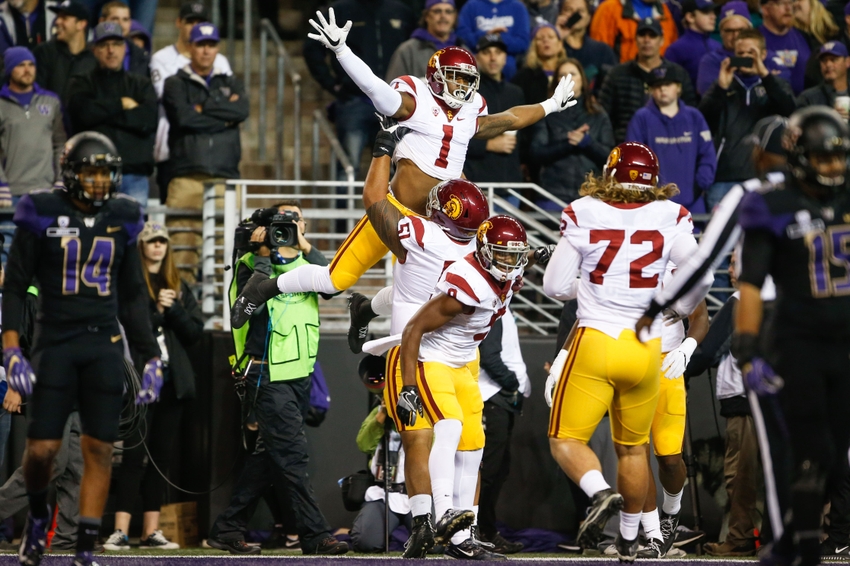 Saturday night's USC vs Washington score will send shockwaves through the college football world, as Clay Helton's Trojans outplayed the No. 4 Huskies, 26-13.

26

13
The takeaway: After weeks of wondering whether the Trojans had truly turned the page from their horrific 1-3 start, USC proved it on Saturday night in Seattle. Their sixth-straight win was a 60-minute clinic on offense and defense, as No. 4 Washington had no answers.
USC took a potent Husky offense and forced them into a box. Myles Gaskin couldn't find lanes with consistency, Dante Pettis struggled to get involved in the passing game and Jake Browning finally looked rattled under heavy pressure from the likes of Rasheem Green and Porter Gustin.
The result was containment on first and second down, leading to a bevy of third downs. While UW had stretches of converting, they finished by picking up just six of 17.
It forced drives to stall and turned would-be touchdown drives into field goal settlements.
Offensively, the Trojans continued to do what they have over the last six games. Sam Darnold displayed precision pocket presence and playmakers like Darreus Rogers and Daniel Imatorbhebhe routinely picked up the pieces after poor penalties.
Altogether, USC looked like the team people expected them to be all season. And for all intents and purposes, it's the best they've looked since the end of the 2011 season.
Ironically enough, it was 2011 when the Trojans last beat a Top 5 team on the road. It was the No. 4 Oregon Ducks then. Tonight it was the No. 4 Washington Huskies.
SEE MORE: 30 Best USC Football Wins Since Pete Carroll Was Hired
So tonight will go down as Clay Helton's signature win and it should.
After routinely getting out-classed against elite teams, USC proved they belonged tonight. And Helton, after getting blood on his hands following the loss to Utah game in September, out-coached Chris Petersen and oversaw a masterful defensive game plan from Clancy Pendergast.
Safe to say, these red-hot Trojans are for real. Who saw that coming seven weeks ago?
Player of the game: Defensive end Rasheem Green had a coming out party as the leading man on USC's defense Saturday night. He finished with four tackles, two pass breakups, a sack and a pivotal field goal block in the third quarter that led to the Trojans' final touchdown.
Stat of the game: The Washington Huskies were averaging 27.9 points per game in the first half alone, but USC made the difference with a dominant first half to keep UW to just six points.
Next on tap: With six-straight wins in tow, USC now travels across town to Pasadena, where they'll look to defend the Victory Bell next Saturday against UCLA.
This article originally appeared on