USC vs Washington Report Card 2016: Grading the Trojan Defense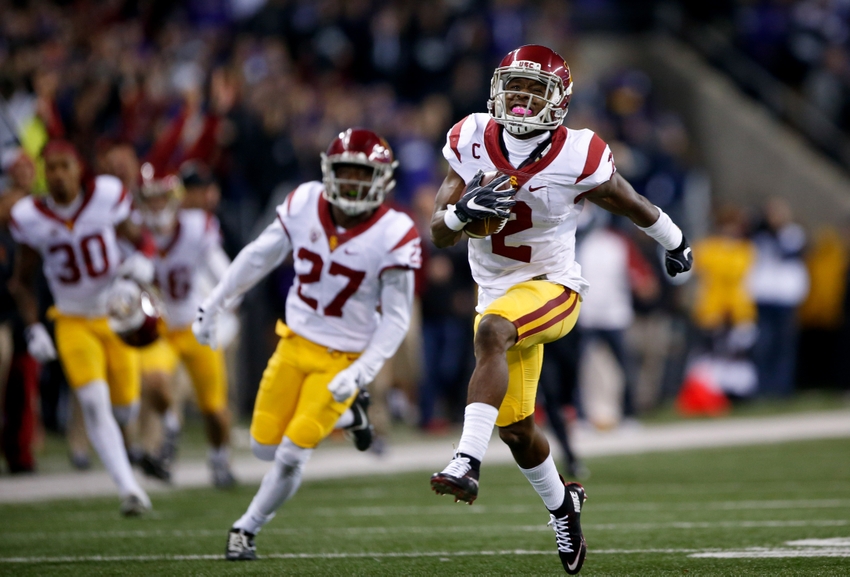 USC vs Washington was supposed to be about two playmaking offenses. Instead, the Trojan defense put their stamp on the game and fueled USC to victory.
No one in 2016 could quite figure out how to slow down the Washington Huskies. That is, until USC got their chance at them.
The Trojan defense had suffered their share of embarrassments in September, but since failing to stop Utah on two key fourth quarter drives, USC has experienced a renaissance on the defensive end.
That resurgence was paid off when the Trojans completely outmatched Washington's potent attack.
SEE ALSO: Grading the Trojan Offense vs Washington
Here's how each defensive unit graded out against the Huskies:
Defensive Line
Standout,
Rasheem Green
A+
Sometimes it's best to let the stats do the talking. Sometimes the stats don't do a performance justice. In the case of USC's defensive line, both things are true.
Rasheem Green put on his best showing in a Trojan uniform against the the Huskies, logging four tackles, a sack, two pass break ups and a blocked kick. He was a handful for the UW offensive line from the start.
Next to him, Stevie Tu'ikolovatu had two tackles — a statistical footprint that doesn't show just how pivotal he was for USC. The Utah transfer occupied space in the middle, helping to shut down the Huskies running attack. He was also a force for the Trojan pass rush, regularly blowing his blocker back to put the pressure on Jake Browning.
Linebacker
Standout,
Porter Gustin
A+
In the case of USC's linebackers, the stats are so impressive, there's very little lost when it comes to the performance.
Porter Gustin was a monster, finishing second among Trojans with five tackles including two sacks, a pass break up and four quarterback hurries and a havoc rating of 3.0, tied with teammates Green and Adoree' Jackson for highest in the game.
Uchenna Nwosu turned in an exceptional, yet somehow underappreciated performance. He had thee tackles including one tackle for loss and rated as USC's best defender against the run, per Pro Football Focus. He also logged six quarterback hurries on the night.
On the inside, Cameron Smith and Michael Hutchings were an immense part of the Trojan effort. Hutchings led the team with nine tackles while Smith was USC's highest-rated defender according to PFF.
Secondary
Standout,
Adoree' Jackson
A
Faced with Heisman candidate quarterback and two dangerous receivers in the Washington attack, USC's secondary stayed on top of things for most of the night. Though the Huskies hit a few successful pass plays, the Trojans ultimately won the night.
John Ross was by far Washington's most effective weapon, getting the better of Jackson on more than one occasion to the tune of 154 yards on eight catches and a touchdown. That score came courtesy of a brutal juke which sent the Trojan cornerback stumbling and left Ross wide open down the field.
Despite that unfortunate moment, Jackson made up for it by nabbing two interceptions and breaking up another long attempt thrown Ross' way.
The rest of the Trojan secondary did their jobs quietly — the best way for defensive backs to operate. Leon McQuay III broke up one tackle and wrapped up impressively on five tackles. Chris Hawkins and Ajene Harris both helped in run support on the outside, logging a tackle for loss each.
Coaching
Standout,
Clancy Pendergast
A+
It's not an exaggeration to call Clancy Pendergast's plan to stop the potent Washington attack a defensive masterclass.
It helps to have players who far exceed expectations in their performances, especially on the defensive line. The play of USC's defensive front allowed Pendergast to keep the the Washington offense contained without having to commit extra men to the pass rush.
From there it was a matter of keeping the pressure on Browning by making sure the Husky rushing attack couldn't have any joy, whether up the middle or to the outside.
There were star turns to be sure, but the top-to-bottom defensive performance was a reflection of a well-prepared team executing a scheme they trust and a game plan perfectly implemented. Pendergast gets the credit for that.
Of course, he's not alone in receiving praise. Defensive line coach Kenechi Udeze may be a first time assistant, but week-by-week he has proven that experience doesn't count for everything. His defensive line was spectacular against the Huskies. Take a bow, BKU.
This article originally appeared on