USC vs UCLA: Clay Helton Previews Match Up With Bruins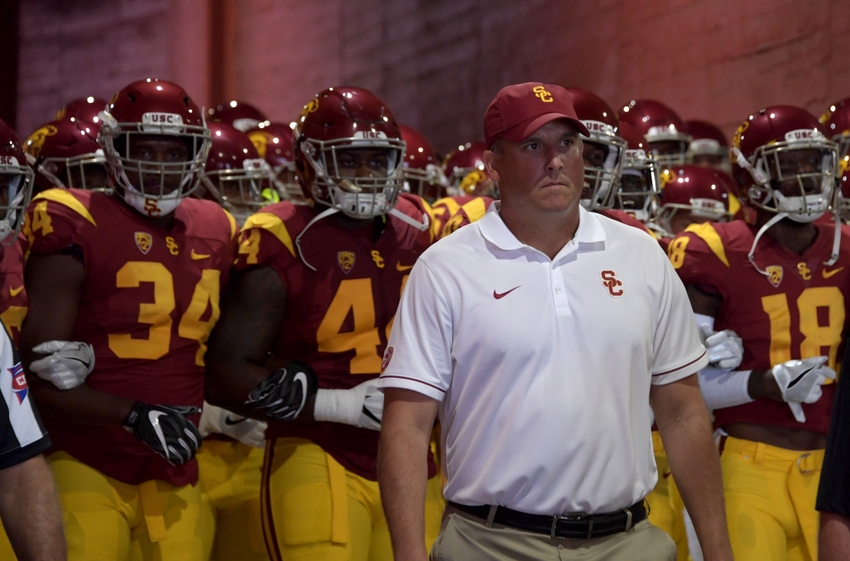 The Trojans must keep focused on their one-game-at-a-time mentality, head coach Clay Helton said Tuesday, breaking down the USC vs UCLA match up.
USC started up preparations for the UCLA game on Tuesday with their focus pinned tightly to the Bruins after Saturday's big upset victory over Washington.
Clay Helton, as always, gave a primer on the Trojans' next opponent following practice at Howard Jones Field.
Here's what Helton had to say about Jim Mora's Bruins:
On UCLA In General…
Having watched tape in the last 48 hours on UCLA, very impressed with them as whole. Having the opportunity to watch them play a team like Utah, a team like Colorado, a team like Washington State, and play really good games against teams that we feel are very very quality teams within our league and play so well. I come away impressed.
On UCLA's Defensive Front…
You really know that when you're playing a Jim Mora team that the defense is going to be exceptional and it really starts with their defensive line.
It's great to see Eddie Vanderdoes back healthy after last year's injury. He is the rock in the middle there. As a 325-pound man, he's a load to block.
And then you've got [Takkarist] McKinley on the outside who is one of the most dangerous edge rushers that we have faced this year. [He has] ten sacks on the year right now. He's really the first guy that you actually have to game plan for. He's that dangerous in protection.
On UCLA's Inside Linebackers..
I've been very impressed with Jalen Brown, who is leading them in tackles and doing a great job, and Kenny Young, who they're bringing a lot with pressure as their second-leading sack guy on the team with four.
On UCLA's Secondary…
It seems like we've heard the name [Randall] Goforth and [Jaleel] Wadood and [Fabian] Moreau, year after year after year, they've been around forever and you can see the experience that's back there. They're averaging only 195 yards a game giving up pass-wise. An exceptional group that will challenge us.
On UCLA's Run Defense…
This is one of the better defensive fronts we're going against. There's too huge people in the middle and at their edge they do a great job, like we've been doing in the last couple of games, of setting the edges with those fast kids outside and Jalen and Kenny are doing a great job in the middle. It'll be another physical game, there's no question
On UCLA's Passing Game…
They have changed a little bit from the beginning of the year to now. They're really focusing on the passing game and I don't blame them. You look at the skill that's outside right now and they're doing a tremendous job. It's one of the reasons that they're one of the top 15 passing teams in the country averaging 316 yards a game.
When you mention a name like [Darren] Andrews, [Jordan] Lasley, [Kenny] Walker, [Eldridge] Massington, Ishmael Adams, you throw Nate Iese in there as one of the better tight ends we face, you can see why they're doing such a good job.
Credit to Mike coming in as a back up quarterback and doing a tremendous job in that situation.
On the Rivalry With UCLA…
For us this is the next game for us. It's an important game for us. We have to be able to take this game and treat it just like we did the entire month of October and the last two games in November. It's the next game.
We understand it's a special game for both universities as well as this city. We know how special this rivalry is and we're honored to be a part of it. It's one of the better rivalries in the country and in the history of college football.
On UCLA's Record…
One of the things you better realize, you better read between the lines. They play a Utah team and lose by seven and score 44 points. They go play Washington State and lose by six at Washington State and play a hell of a game. They go to Colorado and make it a hell of a game versus another Top 25 team.
You look at their overall schedule, they play extremely well at home. When we look at it as coaches, you look at it and say this is a quality team that could have a lot better record if one or two plays go their way. So you better do your job.
The fact of the matter is, in the Pac-12, I don't care what team it is, you don't do your job, you don't bring your A game, you're going to get beat in this league.
This article originally appeared on