USC vs UCLA: 5 Key Storylines Going Into The Rivalry Game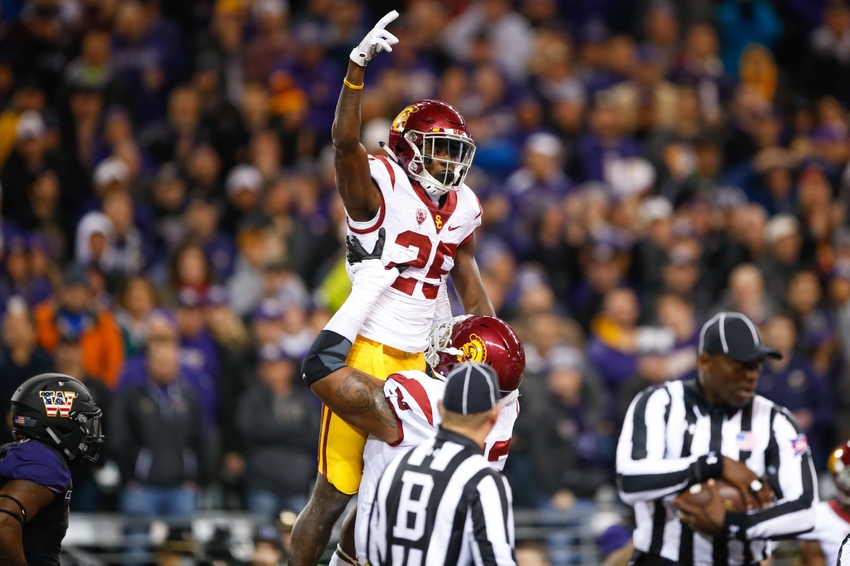 When it comes to the USC vs UCLA rivalry, there is never a shortage of storylines. This time around, everything hinges on the Trojans keeping their focus.
The crosstown rivalry holds one-sided implications when it comes to the Pac-12 title, but the match up for USC and UCLA is never meaningless.
The Trojans are hoping to keep their division title hopes alive while bolstering their postseason resume for bowl selection by continuing their impressive six-game win streak.
The Bruins are still seeking their own bowl eligibility, requiring a win over USC to give them a chance to hit the six-win mark next week.
But as always, the biggest concern for the two will simply be bragging rights.
Here's five key storylines for USC going into the UCLA game:
Avoiding the Letdown
They say that a team is most vulnerable after scoring. The psychology works out — you're most likely to let your guard down when you're feeling good.
That's something USC is well aware of, coming off a major victory over Washington and turning around to face crosstown rival UCLA with the memory of the accomplishment still fresh.
Could an overconfident Trojan team fall victim to a struggling Bruin team out for revenge? The possibility hangs over this weekend, but USC's players say they're guarding against it.
"We're just focused on each other and trying to make sure we're doing our job and not getting complacent," Adoree' Jackson said.
If nothing else, the Trojans haven't fallen victim to the "letdown" trope in recent history.
Last year, USC bested highly-ranked Utah, then went on the road to Cal and nabbed a hard-fought 27-21 victory.
In 2013, the upset over Stanford was followed by a comfortable win over Colorado.
Going back a step further to 2011, a time when none of the current Trojans were involved, but Clay Helton was on staff, USC went on the road to Oregon and knocked off the Ducks. The next week, that same team left no doubt against UCLA, lighting up the scoreboard with a memorable 50-0 result.
Quarterback Sam Darnold insists that the Trojans mindset is right for this game, just as it has been going back six week.
"The whole team has really locked into a one-game at a time mentality. There's nothing different about this week than the rest of the weeks that we've won."
If that's the case, then USC should be prepared to fend off the Bruins. But there's a difference between words and actions. The proof will come on Saturday night.
Is UCLA's Record An Illusion?
At the end of September, USC and UCLA, the two favorites to win the Pac-12 South, found themselves in a similar hole. The Trojans were 1-3 and reeling. The Bruins were 2-2, but with two quality losses and control of their own destiny in the division, they were the better off of the two.
By the end of October, the tables had turned. USC was on a winning streak and getting better every week. UCLA, on the other side of things, had dropped three straight and would go on to lose a fourth to Colorado to start November.
Considering the changing fortunes of the two programs, it's no wonder oddsmakers in Las Vegas have pegged the Bruins as double-digit underdogs to the Trojans.
Still, USC's coaches and players say they won't fall into the trap of underestimating their rivals.
"You better read between the lines," Clay Helton said of the Bruins, noting tight losses to ranked squads like Utah, Washington State and Colorado. "When we look at it as coaches, you look at it and say this is a quality team that could have a lot better record if one or two plays go their way."
That's not lost from a player's perspective either. UCLA's offense ranks near the bottom of the Pac-12 in scoring, but the Trojan defenders still see a challenge ahead.
"At the end of the day, whatever may be going on with statistical things, they're still a great team," Adoree' Jackson said. "[They] still have great receivers, quarterback can sling the ball and get it out there. They've got great o-linemen and great running backs, so they do a lot of things well."
UCLA could certainly salvage their season by knocking the wind out of USC's sails, but the Trojans have as much incentive to keep things going as the Bruins have to turn things around. As much as the win over Washington validated USC's resurgence, a loss to UCLA could set Helton's squad back immeasurably.
Winning Third Down
Every week there seems to be a match up between USC and the opponent with a something-has-to-give air to it. This week, the must-watch contest is third down conversions.
Maintaining a high third down conversion standard is one of those obvious, must-do tasks in order to be a successful football team. It's been an emphasis of Clay Helton's every week.
USC has done that job on offense, coming in second in the Pac-12 by converting 46.15 percent of their third down attempts. In conference, that mark rises to 49.49 percent and ranks tops.
UCLA, meanwhile, has done that job on defense.
"Looking at UCLA, [they're] not only one of the better secondaries that we face but also one of the best third down defensive efficiency teams that we face," Helton said.
The head coach is right. The Bruins rank third in the Pac-12 in overall defensive third down conversion rate and 18th nationally. UCLA has also held Pac-12 opponents to 29.46 percent conversions, the best rate in the conference.
Notably, both USC's offensive and UCLA's defensive third down success include telling sample sizes. The Trojans have attempted just 130 conversions this season, behind only Washington in conference, while the Bruins have forced 160 conversion attempts, the most in the Pac-12.
What does that mean? USC has done an exceptional job of limiting make-or-break third down moments by succeeding on first and second downs. UCLA, on the other hand, has done a great job of forcing teams into those make-or-break moments, and have then gotten off the field.
Something has to give.
Does Iron Sharpen Iron?
Anyone who has paid attention to USC in 2016 should know the phrase, "Iron Sharpens Iron." It's been the consistent mantra for the Trojans going back to the offseason and the reason Clay Helton and the coaching staff have put an emphasis on pitting the offense and defense against each other rather than just the scout team.
With the end of the season approaching, USC has another reason for leaning on "Iron Sharpens Iron" periods — injuries.
"Because of the injuries that we have, we're going against each other a little bit more down the stretch," Helton explained as the Trojans seemed to nix the black jerseys of the scout team entirely during preparation for UCLA.
There is particular concern on the defensive line, with Stevie Tu'ikolovatu rested for most of the week as he fights through a sprained PCL and back up Josh Fatu ruled out for this weekend with a sprained ankle. Add in limitations for Porter Gustin and Iman Marshall this week, and USC couldn't field a scout team even if they wanted to.
The good news for the Trojans is that UCLA runs a similar enough offense that Helton is confident both the offense and defense can prepare each other for the match up. And according to the head coach, the players have embraced the competitive nature of "Iron Sharpens Iron."
"We really have to sharpen each other up and I think we're doing that right now," safety Chris Hawkins said.
USC is making the best of a bad situation with the injury situation and they're hopeful that they'll be stronger coming out of the other side because of it.
Knowing the Colorado and Utah Results
When USC takes the field against UCLA, they will know where they stand in the running for the Pac-12 South title. A loss for Colorado or Utah will keep their hopes alive. Wins for both schools will mean the Trojans are eliminated from the running.
Head coach Clay Helton admitted that he wouldn't be able to help himself and would be keeping one eye out for the results.
The Trojan players, however, largely say they won't be paying attention.
Outside linebacker Porter Gustin said he'd probably hear about it, but wouldn't be checking for himself. Cornerback Adoree' Jackson expected to hear about it after the fact, but insisted his focus would be on what USC could control.
"At the end of the day I'm making sure I focus on what we have to do and if we do our job then I can be happy with that either way," Jackson said.
The concern for the Trojans would be a deflating effect if the Buffaloes and Utes each triumphed. After completing a six-game winning streak and looking like the hottest team in the nation, being unable to compete in the Pac-12 title game would be a harsh disappointment.
Combating that disappointment, or conversely, handling the pressure of needing a win over UCLA to stay alive, will be a mental test for USC.
Helton, unsurprisingly, does not think that will be a problem for his team.
"It doesn't matter who wins or who loses on Saturday from Colorado to Utah, I know these kids are going to go out, because they know that this is a special game for this city, for our two universities and they're going to go out and play," Helton said. "They've done it the last six weeks, they'll do it now.
This article originally appeared on