USC vs Stanford Final Score: Cardinal Cruise to Victory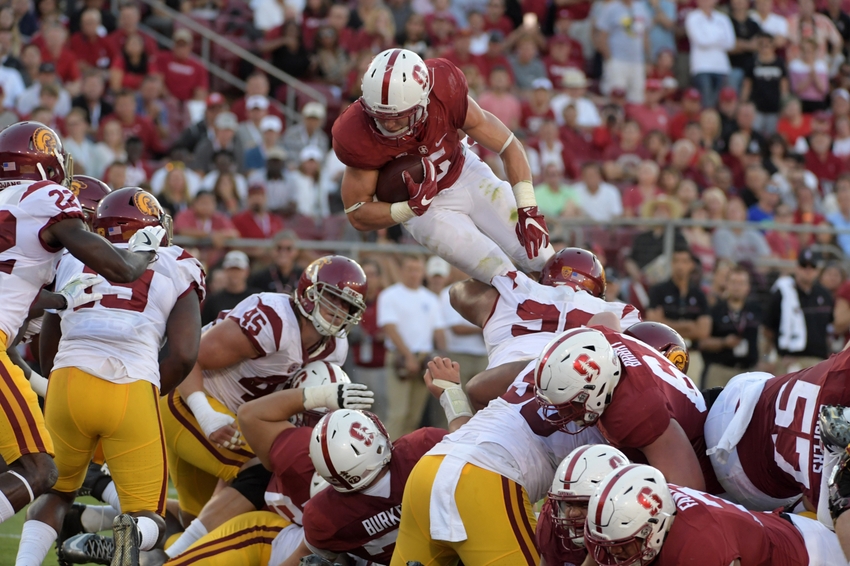 Saturday night's USC vs Stanford game featured a Christian McCaffrey highlight, promising yet unproductive play from the Trojans' offense, and another win for David Shaw, 27-10.
The lowdown: The first half of this installment of the USC-Stanford rivalry went briskly, but fell right in line with what the Cardinal wanted to do. Christian McCaffrey showed off his skills with a 56-yard touchdown catch, and Stanford scored 17 points on three-straight drives, amassing 197 yards on 29 plays.
On the other side of the ball, USC's offense was hit and miss. Despite having a 6.3 yard-per-play average, the Trojans struggled to finish drives thanks to five false start penalties. The infractions repeatedly put USC behind the sticks and prevented them from converting a single third down conversion.
Coming out of halftime down 17-3, USC marched down with one of the most impressive touchdown drives in recent memory. They went 75 yards on nine plays, never facing a third down and mixed up personnel along the way to pull within 17-10.
But that was the closest the Trojans would come. Stanford scored the game's final 10 points, including a 56-yard run by wide receiver Michael Rector on a reverse.
Offensively, USC continued to shoot themselves in the foot with costly penalties, questionable play calling on key drives while trailing, and punted the ball away down 27-10 with 9:12 left to surrender a defeat.
Player of the game: Per usual, Stanford's Christian McCaffrey had a fine say for the Cardinal. He totaled 260 all-purpose yards in what felt like a relatively quiet game from him… by his standards vs. USC, at least.
Stat of the game: USC had six false start penalties against Stanford, in what feels like it should be a record of some sort.
Next on tap: The Trojans will now wrap up the daunting month of September with a Friday night trip to Salt Lake City to take on the Utah Utes.
More from Reign of Troy
This article originally appeared on