USC vs Oregon: Clay Helton Previews Match Up With Ducks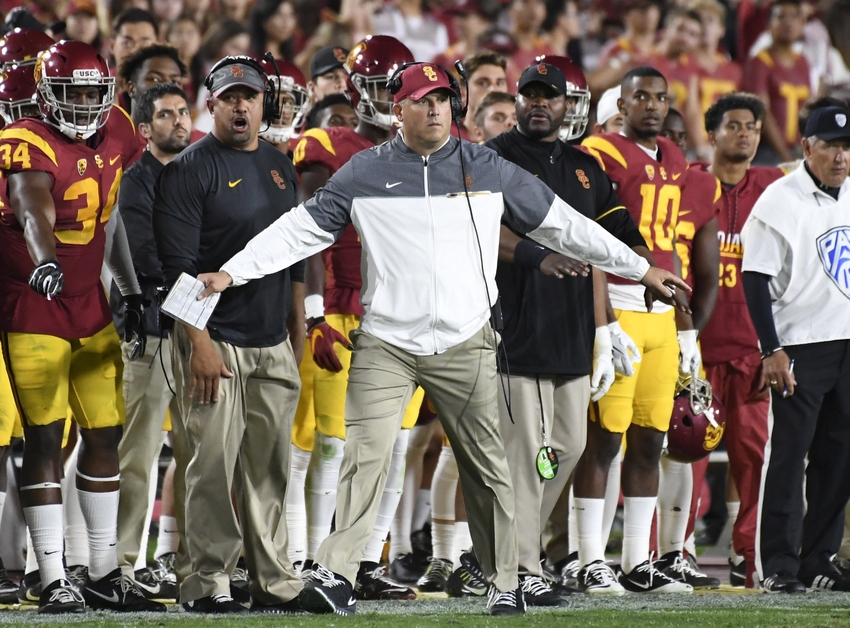 Head coach Clay Helton broke down the match up between USC vs Oregon after practice Tuesday, noting the Ducks' powerful offense.
Preparations for USC's first game during the pivotal November stretch began on Howard Jones Field on Tuesday with Clay Helton breaking down the challenges the Trojans will face against the Oregon Ducks.
Speaking to the media after practice, Helton gave his observations on Mark Helfrich's squad, including an explosive offense with plenty of weapons to get ready for.
Here's what Helton had to say about USC's next opponent:
On Oregon's Offense…
A couple days can give you plenty of time to be able to watch tape on Oregon and the one thing that you come away with is how proficient this team is on offense. You're looking at another team just like Cal that puts up over forty points a game. It starts with their running game.
On Oregon's Running Backs…
When you look at Royce Freeman and Tony Brooks-James you're talking about two different type of backs but two dynamic kids that are putting up 248 yards a game. With Royce, 5.6 a carry, and then they put Tony in and Tony is ultra dangerous. The kid is averaging 8.6 a carry and every time he touches a ball you hold your breath.
On Oregon's Receivers…
I thought they did a really nice job of moving not only Darren Carrington around but Charles Nelson, moving him from defense over to offense. I think's really paying dividends for them. And the punt return and kick return aspect, the kid is absolutely dynamic.
On Oregon's Quarterback…
Kind of like us they've got a young quarterback that's really playing well right now, Justin Herbert. I think the whole Pac-12 went 'oh gosh, they've found the guy.' The last two games the kid's thrown for ten touchdowns. He's really provided a spark to their football team. They're playing exceptionally well. You look at them over the last two games they've put 103 points up and a lot of it has to do with their quarterback.
On Oregon's Defensive Scheme…
Defensively I thought they did some really good things schematically against Arizona State that helped their defense.
On Oregon Linebacker Troy Dye…
I've been really really impressed with No. 35, Troy Dye. The kid leads them in tackles, tackles for loss and sacks. [He's] a kid right here from southern California, I know is going to be excited to come down here and play.
On Oregon's Record…
Like I told our team, don't buy into this 3-5 record that they have. When I look at them, we look at the tape, you're talking about a team that lost by three points to Nebraska, three points to Colorado and double-overtime by three points to Cal.
This team could easily be 6-2 and if you don't bring your A-game you're going to get beat, that's just the fact of the matter. Mark Helfrich knows what he's doing on offense and can outscore anybody in this league so we have to take this game serious as a heart attack.
This article originally appeared on