USC vs Notre Dame Score: Trojans Beat Irish, Win 8th-Straight Game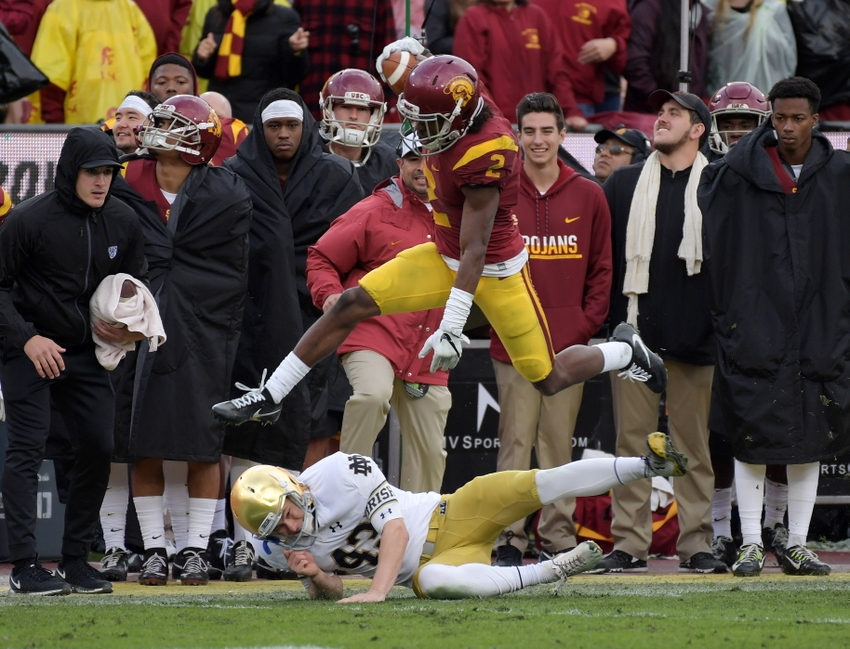 Saturday's USC vs Notre Dame score went the way of the Trojans, as they won their eighth-straight game, besting the Fighting Irish 45-27 at the Coliseum.
The lowdown: The Trojan offense came out hot, moving effortlessly down the field before stalling in the redzone and settling for a Matt Boermeester field goal. The Irish responded quickly as Josh Adams took his first carry 74 yards to set up a one-yard score.
Though Ronald Jones II scored his own long touchdown run to give USC the lead once more, the Trojans struggled to keep their offense moving with rain coming down.
After a tight start to the contest, the second quarter separated the two teams drastically. First Adoree' Jackson took a 55-yard punt return to the house.  A mere 17 seconds later cornerback Ajene Harris jumped a route and intercepted Notre Dame quarterback DeShone Kizer for a pick six.
Notre Dame got a second chance in the second half when a roughing the kicker penalty extended the Irish's opening drive. Kizer converted a sequence of third down conversions before finding Chris Finke for a 14-yard score.
On the ensuing Trojan drive, Jackson took on a staring role on offense as well, taking a swing pass from Sam Darnold 55 yards down the sideline to restore USC's lead.
When Notre Dame responded on a 29-yard pass from Kizer to Kevin Stepherson over the head of Jackson, he made up for it by returning the kickoff 97 yards. Jackson's third touchdown of the day essentially wrapped up the contest.
The takeaway: The conditions certainly contributed to the sloppiness from both sides, which affected the flow of the game.
Darnold was far from his best, though his ability to scramble and avoid pressure still served the Trojans well. Importantly, he avoided the costly turnovers which have been a feature of his play over the last two months.
When it comes down to it, USC was equal parts shaky and dominant. The defensive front terrorized Kizer for much of the game, but there were breakdowns at the back to allow the Irish 27 points.
Player of the game: Adoree' Jackson. Is there any question? He scored three touchdowns three different ways, with a punt return for a touchdown, a reception and a kickoff return for a touchdown, punctuated with a Heisman pose.
Stat of the game: With Jackson's two returns for touchdowns, he now has eight in his career. That is a USC record, passing both Anthony Davis and R. Jay Soward, who had six.
Next on tap: The regular season ends with the Trojans earning a 9-3 record. They'll now await the result of the Utah at Colorado game, which will determine the winner of the Pac-12 South. Should the Utes upset the Buffaloes in Boulder, USC would face Washington next Friday in Santa Clara.
This article originally appeared on