USC vs Notre Dame Report Card 2016: Grading the Trojan Offense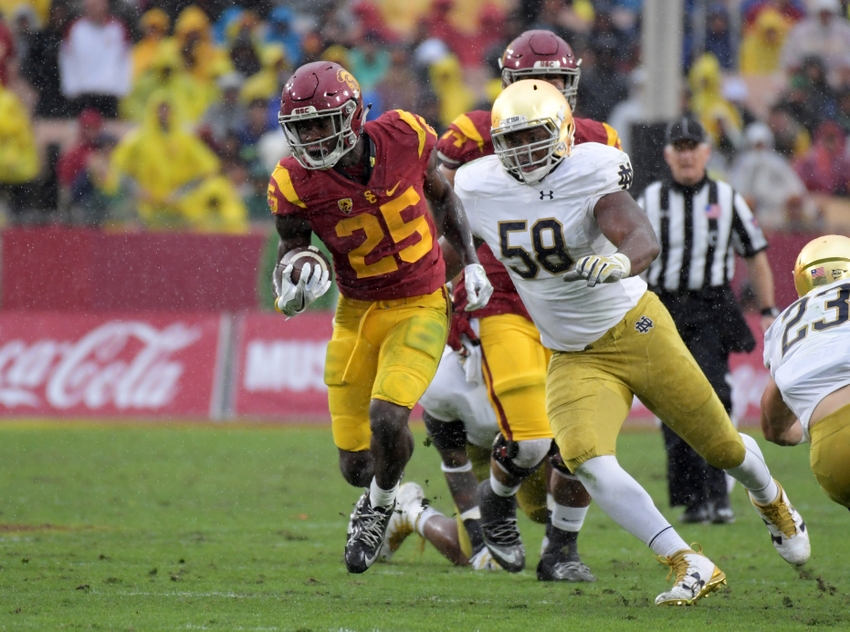 The offensive report card for USC vs Notre Dame wasn't perfect from the Trojans, but it was good enough to notch the rivalry win over the Irish.
The Trojans scored 45 points against Notre Dame but the USC offense only accounted for 24 of those on a rainy afternoon at the Coliseum.
There have been better days for the men of Troy offensively, no doubt. Still, with big scoring contributions from special teams and defense, USC was reasonably effective, totally 412 yards and 6.1 yards per play.
Here's how each offensive unit graded out against the Irish:
Quarterback
Standout,
Sam Darnold
B
Sam Darnold was nearly perfect on USC's opening drive — he was 5-of-6 with his first incompletion coming on a third and short from the Notre Dame 19, forcing the Trojans to settle for a field goal on their first drive.
After that point, the quarterback was not quite his usual magical self. That's not to say he was bad. Finishing with a 65 percent completion rating, 205 yards and two touchdowns, Darnold was far from bad, especially since he avoided throwing any touchdowns or fumbling in any way.
Still, on third down — an area which has been his and USC's greatest strength during the eight-game win streak — Darnold was 3-of-9. Otherwise, the Trojans would have put Notre Dame to the sword completely.
Running Back
Standout,
Ronald Jones II
A
Ronald Jones II eclipsed the 1,000-yard mark for the season with a top-level performance which should have Trojan fans salivating for more. He averaged 8.4 yards per carry, with 143 yards on 16 carries. A chunk of those yards, 51 of them to be exact, were gained on his long touchdown run, featuring a filthy cut to the outside to break it loose..
Even then, take out the big gain and Jones still averaged 6.1 yards per carry on the day.
Besides Jones, Justin Davis had ten carries for 36 hard fought yards.
Receiver
Standout,
Darreus Rogers
B+
Deontay Burnett led the Trojan receivers with five catches while Darreus Rogers topped all wideouts not named Adoree' Jackson with 49 yards in his final outing at the Coliseum.
Jackson's contribution of a 52-yard touchdown on a swing pass was the highlight for USC's passing game against Notre Dame. Rogers and Burnett deserve praise for their blocks to help give Jackson a lane.
JuJu Smith-Schuster, playing through a hip pointer, made up for a third down drop by catching a touchdown to ice the game.
All told, none of the full-time Trojan receivers stood out in particular, but the group as a whole did their job. Along with the aforementioned pass catchers, Taylor McNamara, Daniel Imatorbhebhe, Jalen Greene and Isaac Whitney all touched the ball.
Offensive Line
Standout,
Zach Banner
B
On the one hand, the line cleared the way for 207 yards on the ground and didn't concede any sacks. On the other hand, the line conceded five tackles for loss.
In that sense, it was a typical performance up front for USC.
It was hard not to noice Nico Falah being victimized on two Jones rushes, allowing Elijah Taylor and then Jarron Jones to drop the running back well behind the line of scrimmage.
Credit to Zach Banner and company for keeping their cool despite Jerry Tillery's extracurriculars.
Coaching
Standout,
Tee Martin
B
During his Sunday conference call, Clay Helton credited his offensive coordinator for keeping the Trojan offense balanced. Despite the rain, Martin didn't shut down the pass in favor of the run.
Balance is good, and USC finished about as balanced as a team could be, with 207 yards rushing and 205 yards passing on the day.
Still, an argument could certainly be made that maybe the Trojans should have leaned more on the run considering how effective Jones was on the ground.
This article originally appeared on