USC vs Notre Dame Odds: Trojans Favored By Three Possessions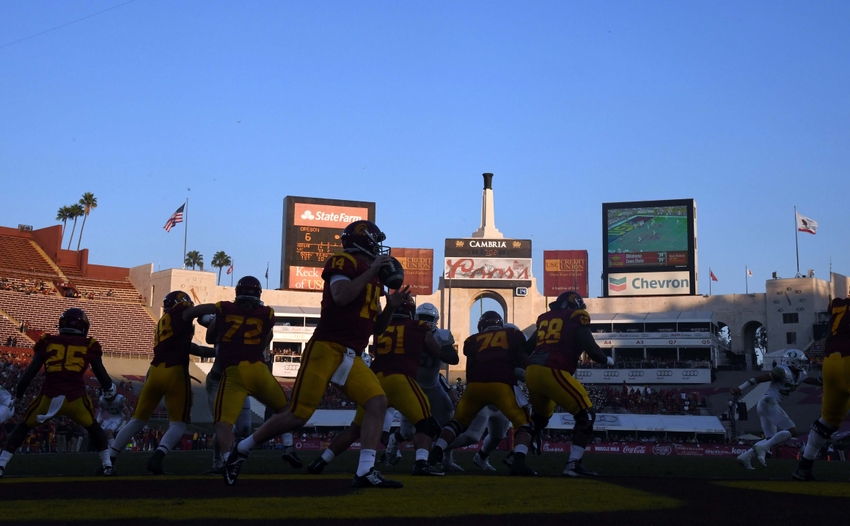 Oddsmakers set the line for USC vs Notre Dame at 16.5 points in favor of the Trojans, who are looking to finish the regular season on an eight-game win streak.
USC is set to finish the regular season facing a similar foe — a traditional rival whose 2016 season has resembled a train wreck.
After besting a struggling and now bowl-ineligible UCLA team at the Rose Bowl, the Trojans now prepare to take on a struggling and bowl-ineligible Notre Dame team at the Coliseum.
Reflecting the fortunes of both programs this year, oddsmakers in Las Vegas do not expect the contest between the red-hot Trojans and ice-cold Irish to be close.
The opening line set USC as a 16.5-point favorite over Notre Dame on Sunday. The line has since settled up to 17 points.
Notre Dame is 4-7 on the season and against the spread despite being favored in ten of their 11 games played in 2016 so far. They're coming off a heartbreaking loss to Virginia Tech in which they gave up a ten point lead going into the fourth quarter, conceding 13 unanswered points.
USC on the other hand improved their record to 8-3 on the season and 7-4 against the spread with a thorough victory over UCLA on Saturday. The Trojans have won seven straight and are 6-1 against the spread since September.
Notably, USC's one failure to cover the spread during that time involved JuJu Smith-Schuster opting to go down and run the clock near the end of the game against Colorado rather than finishing an open touchdown to clear the five-point margin.
The Trojans have been favored by double-digits five times this season have have covered those spreads in each case. Most recently, they were projected to beat UCLA by 13.5 points and ultimately won by 22.
This article originally appeared on