USC vs Notre Dame: Clay Helton Previews Match Up With Irish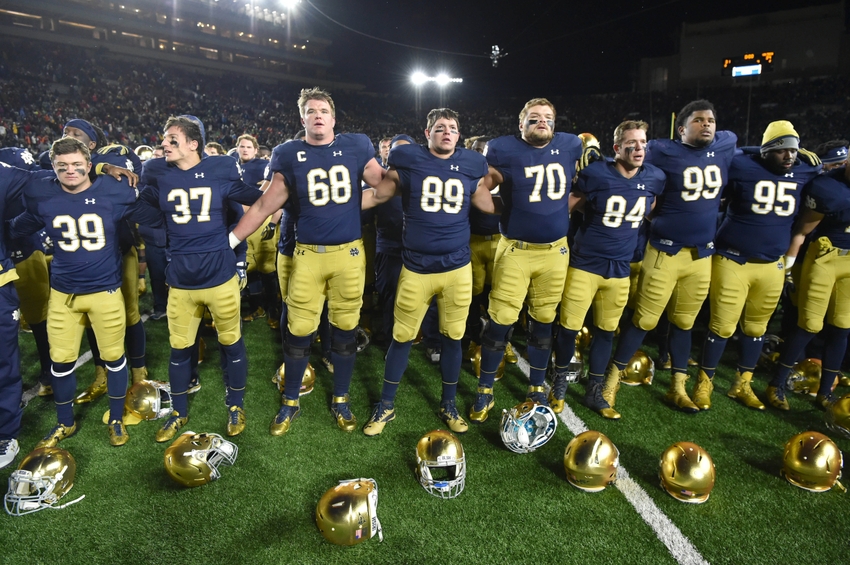 The Irish are better then their record in 2016, head coach Clay Helton said Tuesday, breaking down the USC vs Notre Dame match up.
USC began preparations for the final regular season game of the 2016 season on Tuesday, set to face yet another big rivalry game after besting UCLA at the Rose Bowl last week.
This time, USC will take the field against a stumbling Notre Dame out for redemption.
Head coach Clay Helton, as always, gave a primer on the Trojans' next opponent following practice at Howard Jones Field.
Here's what Helton had to say about Brian Kelly's Fighting Irish:
On Notre Dame's Record…
After watching a lot of tape on Notre Dame, you come away feeling their record does not match the personnel that's on the field right now. When you look at the total story, you see a very dangerous team. You see a team that's 4-7, but you also see a team that's lost six games by seven points or less — that seventh game they lost by eight points. They've had an opportunity to win each and every game down the stretch.
On Notre Dame's Quarterback DeShone Kizer…
Offensively, [they're] a team that puts up 31 points a game and it really starts with the quarterback [DeShone] Kizer. [He's] definitely a kid that's going to play on Sundays, [with] a dual threat mentality. A kid that's already thrown for 2,700 yards, but he's already rushed for 500 yards also. And [it's] a little bit different here, where Coach Kelly is actually designing quarterback driven runs, not only zone reads, but quarterback specific runs just for him.
On Notre Dame's Receivers…
[Kizer's] got big targets to throw to and [Equanimeous] St. Brown is the one that jumps out at you right now. [He's] a southern California kid, so I know he'll be excited to be able to get back home. [He's a] very talented, 6-foot-5 wide out that has a huge catch radius, already has 51 catches on the year.
On Notre Dame's Running Backs…
Josh Adams is a quality running back that is a big back. [He's] one of the bigger backs that we've seen at 220 pounds. [He's] rushing for 5.3 a carry so doing a terrific job.
On Notre Dame's Defense…
On the defensive side, what has impressed us is the defensive front. It really starts with [Isaac] Rochell and [Jarron] Jones — the tackles for losses that they bring and how they penetrate and get in the backfield has been extremely impressive. And the two linebackers, Nyles [Morgan] and [James] Onwualu are extremely impressive, two of the better backers that we've seen on the year.
On The Rivalry With Notre Dame…
This is going to be a game that we're going to have to prepare heavily for. We expect a close contest. This is a team that has a lot of pride and again this is a rivalry game, so throw the records out the window.
This article originally appeared on