USC vs Notre Dame 2016: Who Were The Studs and Duds?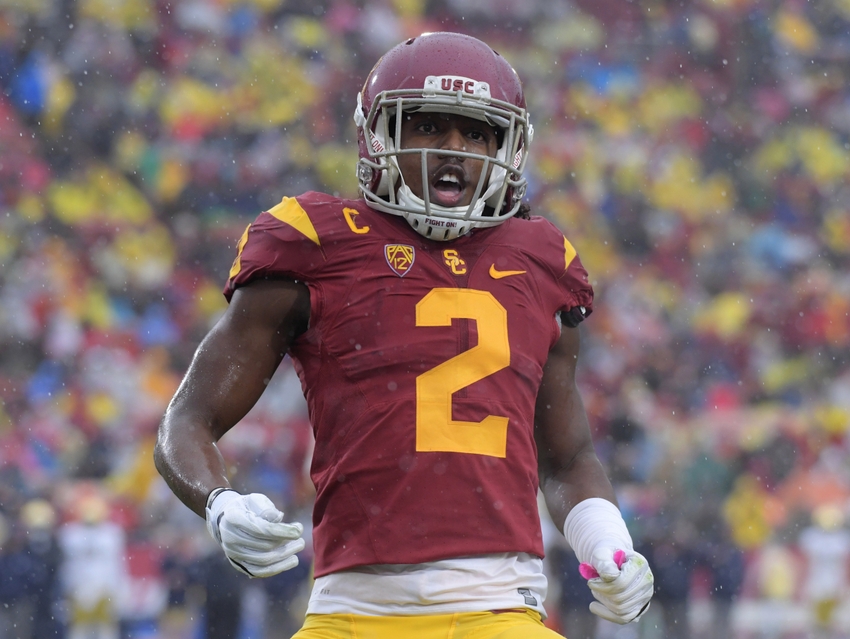 The 2016 edition of USC vs Notre Dame was all about Adoree' Jackson, whose outstanding performance stole the headlines and perhaps Heisman votes.
USC notched their eighth-straight victory to end the 2016 regular season by riding the efforts of Jackson and several others to a dominant win over Notre Dame.
The home finale offered plenty of standouts to recognize, while behavioral issues marred the historic rivalry.
Here's a look at who stood out in the 45-27 Trojan victory for all the right reasons and all the wrong reasons:
Who were the studs?
Adoree' Jackson:
If that was Jackson's final game at the Coliseum, then he saved the best for last…and made his best case yet for earning some Heisman votes.
It started with a near miraculous first down conversion on a crowded bubble screen. On Notre Dame's first drive he ran down Josh Adams to prevent the 74-yard run from being a 75-yard touchdown. Then he swatted away a third down pass attempt at the sticks. Then he returned a punt 55-yards for a touchdown. Then he took a short pass 55-yards down the sideline for a second score. Then, just to cap off the whole performance, he returned a kickoff 97 yards for a third touchdown.
Comparison's to Reggie Bush's dominating performance against Fresno State are rightly made. That's how spectacular Jackson was on the day against Notre Dame. It was his game, everyone else was just there to watch it.
The only question left: Did Heisman voters take notice?
Ronald Jones II:
Jones was USC's most effective offensive weapon not named Adoree' Jackson. The sophomore finished with 134 yards on 16 carries with a 51-yard touchdown scamper but it was his devastating ability to cut his way through and around Notre Dame's defenders which earns him stud honors. On a day when Jackson drew comparisons to Bush, Jones' running was similarly reminiscent.
Ajene Harris:
The former receiver solidified his place as a figure in USC's secondary with five tackles, a sack and a pick six against the Irish. Harris also created a fumble on an attempted lateral which was initially, incorrectly called an incomplete pass, denying Jack Jones a scoop and score opportunity. He was a disruptive force, second only to Jackson among impact standouts.
USC's Pass Rush:
The Trojans generated six sacks against Kizer, a mobile quarterback who was never allowed to stretch his legs thanks to the relentless pass rush. Those sacks and pressures came from a variety of places including linemen like Rasheem Green and Josh Fatu, outside linebacker Porter Gustin and Uchenna Nwosu, inside linebackers Cameron Smith and Michael Hutchings and Harris, the cornerback.
Who were the duds?
Jerry Tillery:
Better known as No. 99, Notre Dame's Jerry Tillery was a disgrace to his university and the sport of football on Saturday at the Coliseum. There were two incidents involving the defensive lineman, both of which were utterly unacceptable, but only one of which was actually punished.
When USC running back Aca'Cedric Ware was knocked out on a helmet-to-helmet hit, Tillery stood over the downed player and kicked his helmet. Just a few minutes later at the Trojan goal line, Tillery got into it with Zach Banner, purposefully stepping on the offensive lineman's ankle as he walked over him. The latter incident drew an unsportsmanlike conduct penalty from the refs while Irish head coach laid into his player on the sideline afterwards.
ACC Refs:
Where to begin. Despite reviewing the play on which Ware was targeted and correctly ejecting Notre Dame's Nicco Fertitta for the hit, the officials missed Tillery's first, and most egregious, misconduct. The reffing crew also ruled a DeShone Kizer sack fumble an incomplete pass, negated a Notre Dame safety because they were not ready for the snap, and denied Jack Jones a scoop and score by blowing the whistle on a contested lateral pass play returned by the freshman cornerback.
USC's Big Play Defense:
The Trojans allowed a run play of 74 yards on Notre Dame's opening drive and pass plays of 40, 26, 29 and 23 yards throughout the game. In many ways, USC's defense allowed the Irish to operate on a feast or famine basis, either dropping the Irish for losses or allowing plays over the top.
Notre Dame Special Teams:
The Irish had given up two special teams touchdowns in 2016 before taking the field at the Coliseum. On the day, they gave up two scores to Adoree' Jackson — one on a punt, the other on a kickoff.
Notre Dame's special teams haven't been spectacular this season by any stretch and Jackson is one of the nation's best, but that begs the question, why did they kick his way in the first place? Not that anyone around USC is complaining.
This article originally appeared on