USC vs ASU Practice Notes: Emphasis On Next Piece Of Puzzle (9/27)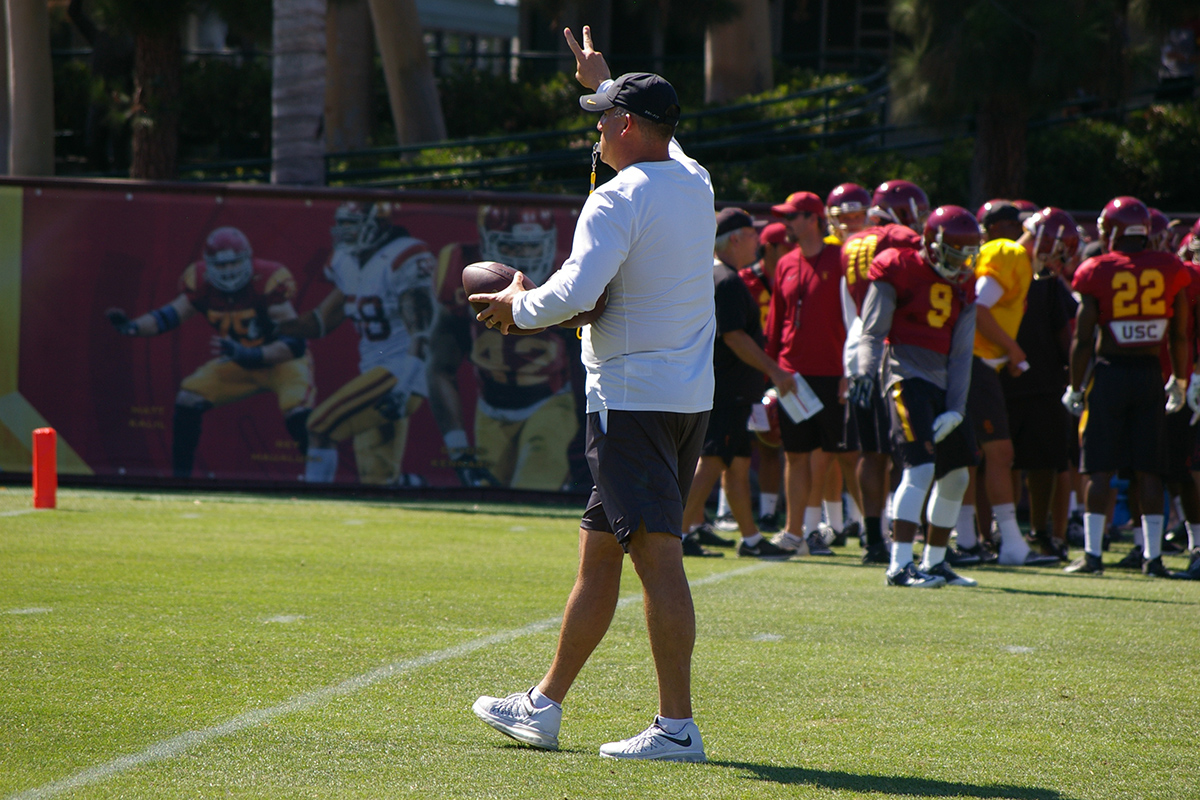 Preparations for USC vs ASU began at Howard Jones Field on Tuesday with an emphasis on finding the next piece of the puzzle.
Clay Helton and USC are ready to put September in the rear view mirror as they move on from a third loss in the opening month of the season.
On Tuesday, preparations for Game 5 began, with an eye towards taking the next step.
"They really got after it today," Helton said, praising his team for their workman-like attitude both before and after the loss to Utah.
"They've improved from week to week. From Alabama to Stanford, Stanford to Utah, and the last piece is knocking out the little things," said Helton. "To do that, the attention to detail things have to be done. I think they're glued in right now. They understand."
For Helton, attention to detail can be improved on both sides of the ball.
The head coach noted defensive coordinator Clancy Pendergast's emphasis on improving the pass rush this week after failing to log a sack against Utah. USC is 99th in the nation this year in that category.
The Trojans are working on their one-on-one technique and also have plans to tweak the defensive scheme to add opportunities for pressure.
That preparation on the individual and team level will be key, Helton said.
Another key for USC in Week 5? Protecting the football.
In fact, Helton attributed the defensive struggles in the fourth quarter to those early offensive mistakes.
"You know how I am, I'm going to be harder on the offense than the defense, you turn the ball over three times and you have 41 plays in the first half, it hurts your defense," Helton said, praising the defense for limiting the damage to just ten points.
"[The defense] did their job but it came at a price."
With an uptempo attack on the horizon, Helton wants to avoid paying that price again.
From the Notebook
Injury Report:


Offensive guard Damien Mama came out on Tuesday with a stinger but Helton expects him back on Wednesday.
Tackle Zach Banner was held out because of an ankle injury. He should be back on Wednesday as well, but USC will wait to see where he is at.
Cornerback Jack Jones has a more severe anke injury and is 50-50 at the moment.
Running back Vavae Malepeai was back in pads for the first time since breaking his clavicale though he remains non-contact.
Safety John Plattenburg is "about ready to go," Helton said. He missed more than a month of action with a concussion.
Defensive lineman Noah Jefferson is expected to sit out two or three more weeks as he gets healthy and caught up academically after missing class time while dealing with a personal issue in Nevada.
Wide receiver JuJu Smith-Schuster has been banged up with his hand and foot, but is fighting through those injuries.

Quarterback Jalen Greene got time with the second team offense against the first team defense to help give a live service look at ASU's Manny Wilkins, who is dangerous on the zone-read.
With Banner out, Chuma Edoga and Jordan Simmons took first team reps at right guard.
During 11-on-11 with the first team on first team, defensive tackle Stevie Tu'ikolovatu batted a Sam Darnold pass at the line of scrimmage, popping it up in the air for cornerback Jonathan Lockett to intercept.
A few plays later, Darnold dropped back, couldn't find a receiver, then tucked the ball and ran for an open field up the middle. Though the play was blown dead, it would have been a big gain with no defenders in sight.
Darnold and the QBs went through a ball security drill with assistants trying to punch the ball out of their grip while simulating running.
The 7-on-7 period featured drops by Deontay Burnett, DeQuan Hampton and Michael Pittman.
During 11-on-11 between the first team offense and second team defense, Darnold threw a 30 yard touchdown to Darreus Rogers, who beat out Matt Lopes for the ball.
On the next play, Darnold again went downfield but this time Hampton couldn't haul in a one-handed grab over Lopes.
Later Darnold hit Pittman for a long touchdown up the seam.
This article originally appeared on