USC vs ASU Final Score: Trojans Win a Blowout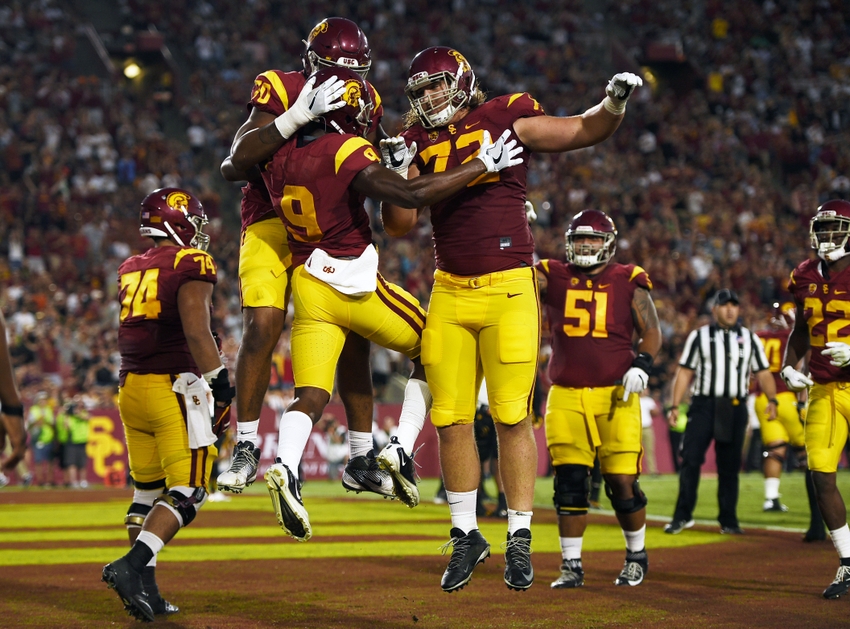 A week after falling to Utah in heartbreaking fashion, Saturday night's USC vs ASU score was exactly what the previously 1-3 Trojans needed. They routed the Sun Devils for a 41-20 win.
The lowdown: USC didn't get off on the right foot, with Clay Helton rolling the dice on a questionable 4th down attempt in their own end on the first drive. But all's well that ends well, and that was surely the case for the Trojans.
Sam Darnold and company got out to a big lead in the first half on the back of a pair of JuJu Smith-Schuster touchdowns and a 37-yard scamper to pay dirt from Justin Davis.
Along with a strong defensive performance that included three early sacks which led to a leg injury of ASU quarterback Manny Wilkins, USC cruised into halftime with a 27-6 lead.
In the second half, the Trojans would grow that lead quickly. Darnold ran in a score, Smith-Schuster turned in a 67-yard touchdown primarily after catch, and the Sun Devils couldn't do much on offense with Brady White at quarterback.
USC got their first Pac-12 win of the second and beat ASU for the third time in four seasons.
The takeaway: Saturday night's game was a prime example of why strength of schedule is relevant in college football. Previously undefeated ASU came into the Coliseum with a three-game lead in the record books over USC, but hadn't played anywhere near a schedule as the Trojans'.
While Clay Helton's team was getting embarrassed by Alabama, Stanford and Utah away from home, ASU was beating up on bad-to-mediocre teams in defense-optional games, with basketball scores
Despite their contrasting records, the Trojans took it to the Sun Devils in all phases and proved the numbers correct, including ASU's 128th-ranked pass defense.
For USC, the strong offensive performance is just the fifth time they've scored more than three offensive touchdowns in a game under Clay Helton. It's also vindication for two-straight strong statistical performances that left the Trojans without many points to show for it.
The Trojans didn't turn the ball over, didn't commit a false start and the result was a big offensive explosion.
On defense, Clancy Pendergast got revenge for the infamous 2013 game in Tempe, keeping a highly ranked ASU offense in check.
Player of the game: Sam Darnold's first career start at the Coliseum was a great one. The redshirt freshman quarterback was 23-of-33 for 352 yards, with a career-high three passing touchdowns.
Stat of the game: Biletnikoff Award candidate JuJu Smith-Schuster's big night was his first 100-yard receiving game in nine games. He hit the century mark six times as a sophomore in 2015.
Next on tap: The Trojans will now get ready to face red-hot Colorado next week at the Coliseum. The Buffaloes are 4-1 and undefeated in Pac-12, and will look to get their first-ever win over USC.
This article originally appeared on