USC vs ASU 2016: Who Were the Studs and Duds?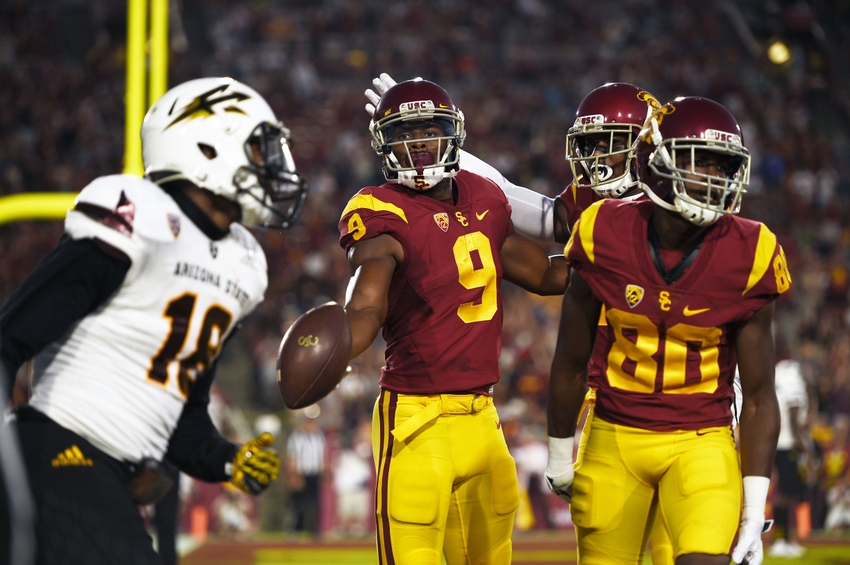 Back home at the Coliseum, the Trojans were back in good form as USC vs ASU turned into a blowout featuring Sam Darnold, JuJu Smith-Schuster and Justin Davis.
USC entered Week 5 with some big things to prove. The first, that they have indeed made strides this season despite the 1-3 record.
The second, that they could still compete to repeat as Pac-12 South division champions.
Misson accomplished on both scores as an offensive explosion and stiffling defensive performance from USC stopped the Sun Devils' in their tracks.
Here's a look at who stood out in the 41-20 win for all the right reasons and all the wrong reasons:
Who were the studs?
Justin Davis:
The senior running back was electric last week against Utah and showed no signs of letting up against ASU. Davis had 123 yards on 14 carries with a 37-yard touchdown and several more long runs on the night. He averaged 8.8 yards per carry.
Sam Darnold:
Making his Coliseum debut as a starter, Darnold shone bright under the lights. The second-time starter threw for 352 yards and three touchdowns on a night when his rhythm guided the Trojans to victory. Despite pressure from the ASU defense, Darnold was especially effective getting out of trouble with his legs and throwing on the run.
JuJu Smith-Schuster:
Smith-Schuster is back. After a rough start to the 2016 season, the junior receiver showed off his dangerous playmaking ability with seven receptions and 123 yards, catching all three of Darnold's touchdown passes. The first two were short, but effective completions. The third, however, was all about Smith-Schuster, who took a quick pass in the flat, stiff armed a defensive back, turned up field, then cut across a line of ASU defenders 67-yards on his way to the endzone.
Deontay Burnett:
It was a career night for Burnett, who emerged as one of Darnold's favorite targets. He matched Smith-Schuster with seven catches and finished with 93 yards receiving. Among those catches were impressive grabs in tight spaces and a long completion on a botched fleaflicker.
Jonathan Lockett:
Settling into his role as USC's primary nickel cornerback, Lockett was a vision on defense for the Trojans. He tied Adoree' Jackson for the lead in tackles on the night with five, while adding a half tackle for loss, his first career interception and another impressive pass deflection.
Clancy Pendergast:
The last time Pendergast faced ASU, they blasted the Trojans for 62 points. On Saturday, they managed 20 — with the help of two touchdowns against USC back ups after the game had been decided.
The Trojan defensive coordinator utilized a variet of blitz packages to fluster ASU QB Manny Wilkins and made greater use of substitutions with excellent results.
Who were the duds?
ASU's Offense:
USC held ASU's potent offensive attack in check on Saturday, limiting the Sun Devils to just 75 yards rushing and 303 yards of total offense. To put that into perspective, ASU had totalled no less than 164 yards rushing  and no less than 450 total yards in any of their previous four games.
Manny Wilkins:
The Sun Devil quarterback was a concern going into Saturday, with four games of experience under his belt, impressive passing stats and the ability to gash a defense with his legs. At the Coliseum, Wilkins wilted under the pressure generaged by USC's defensive front. After starting the game reasonable well, he began to miss simple throws and couldn't cope with the pass rush. Unfortunately for ASU, he didn't get the chance to turn things around as he left the game with a leg injury before half time.
N'Keal Harry:
ASU's big-bodied freshman receiver had the look of a potential mismatch against the Trojan secondary, but Harry was a non-factor against USC. He had four catches for just 27 yards, 18 of which were on one catch.
Clay Helton's Decision-Making:
The Trojan head coach can hold his head high after a big win on Saturday night, but it didn't start so well for Helton. Inexplicably, Helton opted to attempt a fourth-and-two on USC's own 42-yard line instead of punting the ball away on the Trojans' first possession.
The attempt was stuffed for a loss of four yards and ASU got a short field to work on and the chance to extend their lead. Lucky for Helton, Lockett stepped in and ended the Sun Devil drive with an interception.
Rumors of USC's Demise:
Before beating ASU, the Trojans sat a disappointing 1-3 with prospects of securing the Pac-12 South title looking bleak and questions swirling around the job security of the head coach. A loss to the Sun Devils would have been the last nail in the coffin.
As it turns out, USC has more of a pulse than many believed, improving their record to 2-3 and keeping hopes of that division title repeat alive. Importantly, they secured a valuable win against a division rival, and got a bit of help from Cal, who handed Utah their first loss of the season.
It's still a long shot for the Trojans to turn things around, but they took the first step on Saturday.
This article originally appeared on