USC vs Alabama Report Card: Grading the Trojan Offense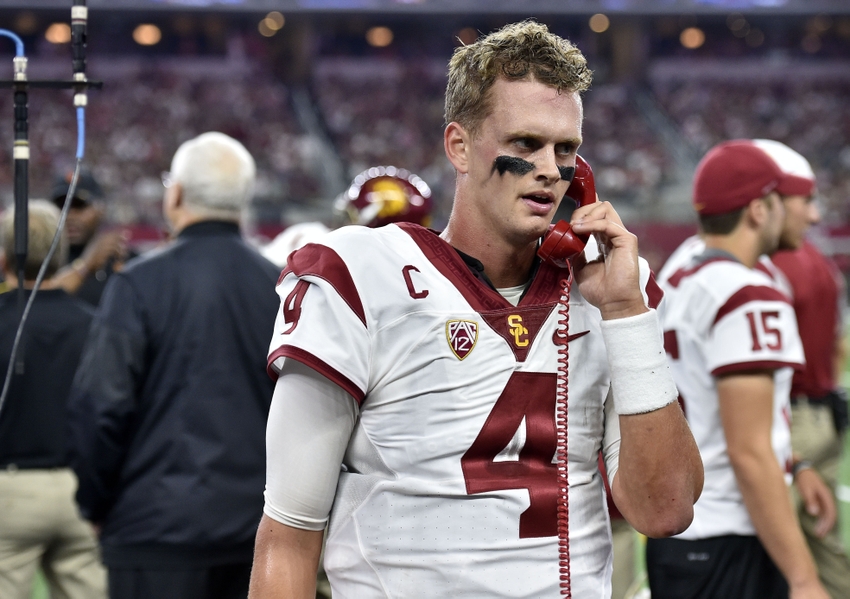 The Trojan offense was nowhere to be found during the USC vs Alabama game at AT&T Stadium, failing to score a touchdown in the 52-6 thrashing.
USC's opening night was a forgettable one for the Trojan offense. Or a waking nightmare.
Facing one of the nation's top defenses, the offense crumbled. They failed to find the endzone, salvaging a potential shut out with two field goals.
It was not a banner day for Clay Helton and offensive coordinator Tee Martin.
Here's how each offensive unit graded out against the Crimson Tide:
Quarterback
Standout,
Max Browne
D
There were a lot of things not to like from the performance of USC's quarterbacks, beginning with the fact they combined for just 130 yards on 48 percent passing.
Max Browne threw an interception, an ill-advised pass into coverage which was tipped up, caught by cornerback Marlon Humphrey and returned for a touchdown.
When he came in, Sam Darnold did not seem to have any answers either, throwing for 29 yards on the day.
Still, the context of this match up could not have been more difficult — a season opener and first career start against the No. 1 team in the country. A D-grade may be generous, but neither quarterback enjoyed much protection, so they'll get the slightest benefit of the doubt.
Running Back
Standout,
Ronald Jones II
C
How do you grade a position that finished with paltry numbers but wasn't particularly at fault for them?
The official stat line says the Trojan rushers had a net gain of 64 yards, but they accounted for just 11 of USC's negative rushing yards, so really it was slightly-respectable 101 yards gained on the ground.
Granted, USC had five yards on five carries at half time, which is a trouble stat on its own.
Ronald Jones II, Aca'Cedric Ware and Justin Davis might have been impotent against Alabama with a strong offensive line performance, but they never actually got the chance to prove their capabilities, met in the backfield as they were regularly.
Someone who watched the game might recall a single rushing play for USC which included a reasonable hole for a running back to hit — the one carry Jones took 46 yards.
Receiver
Standout,
Darreus Rogers
C-
Another position, another grade affected by the circumstances the unit found themselves in.
USC's receivers weren't particularly effective against a tough Alabama secondary. Deontay Burnett and Steven Mitchell led the team with four catches each, but neither made a real impact — unless you count the negative impact of Burnett tipping up a pass to set up a pick six.
It was Darreus Rogers who supplied the biggest play of the game for the USC passing game, a 36 yard reception which set up the Trojans opening field goal. He nearly hauled in an acrobatic catch in a key moment near the end of the first half, but couldn't complete the grab.
While the Trojan receivers struggled to gain separation for most of the game, they also saw more than a few balls thrown too high, too short, too far inside, too far outside and on and on.
Glaringly, JuJu Smith-Schuster was held in check, logging a single catch late in the third quarter.
Offensive Line
Standout,
Chad Wheeler
F
It's no easy task to face the Alabama defensive front. Nick Saban prides himself on defense and this will undoubtedly be the most formidable match up the USC offensive line will face in the trenches this season.
Having said that, the offensive front is the key to a successful Trojan offense and the numbers speak for themselves. The Tide had three sacks and nine tackles for loss on the night. USC didn't score a single touchdown because they couldn't establish the run or protect the passer.
Wheeler gets some credit for battling through plantar fasciits when USC needed him to get in the game after Chuma Edoga went out with an injury.
However, the performances across the line were subpar, while Toa Lobendahn's snapping was once again a concern.
Coaching
Standout,
Tee Martin
F
One game into his tenure as the USC offensive coordinator, Tee Martin has yet to produce a touchdown.
It was a rough draw for Martin, going up against a seasoned defensive coordinator like Jeremy Pruitt and the greatest defense-minded head coach of the age in Nick Saban in his first game as OC, but USC's offense wasn't just hampered. They were completely stagnant.
The biggest indictment of Martin, besides the laundry list of shockingly bad offensive numbers, is that the Trojan offense started out alright. USC's first two drives were reasonably successful. They settled on a field goal for the first, then attempted a fourth down conversion at the 35 on a ten play, 44 yard drive for the second.
When the Tide adjusted, Martin had no answers. After that point, the Trojans had seven three-and-outs in their next ten drives. The three other drives ended in an interception and two four-and-outs. That earns him an F.
This article originally appeared on