USC vs Alabama Report Card: Grading the Trojan Defense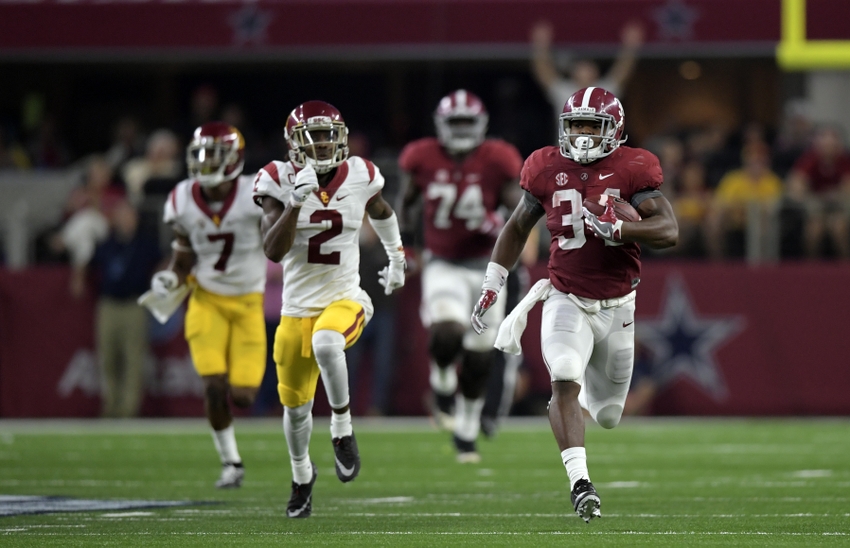 With a score of 52-6, USC vs Alabama might seem like a terrible day for the defense, however, there were some bright performances despite the scoreline.
Clancy Pendergast certainly hoped his return to USC would have been announced with a better final score, but it wasn't quite as bad as it seemed for the Trojan defensive coordinator.
USC's defense was actually stout for a half against the Tide before the wheels fell off in the third quarter.
SEE ALSO: Offensive Grades vs. Alabama
Here's how each defensive unit graded out against the Crimson Tide:
Defensive Line
Standout,
Rasheem Green
B-
Going into the game, the big question was whether or not USC's rebuilt defensive line could hang with Alabama's offensive front.
The short answer? Yes. The Trojans held their own in the trenches.
Nose tackle Stevie Tu'ikolovatu anchored the line, proving up to the task against a powerful offensive front. Rasheem Green led all defensive linemen with five tackles and one tackle for loss, including a half sack. Noah Jefferson was bright before leaving with an injury as well.
The Tide had 242 yards rushing but the vaunted Bo Scarbrough was limited to 36 yards on 11 rushes, while Damien Harris amassed 118 of his 140 yards on two rushes of 73 and 45 yards.
Still, the line became less and less effective as the game wore on and the defense as a whole still gave up 45 offensive points.
Linebacker
Standout,
Michael Hutchings
C+
USC's linebackers were aggressive against the Tide, with Porter Gustin and Michael Hutchings combining for four tackles for loss and 2.5 sacks. Gustin's nine tackles were tied for the team lead while Hutchings' five were tied for second.
Cameron Smith led the Trojans with nine tackles as well, looking completely recovered from last year's knee injury. He also recovered a fumble.
However, that aggression was also turned against the unit. Damien Harri's two long runs weren't diagnosed by the linebackers. And as with every other unit, they still gave up 45 offensive points.
Secondary
Standout,
Adoree' Jackson
D
It was a rough night for Iman Marshall, who got beat by ArDarius Stewart for his first touchdown from 29 yards out. Then Marshall and Chris Hawkins both blitzed on a miscommunication and left Stewart wide open for another long touchdown.
Though Marshall eventually grabbed an interception to make up just slightly for his performance, it was far from his best day.
Nor was it a great display for safeties Hawkins and Marvell Tell, who each succumbed to long Alabama plays. Tell was juked by Harris on a run for a big gain and Hawkins was beat, with Ajene Harris, on another deep score.
Adoree' Jackson would have taken an A for his performance. He saved two long touchdowns, running down Harris from behind yards short of the goal line. He also shut down Calvin Ridley, who had just two short catches on the day.
Along with Jackson, Leon McQuay II put in a strong performance as the nickel back, logging a key third down tackle for loss and deflection in the first quarter.
But still the Trojans as a whole gave up 45 offensive points and the DBs were primary culprits of that score line.
Coaching
Standout,
Clancy Pendergast
C
USC's defense in the first half was exceptional, limiting the Crimson Tide to a total of 12 total yards in the first quarter and just ten offensive points through two quarters.
Pendergast's defense played fast and aggressive. Unfortunately, the Trojans were vulnerable to big plays, and Lane Kiffin's Alabama supplied them.
To be fair, the defense was put in a difficult position, with an offense that couldn't stay on the field for more than three or four plays at a time — one that gifted the opposition seven points on a pick six.
Still, Pendergast's defense gave up 45 offensive points. The C might be generous.
This article originally appeared on