USC Trojans Ranked No. 170 In FanSided's Fandom 250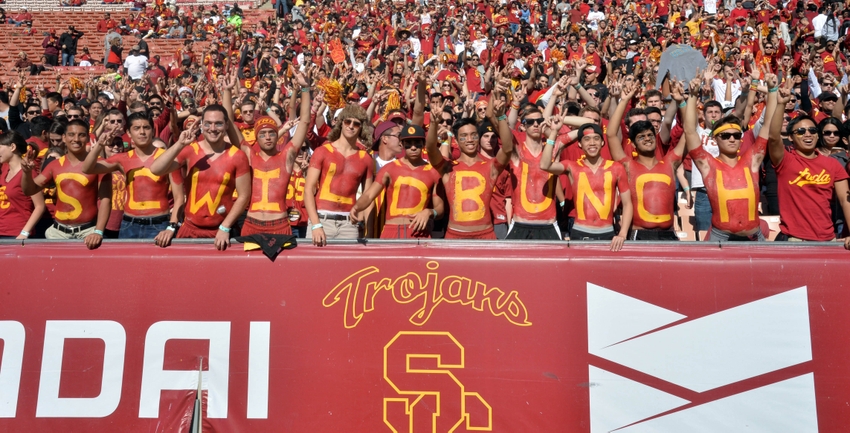 The USC Trojans were ranked No. 170 in FanSided's Fandom 250, rating the top fanbases in the world from sports, entertainment and pop culture.
The FanSided Fandom 250 finally dropped on Tuesday, with USC getting recognition as one of the top fandoms in the world today.
The Trojans were ranked No. 170 in the Fandom 250 as the college program most synonymous with Hollywood and pop culture.
With a huge fanbase, one of the most prestigious and successful football teams in the nation, and a monopoly on the Los Angeless football scene, it's no wonder the men of Troy earned the nod.
USC's celebrity fans get a mention, of course, including Snoop Dogg, Will Ferrell, Tom Sellech and Henry Winkler.
When it comes down to it, the thing that sets USC apart is the Trojan Family:
But beyond the Trojans' wide reach, it's the tight-knit alumni base and network that makes the fandom special. If you're an alum of the private university, you're likely to wind up working for a USC business, employ a USC intern, belong to the USC Credit Union, see a USC dentist and marry a USC grad. All told, the USC fandom is one of the most unique and proud in all of sports.
At No. 170, USC was the 13th-ranked college fanbase in the 250.
Ohio State led the charge at No. 8 while Trojan rival slotted in at a head-scratchingly-high No. 17. Alabama, Duke, Michigan, Kentucky, FSU, UNC, LSU, Texas, Florida and Kansas also made the cut ahead of USC.
Since Duke, Kentucky, UNC and Kansas were included with a heavy basketball focus, the men of Troy trailed just eight fanbases — Ohio State, Notre Dame, Alabama, Michigan, FSU, LSU, Texas and Florida — with a football factor.
On the other side of things, the Trojans beat out Clemson, Texas A&M, Oklahoma, Penn State, Auburn and Michigan State.
A thorough perusing turned up no mention of UCLA.
This article originally appeared on