USC Signing Day 2017: Grading the Trojans' Recruiting Class
Alicia de Artola/FanSided via Reign of Troy

Fansided
USC Signing Day 2017 could hardly have gone better for the Trojans, who closed on an elite recruiting class which fills holes at just about every position.
There's no question that USC Signing Day 2017 lived up to all the hype as the Trojans locked in a Top 5 class on the back of six major victories on the final day of the recruiting cycle.
But just how well the USC come out in each unit and area of need when it comes to 2017 and beyond?
Here's how each unit graded out in the recruiting race:
Quarterback
Standout,
Jack Sears
A-
USC struck out on a number of 2017 quarterbacks during this cycle, including Davis Mills, Tua Tagovailoa, Tate Martell.
For that reason, the unit gets docked a percentage point.
In the end though, the Trojans landed their guy in four-star quarterback Jack Sears out of San Clemente. Sam Darnold's high school understudy will now become his college understudy.
That Sam Clemente connection bodes well for USC, if Sears turns out anything close to Darnold.
And there's a good chance he does, with impressive running ability, top-notch football instincts and a developing arm.
Running Back
Standout,
Stephen Carr
A
USC is stacked at running back for 2017, but Ronald Jones II could leave after this season, as well as Aca'Cedric Ware, in a less likely circumstance.
That meant the Trojans needed to add a running back in 2017 to set up for the post-Jones era and they hit that task out of the park by landing one of the nation's top running backs — Stephen Carr.
Carr rates No. 3 among running backs in this class and fits what USC needs in a back to a tee. Even though the the Trojans missed out on another top-rated back in Najee Harris, Carr's early commitment made seriously pursing another RB largely unnecessary.
Clay Helton described Carr as the complete back. At 202 pounds already, he'll bring power to the Trojan running game. He also has the quickness to break outside and gain chunk yardage that way.
At that size, he's also a capable blocker and won't require subbing out in passing situations. In fact, he presents himself as a dangerous weapon in those moments with elite pass catching ability for a running back.
As much as the Trojans like Aca'Cedric Ware and Vavae Malepeai, bringing in Carr is bringing in a future starter, one who can perform at the top level.
That'll get you high marks.
Receiver
Standout,
Joseph Lewis
A
A quick glance at USC's roster could tell you that the Trojans are set at wide receiver for the forseeable future.
In 2016, they brought in a highly-touted group of five receivers — and four of those redshirted in Year 1.
Still, as Clay Helton pointed out during his Signing Day press conference, the Trojans weren't entirely without need at receiver in 2017.
With four receivers on their way out, including a play-maker like JuJu Smith-Schuster, a reliable pass-catcher like Darreus Rogers and two big downfield targets like De'Quan Hampton and Isaac Whitney, USC set out to get some targeted reinforcements.
And they did just that, nabbing an elite prospect like five-star Joseph Lewis and an intriguing athlete in three-star receiver Randal Grimes.
Lewis' talent is undeniable and he may breakthrough early to occupy one of USC's open starting spots. Meanwhile, at 6-foot-4, 205 pounds, Grimes appears worth the scholarship on upside alone.
USC lost commits along the way including Amari Rodgers and Marlon Williams, but those aren't a great concern.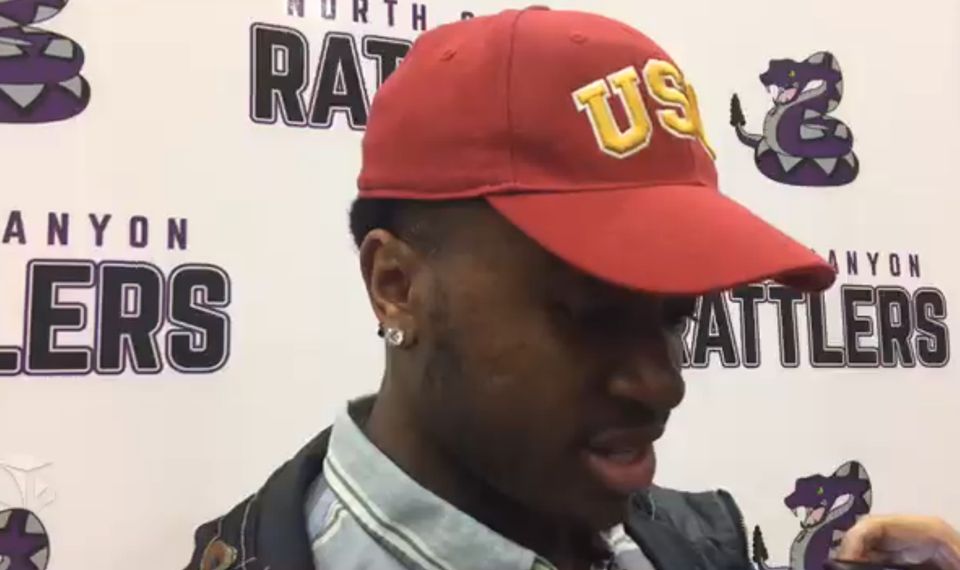 Offensive Line
Standout,
Austin Jackson
B+
USC stocked up on offensive linemen in 2017, landing the nation's No. 8 and 13 offensive tackles in Austin Jackson and Alijah Vera-Tucker and the No. 2 center in Brett Neilon. They also got three-star tackle Andrew Vorhees in as an early enrollee and three-star tackle Jalen McKenzie to blueshirt.
Could the Trojans have brought in an even better haul? USC took a run at flipping Alabama five-star Alex Leatherwood but struck out, while peeking at Stanford's newest offensive line group, including Foster Sarell and Walker Little, shows just how much stronger a Pac-12 rival was able to get at the position.
Having said that, USC will be plenty pleased with the group they signed on the offensive front as Clay Helton puts a greater emphasis on recruiting big men.
Replacements for starters Zach Banner, Chad Wheeler and Damien Mama are relatively unlikely to come from the newest freshmen in Year 1, but the class is a great foundation to build success upon in the coming years.
And if one of Jackson, Vera-Tucker or even Vohees manages to have an early impact, then the grade can be reevaluated.
Defensive Line
Standout,
Jay Tufele
A+
USC's greatest position of need in 2017 was undoubtedly on the defensive line and the Trojans could hardly have scripted the finish they managed.
Just getting a hat on the table with five-star Georgia-product Aubrey Solomon was a statement of intent, but the Trojans didn't need the moral victory in the end.
It started when USC flipped four-star Washington commit Marlon Tuipulotu a week before Signing Day and managed to get him enrolled for the spring semester just before the deadline to add classes.
Tuipulotu alone would have had the Trojans feeling good about their prospects on the defensive line without adding another elite d-line recruit in four-star Jay Tufele on Signing Day.
Both Tuipulotu and Tufele can help USC right away and instantly strengthen the defensive front immensely.
And those are just the two big guns in the class. Three-star nose tackle Brandon Pili is an under-the-radar addition with huge upside while three-star defensive end Jacob Lichtenstein will look to develop down the line as well.
Linebacker
Standout,
Levi Jones
B
Four-star predator linebacker Hunter Echols is a strong pick up for the Trojans to develop behind Porter Gustin, Connor Murphy and Oluwole Betiku.
That's not where the Trojans needs in 2017 were located though.
With Michael Hutchings and Quinton Powell graduated and Osa Masin and Don Hill kicked off the team, the Trojans are woefully short of support behind Uchenna Nwosu and next to Cameron Smith.
Picking up four-star linebacker Levi Jones on Signing Day was a major victory to keep the linebacker group as a whole from being overall underwhelming.
That's not to speak ill of three-star prospects like Juliano Falaniko and Tayler Katoa, who could develop into solid contributors for USC. However, with major depth concerns at both strongside and weakside linebacker, a little more oompf was required.
Considering the strength of the 2018 linebacker class, the three players brought in for those positions in 2017 are acceptable, if not good, additions.
The only concern is that, aside from Jones, USC didn't appear to get a real look from any of the more elite prospects on the board.
Cornerback
Standout,
Greg Johnson
B
The Trojans don't have a dire need for cornerbacks just yet, but adding a couple to stay ahead of the early departure possibility of Iman Marshall and then Jack Jones was a smart play by USC.
Four-star athlete Greg Johnson headlines the group for good reason, as a versatile playmaker with the ability to make an impact all over the field.
Three-star Je'Quari Godfrey, who flipped from Cal weeks before Signing Day, is an intriguing prospect in his own right. His size checks all the boxes, but coming off a knee-injury, he's a bit of a risk.
However, as with the linebackers, it's not so much the players USC managed to land as the players they didn't which hurts the grade.
After three straight cycles of hitting on the top local cornerback prospect on the board — Adoree' Jackson, Marshall and Jack Jones — USC struck out on five-star Darnay Homes, who will trouble the Trojans from Westwood in the future.
USC also lost the commitment of four-star CB Thomas Graham, who signed with another Pac-12 rival in Oregon.
Safety
Standout,
Bubba Bolden
A+
With reasonable depth at safety already, USC's signing of the two four-star recruits Bubba Bolden and Isaiah Pola-Mao is truly an embarrassment of riches.
Bolden ranks as the No. 8 safety in the class while Pola-Mao checks in at No. 15. And they may even be underrated as prospects out of the west.
Both boast height at 6-foot-2 and 6-foot-4 respectively. Both are powerful defenders who patrol the secondary with an aggressive mindset. Both are hard hitters with above average ball skills And both have strong football IQs and instincts which should serve them well as they transition up a level from high school to college.
There was talk after Bolden's commitment at the Army All-American game that the two couldn't possibly both end up at USC. But that was the really impressive part of the Trojans' landing each of them in turn.
As fierce competitors, a healthy rivalry will only make them better players. And that will only make USC better.
This article originally appeared on