USC's Sam Darnold Named Finalist For 2016 Manning Award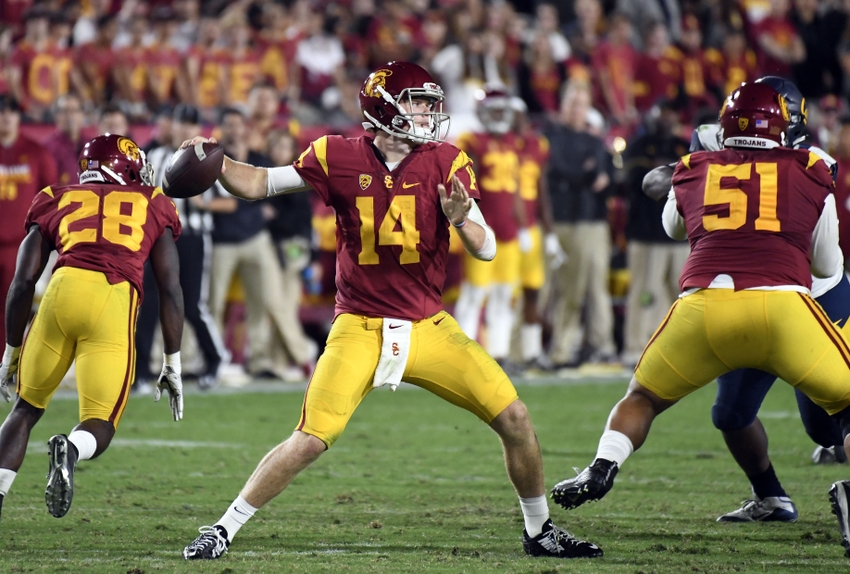 USC quarterback Sam Darnold was named a finalist for the 2016 Manning Award, given to the nation's top quarterback.
The accolades keep rolling in for USC's Sam Darnold. On Wednesday morning, the Allstate Sugar Bowl announced the ten finalist for the 2016 Manning Award, with Darnold among them.
The Trojan quarterback is one of just two freshmen in the final ten. Joining him in that honor is Alabama's Jalen Hurts.
The other finalists include Ohio State's J.T. Barrett, Washington's Jake Browning, Washington State's Luke Falk, Louisville's Lamar Jackson, Texas Tech's Patrick Mahomes II, Oklahoma's Baker Mayfield, Western Michigan's Zach Terrell and Clemson's Deshaun Watson.
Darnold's presence as one of the candidates to be named the top quarterback in the country reflects his incredible play this season.
His QBR of 86.8 is second only to Mayfield among the finalists. He has completed 68.1 percent ofhis passes for 2,633 yards and 26 touchdowns with just eight interceptions. He has also run for two touchdowns with 230 yards on 57 carries.
Moreover, Darnold has shown exceptional awareness and natural instincts as a quarterback since becoming USC's starter, escaping pressure and extending plays with his athleticism.
Since Matt Leinart won the inaugural Manning Award back in 2004, every one of USC's regular starting quarterbacks have made it to the finalist stage, though none have matched Leinart's feat.
Leinart was a finalist in 2005, followed by John David Booty in 2006. Mark Sanchez made the finalist list in 2008. It took Matt Barkley until his senior season in 2012 to make the cut while Cody Kessler was included in 2014.
By making the finalists this year, Darnold has ensured that streak will continue until his eventual departure at least.
Unlike many other national awards, the Manning Award takes bowl performance into account. The winner will be announced in January as a result.
This article originally appeared on