USC Injury Report: Stevie Tu'ikolovatu, Iman Marshall Sit Out (11/8)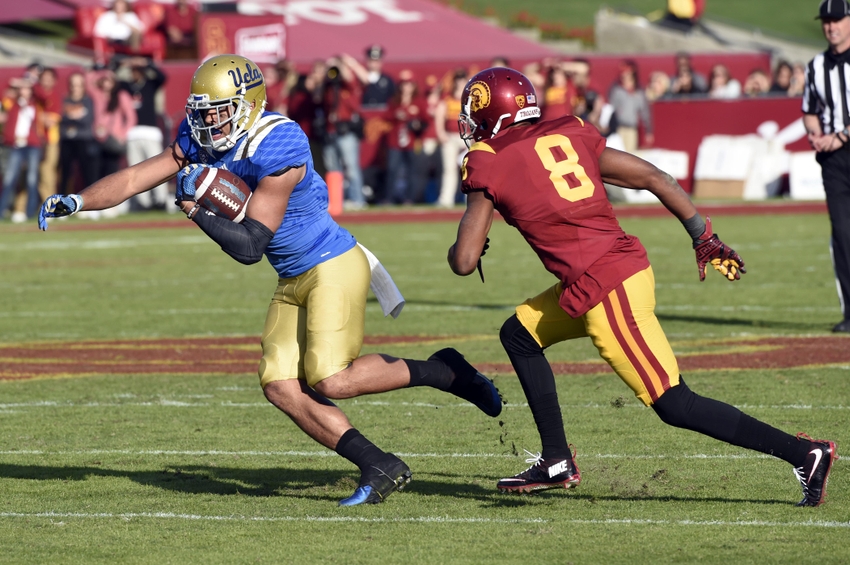 Stevie Tu'ikolovatu and Iman Marshall were held out of action Tuesday with injury. Here's the USC injury report as the Trojans begin prep for Washington.
Head coach Clay Helton updated the injury status for a number of banged up USC players after practice on Tuesday.
The biggest of those, literally and figuratively, is defensive lineman Stevie Tu'ikolovatu, who aggravated his previously sprained PCL against Oregon.
Tu'ikolovatu was rested on Tuesday but Helton said he is hopeful of his return later in the week.
Cornerback Iman Marshall was also held out of practice with a tight hamstring though Helton did not indicate the probability of a quick return. With Marshall out, freshman Jack Jones took first team reps opposite Adoree' Jackson, per Shotgun Spratling of USCFootball.com.
USC Injury Report:
Out for the season: DT Kenny Bigelow (knee), C Toa Lobendahn (knee), WR Steven Mitchell (knee)
Out: DL Noah Jefferson (academics/shoulder), CB Jonathan Lockett (hip), RB Vavae Malepeai (shoulder), OLB Jabari Ruffin (suspension)
Questionable: DL Stevie Tu'ikolovatu (knee), CB Iman Marshall (hamstring), RB Aca'Cedric Ware (ankle)
Probable: WR Deontay Burnett (knee/thumb), RB Justin Davis (ankle), LB John Houston (knee), LB Michael Hutchings (calf), S Marvell Tell (hip)
Jonathan Lockett, another cornerback, remained out with a hip injury as well on Tuesday. Helton said that he has not progressed in his recovery but USC will reevaluate where he is later in the week.
It was good news for linebacker Michael Hutchings, who was able to practice on Tuesday with a strained calf, though Helton indicated they would keep his workload light to protect him this week.
On the offensive side of the ball, USC is confident that running back Justin Davis will be back in action on Saturday after he practiced on Tuesday and seems to be progressing nicely through the sprained ankle which has held him out for two games. Helton anticipated getting Davis 10 to 15 touches against the Huskies.
Fellow running back Aca'Cedric Ware was not ready to practice, as expected on Tuesday, but he was able to do some work with trainers.
Finally, offensive lineman Damien Mama sat out of practice with a sore knee, but Helton said he expects him back in action on Wednesday.
This article originally appeared on