USC Injury Report: Josh Fatu In Doubt With Ankle Injury (11/15)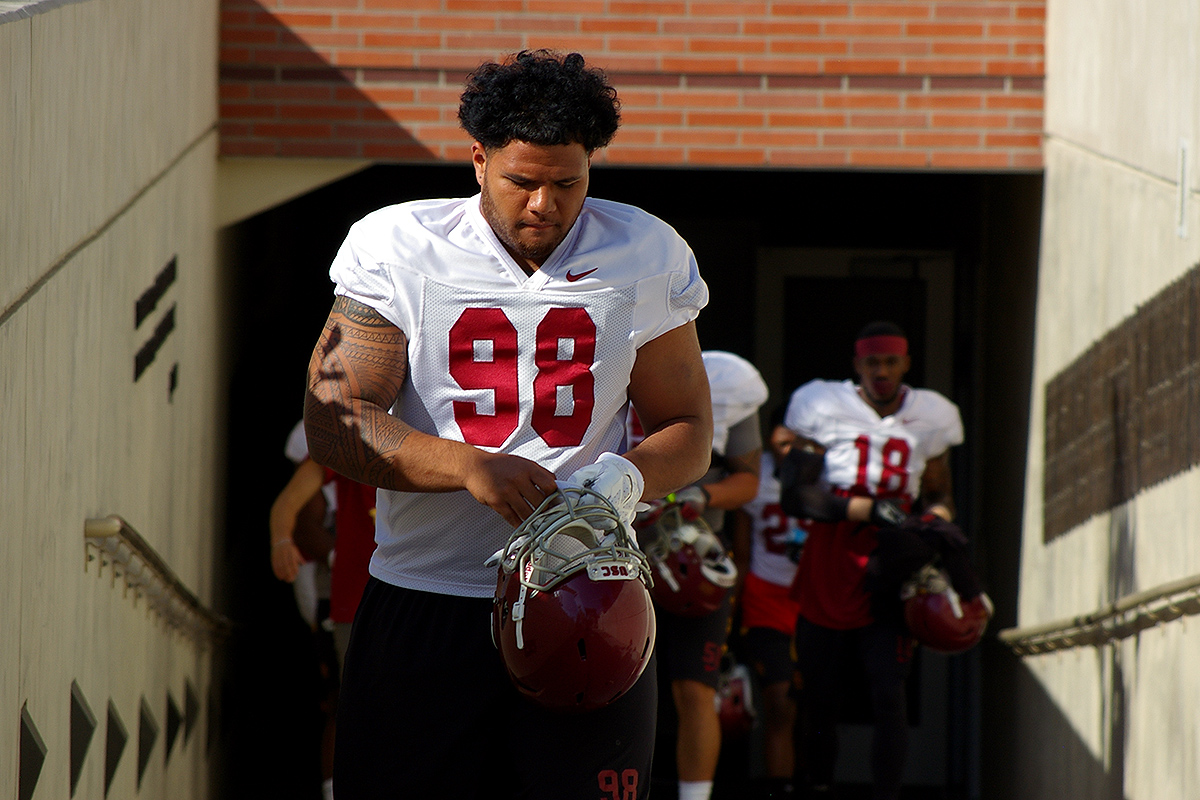 Defensive lineman Josh Fatu is in doubt for the rivalry game with UCLA after spraining his ankle. Here's the USC injury report from Troy Week Tuesday.
Head coach Clay Helton updated USC's injury situation on Tuesday, noting half a dozen banged up players, though the Trojans shouldn't be light too many come the weekend.
"A lot of bumps and bruises right now but that's what you expect when you're hitting Game 11, " Helton said after practice. "Hopefully we can get a little bit healthier as we go through the week."
Chief among those bumped and bruised is defensive lineman Josh Fatu. The junior college transfer sprained his ankle against Washington and was held out of action on Tuesday. Helton indicated he will remain out on Wednesday as well, calling his status for Saturday "50-50 at best."
Fatu's injury leaves USC light at defensive tackle, with starter Stevie Tu'ikolovatu limited as he continues to battle through a sprained PCL. Tu'ikolovatu played through the injury against Washington, putting in arguably his most dominant performance as a Trojan against the Huskies, so his limitations this week are precautionary.
In fact, nearly all of USC's injury news comes with that qualifier — limited, but as a precaution.
USC Injury Report:
Out for the season: DT Kenny Bigelow (knee), C Toa Lobendahn (knee), WR Steven Mitchell (knee)
Out: DL Noah Jefferson (academics/shoulder), RB Vavae Malepeai (shoulder), OLB Jabari Ruffin (suspension)
Doubtful: DL Josh Fatu (ankle), CB Jonathan Lockett (hip)
Probable: WR Deontay Burnett (knee), OLB Porter Gustin (ankle), RB Ronald Jones II (knee), CB Iman Marshall (hamstring), S John Plattenburg (illness), DL Stevie Tu'ikolovatu (knee), RB Aca'Cedric Ware (ankle)
Cornerback Iman Marshall made it through the game in Seattle without issue, but is still contending with a tight hamstring, which USC will keep an eye on this week.
Outside linebacker Porter Gustin reaggravated an ankle problem he has been carrying for a few weeks up north. He was limited Tuesday to ease pressure on the problem.
The same goes for slot receiver Deontay Burnett, who is playing through a sprained his knee and was also rested.
Running backs Justin Davis and Aca'Cedric Ware both continue to progress from sprained ankles. Davis was able to play against the Huskies while Helton described Ware as "90 to 95 percent" on Tuesday.
Meanwhile, Ronald Jones II has a knee bruise which limited him slightly in practice, but it is not a serious concern.
Safety John Plattenburg became the latest player to be hit with the bug which has been cycling through the team. He is expected back on Wednesday.
In more longterm injury news, cornerback Jonathan Lockett was able to move around more on Tuesday. A hip injury has held him out for several weeks, but Helton said they will see where he is at the end of the week as he shakes off rust, with hopes of returning to action.
This article originally appeared on