USC Football Ranked No. 20 In College Football Playoff Rankings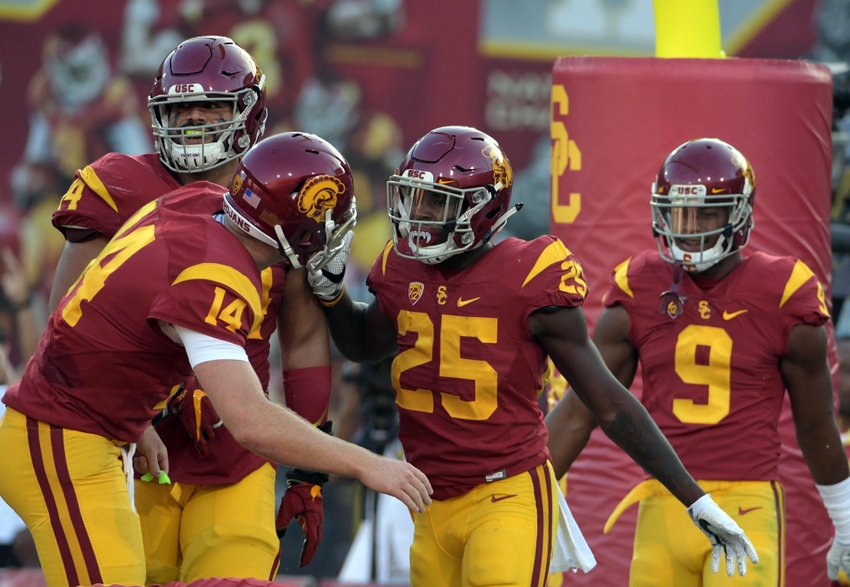 USC football debuted at No. 20 in the second edition of the College Football Playoff rankings released on Tuesday night.
After spending ten weeks of the 2016 season outside of the rankings, USC football earned a spot in the College Football Playoff committee's Top 25 ahead of their pivotal match up with Washington.
The Trojans were ranked in the AP poll's preseason ranking but fell out after losing to Alabama on opening weekend.
This week, neither the AP nor the USA Today coaches poll featured USC, which was set one spot outside of the rankings in both rankings.
The playoff committee didn't just rank Clay Helton's squad after they notched their fifth-straight win against Oregon on Saturday night. They boosted the Trojans up from being unranked to No. 20, ahead of Western Michigan, Boise State, Washington State, LSU and Arkansas.
USC had the biggest rise in the poll this week and was one of just two teams to enter the ranking after not featuring last week.
The Trojans' next opponent, the Washington Huskies moved up one place to occupy a playoff spot at No. 4 this week. In the initial ranking, Texas A&M was favored to Washington, but the Aggies promptly lost to Mississippi State, opening the door for the Huskies to rise.
Past opponents for USC also found their place in the ranking this week. Colorado, who the Trojans bested at the Coliseum in October, rose to No. 12. Meanwhile Utah, who handed USC their third loss of the season back in September, occupies the No. 15 spot.
Washington State rounded out the Pac-12 representatives in the poll at No. 23.
Considering the 1-3 start for USC, ripping off a five-game win streak since the beginning of October has given the Trojans new life both in the rankings and the race for the Pac-12 South title.
Still, USC's hopes of appearing in next week's Top 25 and maintaining the push for a place in the Pac-12 Championship Game depends on a big time upset of Washington at Husky Stadium on Saturday.
This article originally appeared on