USC Football Nominated For FanSided Fandom 250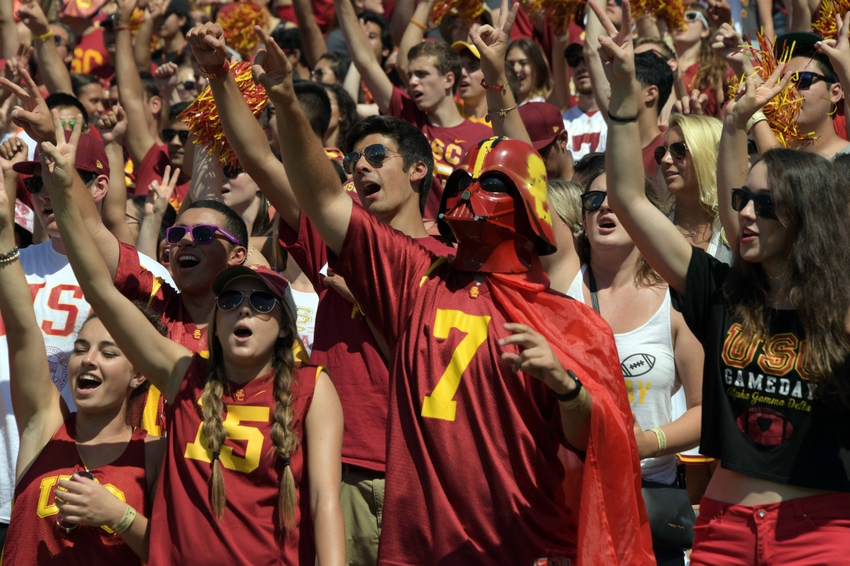 USC football has been nominated for the inaugural FanSided Fandom 250, a ranking of the top 250 fanbases in the world across sports, entertainment and pop culture.
The power of the USC alumni base is world famous. Now the Trojan fandom as a whole is getting love as a nominee for the FanSided Fandom 250.
The FanSided Fandom 250 is a ranking of the top fan-powered communities in our world today, from sports teams to TV shows to political figures and more.
Fandoms will be judged based on longevity, size and worth, along with overall passion.
The final rankings will be released on Dec. 6 so it's time to start debating: Where does the USC Trojans fandom belong?
The latest batch of nominations included Justin Timberlake, Drake, David Bowie, Prince, The Beatles, the Texas Longhorns, the Oklahoma Sooners, Survivor and the Great British Bake Off along with your USC Trojans.
USC is and has been one of the premiere programs in college football for nearly a century. The Trojans have helped cultivate the nation's greatest intersectional rivalry with Notre Dame.
Fans in cardinal and gold fill the Coliseum each week, cheering on the men of Troy with passion. And when the men of Troy are on the road, USC always brings along a strong road crowd.
As for longevity, the Trojans boast that in spades. The Trojan Marching Band epitomizes that.
All the passion and pride that make college football so special can be found in the Spirit of Troy, which has attended every home and road football game since 1987. There's a reason the Spirit of Troy is known as the "Greatest Marching Band In the History of the Universe."
Moreover, USC's fandom has weaved itself through aspects of history and pop culture going back decades. Legend has it that the loud speakers at Pearl Harbor blasted the men of Troy's anthem "Fight On!" to rally the troops. Fleetwood Mac included the TMB in the recording of their iconic song "Tusk." Meanwhile an army of celebrities from John Wayne to Will Ferrell have been part of the USC fandom.
That's a good reason to consider USC among the best fandoms in the world.
If you agree, you can make your voice heard by using the hashtag #Fandom250 to make your case for why the Trojans deserve a place in the final 250.
Then keep an eye out next week for the official rankings.
This article originally appeared on