USC Football: Noah Jefferson To Be Held Out Until November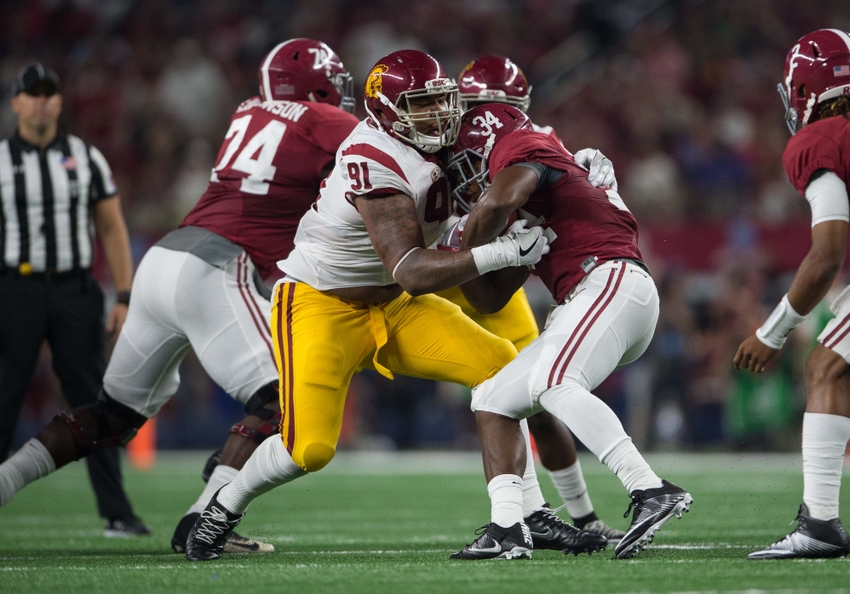 USC football expects to be without defensive lineman Noah Jefferson until November, head coach Clay Helton revealed on Tuesday.
Sophomore defensive lineman Noah Jefferson is expected to sit out the next two or three weeks as he gets back on track from injury and a personal issue which saw him return home to Nevada for a week.
"We're going to go ahead and hold [Jefferson] for a little bit so he can catch up on academics," head coach Clay Helton said on Tuesday. "He's got to play some catch up."
Jefferson's 2016 season has failed to launch for a multitude of reasons. The back injury which plagued him as a freshman continued to trouble him throughout fall camp.
He was able to come back in time to feature against Alabama on opening weekend, but left that game with a shoulder injury. That injury has sidelined him since the beginning of September.
Last week, a personal family concern caused him to spend the week in Las Vegas, further setting him back. He returned to Los Angeles on Friday.
"We're always going to put academics first and making sure he's fully healthy. I anticipate and am hoping for the month of November, for him to be caught up and be ready to go," Helton said.
"I know he's chomping [at the bit], ready to get back and everything being right but I think it's going to take two or three weeks before we look at that again."
The timetable for Jefferson's return means he will miss the Trojans' contest with ASU, Colorado, Arizona and Cal with an eye to be back in the line up against Oregon at the start of November.
Without Jefferson, USC's defensive line has struggled to contain opposition rushing attacks or get pressure on opposing quarterbacks.
Though the addition of Utah transfer Stevie Tu'ikolovatu was a great boost for the Trojan front seven, inconsistent performances from Rasheem Green and Malik Dorton, combined with depth problems exacerbated by Khaliel Rodgers' return to the offensive side of the ball have made Jefferson's absence noticeable.
The Trojans rank 99th in the country in sacks and 92 in rushing defense this season.
This article originally appeared on