USC Football Moves Up To No. 12 In College Football Playoff Ranking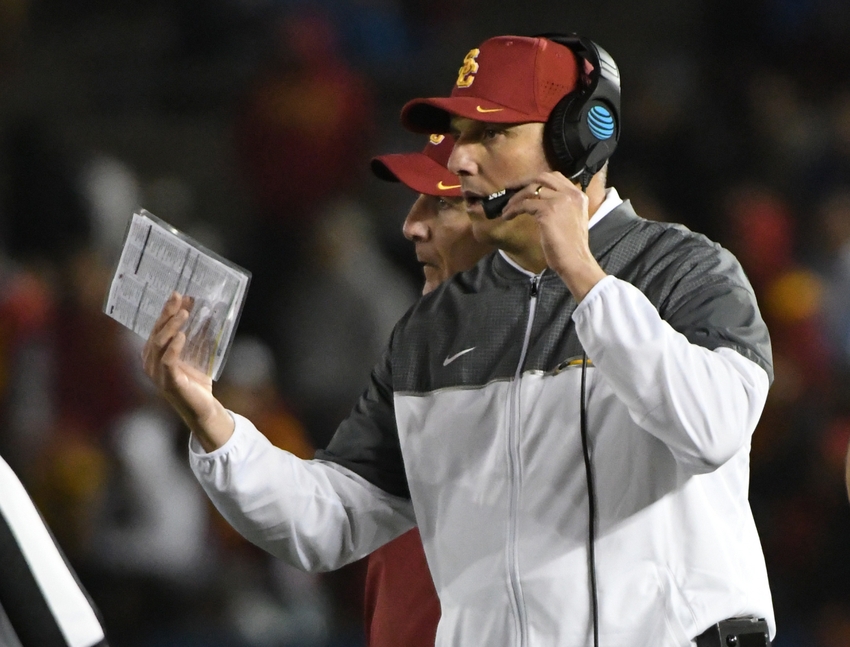 USC football moved up one spot to No. 12 in the College Football Playoff rankings, earning a consistent rank across all of the major polls.
The College Football Playoff committee, the AP Top 25 and the coaches poll all agree — USC football is the No. 12 team in the country going into the final week of the regular season.
The CFP revealed their fourth ranking Tuesday afternoon, moving the Trojans up one spot to No. 12 thanks to Utah's drop from that spot to No. 22 after losing to Oregon.
Behind the Utes, the Pac-12 has two consecutive representatives with Washington State at No. 23 and Stanford at No. 24.
Ahead of the Trojans, Colorado also moved up one spot to No. 9 in the ranking, setting up a potential playoff berth for the Buffaloes if they punch a ticket to the Pac-12 Championship Game with a win over Utah on Saturday.
Meanwhile, Washington remains on the outside looking in for the Top 4 playoff spots, but at No. 5 the Huskies are likely to earn a place if they win out the rest of the season, since Ohio State and Michigan still have to play each other.
USC's ranking at No. 12 prompted a spirited debate on ESPN's ranking reveal show, with Kirk Herbstreit and others arguing that the Trojans should be ranked higher. Herbstreit said that there are two teams no one in the country wants to play right now — Alabama and USC.
The Trojans have one more chance to impress the nation as they host Notre Dame at the Coliseum this weekend. If USC completes the win and notches their eighth-straight win in 2016, eyes will turn to Boulder, where Colorado's result against Utah will determine whether or not the Trojans win the Pac-12 South.
This article originally appeared on