USC Football Mistakes From Top To Bottom Exposed vs Utah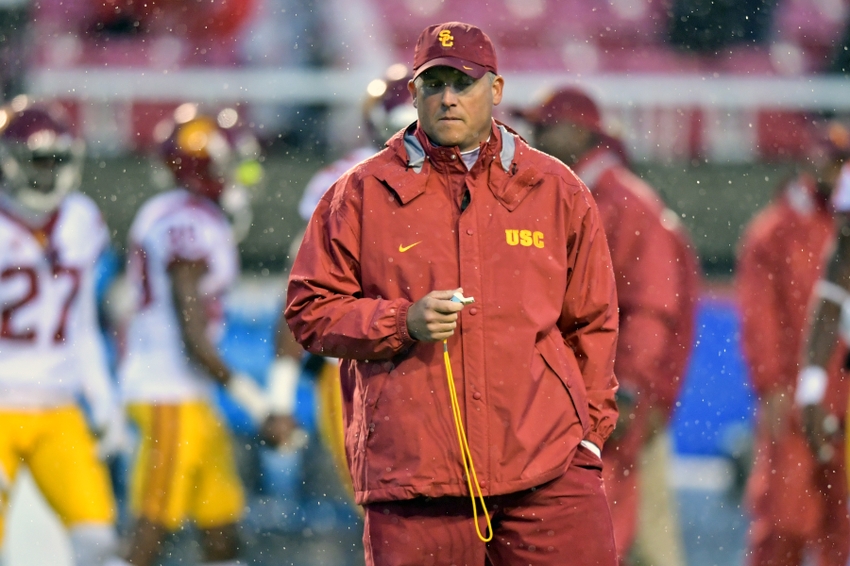 USC football's loss to Utah exposed a long line of Trojan mistakes from head coach to athletic director. Lynn Swann must end the circus started by Pat Haden.
That felt like déjà vu, huh?
A raucous atmosphere, an Adoree' Jackson special teams touchdown and a final Utah drive that resulted in the game-winning touchdown with less than 20 seconds left were also featured in USC's 2014 contest in Salt Lake City.
There was one major difference though.
Back in the 2014 matchup, which was much more of a defensive struggle than Friday night, the Trojans were up four and faced a fourth-and-two from the Utah 28 with 2:13 remaining. Steve Sarkisian could have kicked a field goal, but opted to go for the kill. Calling for a run by wideout Nelson Agholor wasn't exactly the best way to rack up those final two yards, but make no mistake, it was the right call to go for it.
Last night, USC's offense averaged 9.7 yards per pass and 6.5 yards per rush — it was 8.0 and 2.7 respectively in 2014.
The team faced a fourth-and-three from the Utah 37 with 5:37 left. And despite having an offense that was rolling and a defense that had given up 85- and 75-yard touchdown drives on its last two possessions, Clay Helton opted to punt.
The Utes reached their own 35-yard line, essentially where the Trojans punted, in four plays.
In the cruelest irony, Utah coach Kyle Whittingham went for it on fourth not once, but twice in field-goal range, when he had All-American kicker Andy Phillips at his disposal. Whittingham showed faith in his players, and his aggressive coaching is what put the home team on top.
Whittingham didn't coach scared, and his players responded accordingly. Helton did, and it sent USC's season into a tailspin.
The worst part? In his press conference after the game, Helton didn't regret the decision. Even worse, he said he would punt again in the same situation. It's hard not to believe him either, given he echoed similar sentiments following his white-flag punt down 17 on fourth-and-6 with 9:12 remaining against Stanford a mere seven days ago.
Helton didn't adjust his stance, despite how the game was shaping out. On Friday night, it would have been an easier ask for the offense to gain three yards than for the defense to get a stop. Yet, he still stubbornly stuck to his guns, showing a lack of growth as the leader of this program.
If you're punting — I mean scoring — at home, that defeat dropped the Trojans to 1-5 since Helton was named permanent coach, with the one win coming at home against Utah State.
Redshirt freshman Sam Darnold exceeded all expectations in his first start, but it's clear that a quarterback change isn't going to solve this team's problems. In fact, this system was tailor-made for the athletic Darnold, yet first-time offensive coordinator Tee Martin gave similar play calls to pocket passer Max Browne.
This is a staff that is trying to mold players to fit their system. Despite Browne waiting three years for his shot, the coaches quickly gave up on him, rather than adjusting their scheme, once they realized he was a square peg in a round-hole offense. The best coaches, however, play to their players' strengths and build their scheme that way.
Another example of this came on Friday night. USC has quite a few promising backs, but senior Justin Davis stole the show early on. He had 126 rushing yards, including 102 at the half, on just 10 carries. The coaching staff still insisted on their splitting-the-carries philosophy, giving an ineffective Ronald Jones II (15 yards on eight carries, or 1.9 yards per carry) two fourth-quarter totes, while giving the hot-handed Davis zero touches in the final frame.
---

Having trouble? Listen on Soundcloud, iTunes, Google Play or Stitcher.
---
But while it's easy to blame Helton and Martin, these two guys shouldn't be in this position in the first place. This falls squarely on the shoulders of Pat Haden.
In hindsight, Haden's decision-making was more costly for USC than the NCAA sanctions.
Current athletic director Lynn Swann now has to avoid following Haden's first decision by getting rid of Haden's final one.
Haden's inability to fire his first football coach, Lane Kiffin, was the first move to set USC toward its path to mediocrity. Despite Kiffin's immaturity and historically bad 2012 season, during which USC started with a preseason No. 1 ranking and ended with a 21-7 in the Sun Bowl, Haden showed misguided faith despite inheriting Kiffin from former AD Mike Garrett.
It took just five games the following season for Haden's choice to backfire, which started a full-fledged circus well-associated with the USC brand over the last several years.
Swann faces a similar scenario, dealing with a head coach who simply isn't ready and whose incompetence is detrimental to an extremely talented team. Unlike Haden, Swann needs to cut his forerunner's losses early on and not let a problem coach drag too long into his tenure as athletic director.
Remember back in middle school or high school when you were excited about the cool substitute teacher who would take over if your teacher was sick? Then when your classmates would root for said substitute to take over when the original teacher is out for a prolonged period of time? But then once the substitute takes over, your class ends up not learning very much and falling behind, and you realize why that substitute teacher was a substitute in the first place.
Clay Helton is that substitute teacher. Swann needs to make the adult decision rather than listening to the college kids who helped persuade Haden to give the interim coach the keys to a Lamborghini.
USC's chief problem is that it keeps making the same mistakes. From Haden hiring unqualified candidates only because of a USC affiliation to Helton's ill-advised punts, the Trojans have become the Charlie Brown of college football.
Swann can't make the same mistakes as his predecessor. In order to help USC climb out of this nightmare, he has to close the book on the final chapter of the Haden era as soon as this disappointing season is over, and start the Swann song on the right note.
This article originally appeared on