USC Football: Jabari Ruffin Suspended For 1st Half vs Utah State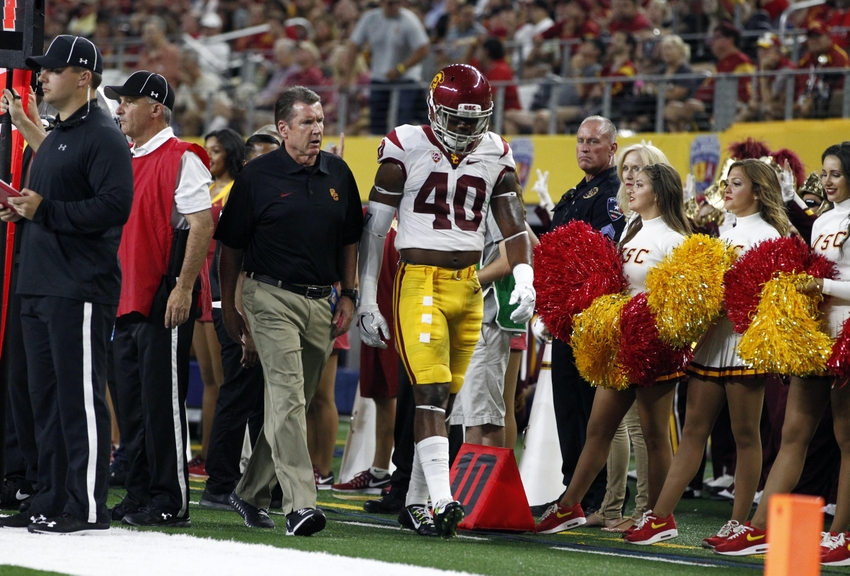 USC football outside linebacker Jabari Ruffin has been suspended for the first half of the Trojans' home opener against Utah State on Saturday.
After being ejected in the second quarter of USC's season opener for stomping an Alabama player, Jabari Ruffin will miss the first half against the Utah State Aggies this coming Saturday.
Head coach Clay Helton announced the suspension during his weekly conference call on Sunday night, adding that the player will write a letter of apology for the incident, which involved Ruffin stepping down on the groin area of Alabama's Minkah Fitzpatrick.
USC's Jabari Ruffin has been suspended for the first half of the Utah State game, Clay Helton said. He'll also write an apology letter.

— Zach Helfand (@zhelfand) September 5, 2016
The player was immediately ejected by the referees at AT&T Stadium.
Ruffin's behavioral trouble was the latest in a string of embarrassing moments for USC over the past week.
Cornerback Isaiah Langley was suspended for the opener because of an offseason arrest while linebackers Osa Masina and Don Hill are indefinitely suspended because of an ongoing investigation for sexual assault.
Helton confirmed on Sunday that the two will be allowed to participate in practice and team meetings — a decision which the head coach said was in the university's hands.
Ruffin and Hill were set to be the primary back ups at outside linebacker for the Trojans. With both held out, USC will turn to freshmen Oluwole Betiku and Connor Murphy to spell starters Uchenna Nwosu and Porter Gustin, at least until Ruffin's return in the second half.
This article originally appeared on